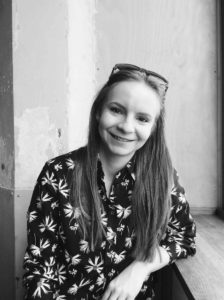 Recently we had the great pleasure of interviewing Elena, one of our recent international Economics alumni, who is currently working in Corporate Tax at Deloitte. Elena shares her careers story including challenges and successes of applying for work in the UK as an international student and shares her great tips and advice to other students in the same situation. Careers Service thanks Elena for her time and words, and wish her all the best in her career at Deloitte.
First, can you tell me a little bit about yourself and where you work?
I'm Elena, I'm originally from Moscow, Russia, and I've lived in the UK for the last 5 years, since I started the International Foundation Year Programme at Bath College in 2013. I did Economics at Bath , which turned out to be completely different to what the 18 year old me expected when I had applied for this course. It had been a rocky path: I didn't do very well in my first year for various reasons, took a gap year between the first and second year to work in the industry (one of my better decisions) and figure out what I wanted to do next because it felt like Economics was not for me. I came back to uni in 2016 having a better idea of how Economics and, more broadly, a degree from a university in the UK may fit into the bigger picture and my career plans. I focused heavily on my grades then but left it late with applications for industrial placements, which didn't go very well. I worked closely with Sanchia from the Placements team, who helped me every step of the way. In total, by August before my third year, I had sent out around 60 applications (yup) in response to various placement vacancies in the UK and had no positive responses. I then made the executive decision to go into third year without doing a placement and focused on making a strategic decision about doing a dissertation, which became very important later on. I started with applications relatively early, which meant that at least I wasn't as worried about timings this time. I had my interview and assessment centre with Deloitte in March/April and had the call from them about the offer the next day.
I work in the Corporate Tax function at Deloitte. When people think Tax, they usually think it involves a lot of Excel and number crunching and calculators, and the word 'boring' usually crosses their minds at some point. Well, it's not really like that anymore. There is still some excel, and I still use calculators sometimes (because I can't do mental maths to save my life), but we mostly focus on the consulting component of the job spec. This means that we advise clients on complex strategic decisions, which involve tax. Like: what are the tax implications for a large corporation that wishes to expand into a new market; what is the optimal method for allocating profits between different entities within a group of companies, based on the value they create and where the strategic decision making is done? These kind of questions often require complex financial modeling and are often things that no one has ever done before, which I find challenging and exciting. So Tax isn't 'boring', at least for me.
How did you hear about and apply to your job?
I went through the standard process for the graduate schemes at Deloitte. I found the job on their main career website and went through every single stage of their application process, starting from filling in the online form, then doing some tests, sitting a business simulation (kind of like a case study), submitting a video interview (practicing in front of the mirror for about half the day) and then finally going to a combined assessment centre and interview. It was a slow and time-consuming process, which required a lot of patience and hard work. Finding a job was like a full job in itself really.
What were the challenges you faced applying to jobs in your final year?
So many! One example was that a lot of companies don't give information on whether they consider international applicants early in the process. There are resources that you can check online and official government-issued lists of sponsors of Tier 2 visas, but sometimes there is still no way to know for sure until it's too late. There were a few large companies that only told me that they don't consider international applicants after I was invited to the interview stage, which was incredibly frustrating. There was also a lot of confusion around the school grades because the education system in Russia is completely different and there is no exact equivalent for GCSE grades or A-levels. And some companies didn't even have an option on their forms to explain this or a means to contact someone to explain. Applications to such companies usually went straight into the bin because the answers would't go through with the robot that checks them. But once you send out enough applications, you sort of get used to the process and its peculiarities and can almost judge straight away if you are going to have any luck getting to the next stage from the online form.
What are the reasons you think you were successful in finding a graduate job in the UK?
Patience and hard work, hard work and patience. Taking it seriously and practising before every test, doing a lot of research before any serious interviews. Making a strategic decision about the choice of the topic for the dissertation. Knowing how to sell the experience I have and highlight the skills that companies put on the job spec. Networking and really learning about 'why that company, why that department, why that office'.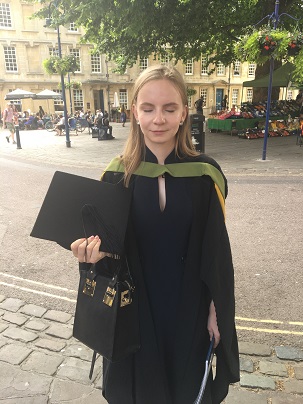 "I close my eyes and I can see, the world that's waiting up for me, that I call my own. Through the dark, through the door, through where noone's been before, but it feels like home" - From The Greatest Showman
What are your tips and advice to international students trying to find a job in the UK after graduation
First of all, don't panic. Life is bigger than any of this, and even if you don't succeed straight away, it is all leading you to where you are meant to go. Secondly, having said that, prepare yourself for the hard work because it's not going to be easy. Have patience, plan ahead, start early, do your homework every time and don't get lazy thinking that if you've done 5 cover letters for firms in the same sector - they all look the same! - you can't just re-purpose something you've already written without any changes (this never ever works). Practise before every interview, especially if you can find some of the questions online (you almost always can, after a good hour or two of research or stalking people on Linkedin). Use the resources at university: go to the networking events, find people from Bath at the firms where you want to apply on Linkedin - they are almost always happy to help and answer any questions about the recruitment process; and don't be afraid to ask for help. It's always better to admit that you are stuck with that application form, show that very basic cover letter that you came up with, to your friend or a career adviser or anyone really, before you send that out to your first choice or worse, bury that application altogether because you think you're just not good enough.
Most importantly though, ask yourself if a job and, consequently, a life in the UK is what you really want because this sometimes can fall in the background of this process. The process of coming to the decision to stay in the UK required me to see a mental health specialist regularly for the duration of the whole third year, and it is still something that is on my mind constantly. So ask yourself really well and have an honest conversation with yourself and your dear ones about what really matters to you, because if this job in the UK is not leading you towards this goal, you may have a very hard time coming to terms with life after you get that offer.