As part of our Careers Celebrate Diversity, Challenge Discrimination week on Disability and Mental Health, we focus today on finding a job as an autistic graduate.  Our guest blogger, Chris Ellis who recently completed his MSc in Biosciences first blogged in January on his graduate job search and the hurdles he faced. Read the previous blog
Today, read about how his job search has since progressed!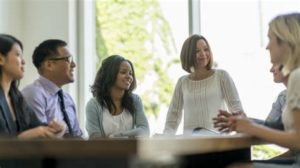 Sat in a coffee shop in Rugby town centre, my email pinged. Accenture had just sent me an invite to an assessment centre! Opening up this email, a shrill of excitement and panic overcame me. I was one step closer to getting a job! But although I was ecstatic internally, I was also very aware this meant dealing with awkward social interactions, judgemental interviewers and a high pressure environment; an admittedly uncomfortable reality. In this mixture of emotions, I confirmed my attendance on the latest possible date. Not because it was most convenient (which it happened to be so), but because part of me wanted to delay the whole experience for as long as possible.
That night, I sat down and planned out an incredibly in-depth and exhaustive preparatory interview document. I planned the time I would spend on each section, and the information I needed to take from it. I then sent a self-reassuring email to my careers adviser asking for other areas I had neglected to explore. I soon realised most of my approach was more an exercise in distraction rather than a productive means to performing well at the assessment centre. As soon as I exhausted the 'planning phase', I was at a loss because a barrier popped up, instigated by a fear of failure.
This barrier may seem counter intuitive, but to me it made sense. I had an internal conflict of wanting to perform well and get a job, and another wanting to withdraw because of the associated panic, stress and possible rejection I could be subjected to. By being productively unproductive, I was satisfying both sides up to a point.
During all this faff, I had made some progress in communicating reasonable adjustments for my disability to the recruiter. When I sent these adjustments, I felt dissatisfied; I could only request what I can infer from the prescribed and sometimes vaguely worded tasks. Fortunately, Angus, the specialist recruiter implementing my adjustments, invited me to the offices to discuss my request. This was perhaps the absolute best thing I could have done, both to clarify the adjustments I required and to overcome the initial sensory overloads that I experience in high stress environments.
The meeting with Angus quelled some of the fears I had experienced, but I still resisted fully preparing for the interview. Two days prior, I was telling my family I was not yet ready. "NOT YET READY?!" I can still hear my mum; she was way more concerned than I was. By now, I realised that the status quo of being productively unproductive was no longer cutting it. I had a mini-panic and blitzed through all the necessary preparations on time.
So, preparation out the way, the morning of my interview loomed and I was sat in a coffee shop round the corner from the assessment centre. My stomach wouldn't ingest the dry croissant and strong coffee I had in front of me. I was  exhausted, and all in all, I felt pretty terrible. In less than an hour, I was to start my assessment centre. I needed someone to talk to, and that meant mum or sister. Initially I was resistant to seeking the support, what employer wants a person who still relies on their mother for support? Between my aching stomach and need for inspiration, I eventually caved and called. Within 10 minutes of talking, I was feeling more positive and set off to begin my interview.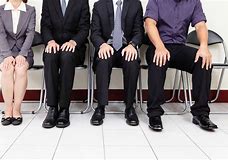 I entered the already familiar waiting room, and saw three other young awkward looking men waiting with visitor badges. Guessing they were also to be interviewed, I joined them on a set of two couches. The four of us quickly expanded to six, and a set of couches designed for only four became an uncomfortable squishing of each other's bodies, all the while engaging in social conversation. I suppressed whatever uncomfortable thoughts and feelings I had, and tried my best to engage in the communal small talk. Suffice to say I was relieved when they finally collected us for the beginning of the assessment.
Angus, the specialist recruiter, eventually made an appearance and whisked me away to an interview pod. This first stage was a collection of consulting challenges. At one part, Angus played me a recording simulating a telephone meeting between several people. For some reason I just couldn't do it! I felt despair and shame that I couldn't keep a track of the information being relayed. Angus, pausing the recording, looked up and asked a question regarding what I heard. I was mortified. Thinking this would look bad, my brain momentarily scrambled before regained composure and replying that I couldn't answer the question, that I experienced confusion and lost track of the discussion. I asked for the information to be replayed. To my delight he agreed! After hearing a repeat of the discussion, I was able to answer the initial question.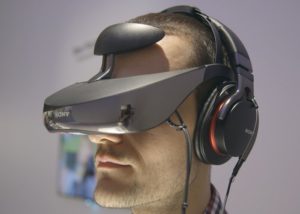 My next exercise was totally new for me. A virtual reality assessment. It admittedly sounds like some abstract, redefining of the assessment process in a Google-esqe manner. Before today, I have played around with VR in the Natural History museum, watching David Attenborough discuss the dragon fly and its migratory route. But I never really needed to interact with my environment, just sit back and observe. So my first question running through my mind was, how will I be assessed? Putting the headset on, I was asked to move around a virtual room. All I can say is it was weird?! Internally, I was super excited to try this technology out! But I found it to be a hindrance. Namely, I could no longer write on a piece of paper when taking in information. I expressed my want of pen and paper out loud to the assessor, but cannot remember what he might have said. It was all a bit disorientating. Even though my performance was most probably terrible, I was given the opportunity to express how I would tackle the task in future. Maybe I am reading too far into this particular assessment, but it felt more like an exercise of reflection and development rather than a 'performance'.
This assessment centre felt different to previous ones, and I reckon it is mostly down to the implementation of adjustments. In retrospect to my previous blog regarding adjustments, I feel like I missed a crucial and beneficial pointer that defined this experience as different. I now realise that adjustments are two-fold; it is good to have access to something like a pen and paper, but having the confidence to use it, even if it keeps your assessor waiting, is a completely different matter.
I hope that this reflection will be useful to others going through the same process. Ah, one last thing, I got the job!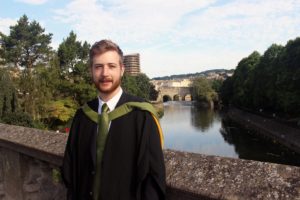 If you are an autistic student and would like help and support on applying for placements or graduate jobs please check out our resources page on MyFuture. You may also be interested in some of our future events:
Webinar - To disclose or not to disclose a disability - 3 April 6.00pm-6.45pm
Short internships (2-3 days) Easter vacation with AIG - London. These internships are specifically for autistic students. For details on this contact Melanie Wortham m.j.wortham@bath.ac.uk