Getting started in digital PR
Tom Pallot, Digital Strategist, TopLine Comms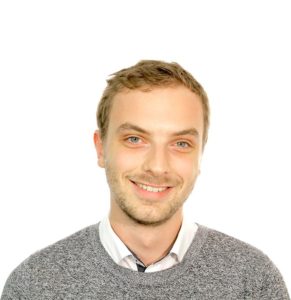 Having graduated from Social Sciences at Bath in 2015, I now work at technology focused digital PR and video agency, TopLine Comms (now Definition). After a summer of – increasingly desperately – looking for a job, I started at TopLine in 2015 as a Comms Assistant, supporting account managers in the running of their client accounts. Since then, I've moved on to become an account manager myself, mainly keeping clients happy and delivering results. And now, I'm specialising in digital PR and SEO (I'll explain later) and strategizing for clients.
My industry knowledge when I started was minimal. I knew I wanted to work in some facet of media, and PR seemed like a logical fit.
I learned a huge amount about what PR could truly mean for a business during my first couple of years.
We build our clients bespoke strategies that can cover every base from ensuring a regular drumbeat of coverage in the right publications (whether that's BBC News or Broom, Brush and Mop Magazine – yes that's a real thing), to managing their social media platforms, to securing award wins, to ghost-writing for their spokespeople, to handling their external communications in a crisis. If all these elements (and more) are managed well, you can begin to imagine the benefits to a company.
Search Engine Optimisation (SEO) was a brand-new thing for me too. In basic terms it's the practice of increasing quantity and quality of visitors to a website via organic (not paid for) search engine results.
The ins and outs of this industry are too vast for us to begin scratching the surface here, but one way we like to think of it is that getting a businesses to appear at the top of a Google search result is kind of the digital version of getting it on the front page of a national newspaper.
SEO is an excellent way of generating new business for a company and goes hand in hand with PR. It increasingly relies on building up authority and trustworthiness in the eyes of Google, and generating company and spokespeople mentions online via PR is the best way to do this. Here's a beginner's guide.
Now that I'm coming up to half a decade in the industry, I've got a good idea of where my career is headed, and I'm pleased about it. PR is a great career choice for graduates because it's multi-faceted. You get to develop loads of skills that are useful in any business you might choose to go into later, and you'll get to put the social skills you've acquired at uni to good use.
Here are some of my thoughts on getting into a media job after graduation.
Consider smaller agencies
In PR, marketing and advertising, you'll have loads of choice of places to apply to. Some larger agencies have graduate schemes and the promise of big-name clients, but I'd really recommend that you start at a smaller agency.
The reason being that smaller teams mean there is no one to hide behind so you'll be thrown in at the deep end and will be given much more responsibility from day one. You'll get to play a part in building comms strategies, running calls and meetings with clients and press and learn how to run an account. You might even get to help with winning new business – something which can often be reserved for the most senior in the team.
I started as an assistant and within a year I was running client calls with CEOs. Within another couple I was building their marketing plans and now I'm in a position where I can begin to specialise in the areas that interest me most.
Don't specialise too soon
The fact of the matter is that we're all going to be working for a long time, so there's no need to specialise too soon. Instead, try everything – get as much experience as you can in every area including writing, pitching to press, SEO, social media, running meetings and client management. It's good to try everything to get an idea of what you're most interested in pursuing in the long term. Plus, having experience in all areas makes you more employable elsewhere.
Get some experience
Work experience during summer (not all summer though, enjoy them while you can) will give you a good taste of what it's like to work in that type of environment. You could be helping out with pitching, attend some interesting meetings and draft some copy. Most importantly though it will show companies that you've got some interest in the sector and can be proactive.
It's shouldn't be too hard to get, either. I didn't know where to begin so I googled 'PR agency' and emailed the first three simply asking for some experience. Two replied and said yes – and that's all there was to it. The work was unpaid (bar travel expenses), but at that stage of your career the payment is the experience you gain.
I sent my prospective emails to the general company email of the agencies in question, typically something like hello@ or enquiries@. I kept them concise, polite and made sure they read well.
I started by expressing my interest in a possible internship and in the sector. Then, a very brief summary of my current situation I.e. "I'm studying Social Sciences at the University of Bath...I have a good base of skills, an interest in the media and I'd work well in a PR environment." I let them know the dates I'd be available, reassured them that I had accommodation options in the town and finished by attaching my CV and expressing my appreciation for their time.
Hospitality jobs (like bar work) are worth including on your CV, too. I left my kitchen/bar experience off my CV thinking it would be irrelevant, but I got asked about in my interview. It's all client facing work and having an instinct for dealing with people (sometimes in tricky situations) is invaluable in a client facing role.
Fail fast and learn quickly
When you do get your first job, try and be confident, get involved in meetings and ask questions. It took me a while to do so myself, but whenever we hire a recent graduate who asks what the jargon means and gives an opinion, it's very valued.
Try and take stuff on as much as possible. Provided you don't delete the entirety of your agency's Dropbox or say something inappropriate to a client, trying things and not being perfect is one of the best ways of learning.
Also, if you hate it, leave. There's no shame in not enjoying something and wanting to try something new while you can.
Read around
If you're interested in PR and marketing and want to learn more there's a bunch of stuff you can read.
You can start with our blog and then other publications like PR Week, The Drum, Marketing Week and Search Engine Land. We've also put together a PR Masterclass specifically for beginners and students (paid for resource). It'll help you with everything from journalist outreach to maximising engagement with your content.
Graduate recruitment agencies can be useful too.
And that's about it. Hopefully that helps. If you're thinking about a career in PR, go for it. You'll get loads of experience and skills that really will set you in good stead.
Careers Service thanks Tom for his excellent blog contribution and wishes him all the best in his career.