As part of the Universities 'Skills and Employability week' here in Careers we decided to focus our blog posts on the one dilemma that every one of will be confronted by at some point in our working lives, "I am not sure what I want to do". In fact, the vast majority of my 1:1 meetings revolve around the career choice conundrum.
So first things first, you are not alone.
Secondly, it may help to re-frame your thinking to "you haven't figured this out – yet" but you will.
It can be helpful take a systematic approach and I really like this framework by Ali & Graham. Career planning is a continuous process and this is a framework you can come to at any stage of your career – simply start the process at the step that is most relevant to you.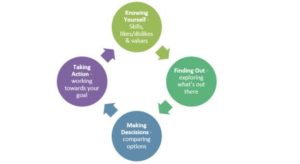 In this series of blog posts, I wanted to focus on 'knowing yourself 'and how this awareness can help with narrowing down or even identifying possible career paths. In the Careers Service you have access to a number of tests:
Team Dynamics Indicator: this test is based on Carl Jung's theory of human psyche and is designed to help you understand your preferences against four different dimensions of personality.
Values Based Indicator: this test supports you in identifying the values that matter to you the most. An alignment between your career and your values produces satisfaction and fulfilment – so it really is worth considering this as part of your career thinking.
In this post, I am going to focus on the Team Dynamics Indicator and you can see a sample of the report you'll receive when you complete the test. The report is incredibly detailed and includes:
An explanation about what motivates your personality type and crucially the sorts of work environments you may be suited to.
You'll gain an understanding of the type of contribution you like to make, how you like to interact with others and crucially how others may see you.
You'll also get some broad ideas around the sorts of careers you may want to investigate.
That's all well and good I hear you say – but how can I apply these insights to make progress around my career thinking. Fear not, I have you covered with my top three tips:
Create a priority list: reflect on the insights around the style of working, interactions with others and your main assets from your personal report. Make a list of your must-have requirements based on your personality dimension and follow the 70/30 rule. What this means is that provided 70% of your priorities are being met in a potential job then you're onto a winner. In any job there will always be about 30% that doesn't quite float your boat and that is OK. No such thing as a perfect job.
Explore the career recommendations: you'll see in the sample report you'll receive a list of job roles individuals with a similar personality dimension to you have chosen. This isn't a definitive list and it is good to remember there will always be exceptions to the rule. However you can use this list as a starting point to investigate potential careers. Do look at the job profiles on the Prospects website or check out the icould videos showcasing professionals across a wide range of roles and sectors. Use your 70/30 list to gain a measure of how much a particular role aligns with your priority list.
Focus your information interviewing: Over the course of Semester 1 there will be over 500 employers on campus, all focused on recruiting the best talent for their organisations. You also have access to Bath Alumni working in the sorts of roles you may be considering. You may want to consider making a list of 5 killer questions and aim to ask the same questions, so that you can build a consistent picture around different sectors and job roles. How are these to get you started:

Can you describe some actual examples of the sort of activities that your job involves?
If you could change one thing about your job, what would it be?
Is there a particular type of person who works in this field?
How would you describe the organisation culture and is it the same in other organisations in this field?
If you could change one thing about your job, what would it be?
Hope you've found this post helpful, don't forget to have a go at the personality tests yourself and look out for our next post which will focus on the importance of values to find career satisfaction.