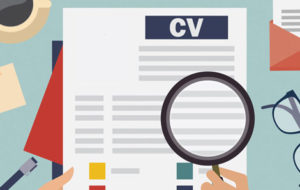 We've had a busy time with our applications advice appointments this semester…410 CV/Cover Letter sessions and counting. If you had been a fly on the wall in the Careers Service you would have heard us say the following things quite a lot! We know that you have so many competing calls on your time. However you will get so much more value out of the session if you focus on the following before you come along.
Have you read the Applications and CV Guide?
It's not a test or a trick question…but there's a good reason why we ask. The new, improved pdf (find it on My Future under Resources) is packed full of examples of great CVs and cover letters. If you follow the example flow or structure, use the headings suggested and the great advice on showcasing those transferable skills, you will be bringing along a CV that is already 90+% of the way to being great. We only have 15 minutes in the appointment, so we can then use that precious time to really get down in the detail of your story in order to make your CV extra special. And the page on structuring your cover letter is my top favourite resource of all time!
Choosing four to five relevant modules from across your time at Bath showcases what you have been studying for three, four or five years – up to the minute and  vital technical skills, concepts and knowledge which your potential employer needs you to bring to the role and their organisation. But more than that your choice of modules illustrate that you have clarity about your chosen career direction….which, funnily enough, happens to be precisely in their line of business! Plus it's a great excuse to show off if you also achieved great marks for that module. For some degrees, especially engineering, where there is plenty of project work, you should definitely be talking about a selection of relevant projects here, demonstrating technical/IT/team working/problem solving and project management skills.
Presenting work experience in the most impactful way possible
Most of the time you will, quite correctly, be presenting your experience in a "reverse chronological" format. But what if that approach means that some super-relevant work experience you did 18 months ago is then superseded in your time line by a summer job in a beach bar (which, by the way will nevertheless have also given you a sandy beach bag full of sunny transferable skills)? There's a neat trick of the CV trade here; simply make your first heading "Relevant Experience"  where perhaps you showcase a great placement or internship. Then follow it up with a second heading, "Other Work Experience". That way you circumvent the chronology problem and ensure that the most relevant and impressive experience comes higher up the page.
Part Two – more FAQs to demonstrate that there's very little new under the CV sun……