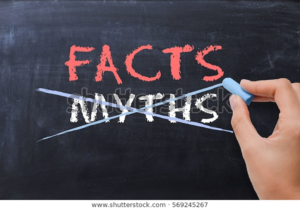 Dr Charlie Ball Head of HE Intelligence Graduate Prospects* spoke recently at an Institute of Student Employers conference. He set about busting some myths around university and the graduate jobs market.
Myth:  "There aren't any jobs for graduates"
Truth: Actually, for Bath graduates 89% of our employed UK full-time first-degree graduates are in the top three occupational groups compared to 74% of employed graduates nationally – data from HESA Destinations of Leavers from Higher Education 2016/17
Myth: "If I study <SUBJECT> then I will have to do that as a career."
Truth: The UK has a particularly flexible skilled jobs market. Dr Ball stresses that the majority of jobs for graduates do not specify a degree discipline and you can get them with any subject, from fine art to physics.
In addition, not taking a vocational degree does NOT mean you won't get a job! Studying a vocational qualification (e.g. engineering), does not mean you have to follow that vocation.
We have students every year who move in surprising directions, for example a sociology student who is now an accountant or a chemist who is cabin crew for Easyjet.
Myth:  "Graduates only work for big business or on large training schemes"
Truth: Small and medium-sized enterprises (SMEs) represent 99% of all businesses in the EU*.The definition of an SME is one with fewer than 250 staff and a turnover less than €50 million. *(https://ec.europa.eu/growth/smes/business-friendly-environment/sme-definition_en)
In 2018, 30% of graduates went to work for SME's and one in six were with companies with fewer than 50 employees.
SMEs are especially important in certain fields such as telecoms, design, architecture, sport/fitness, and web design.
The proportion of graduates entering SMEs does seem to be falling, due to competition for scarce talent with larger businesses
Read our Finding a graduate job guide for advice on how to go about searching for a job outside of the main graduate schemes.
If you're not sure if working for an SME is right for you, take a look at Working for small companies.
Myth: "All the graduate jobs are in London"
Truth:  The facts are that 19.8% of UK graduates live in London. 22.4% of 2016/17 graduates started their career in London. Many of those jobs were confined to a relatively small area of London such as Westminster.
The starting salary for graduates in London was £24,991 compared to £22,399 for UK as a whole. London is the largest and most varied labour market in the UK, BUT most people, (including graduates) never work in London.
Find out what graduates do region by region.
*Data source Dr Charlie Ball https://hecsu.ac.uk/research