The Careers Service has over 300 resources available to help you at every step of your career journey. Each week we put the spotlight on a resource that can help you. This week it's….
Get Started guides
For the first week of Semester, I thought I would highlight our Get Started guides that bring all our resources together. If you are feeling a bit unsure about how to make a start with all things careers these can help. Whether its making a start with your CV, interview preparation or deciding what career options appeal to you – these guides are for you.
Equally, if you already know a bit about a topic, these guides save you time by bringing together our most useful resources in one place.
We highly recommend using them before coming to see us in an appointment. You might find they answer the questions you had or avoid some common mistakes on your applications. So when you do come and speak to us your appointment can be spent on other topics.
What they cover
The guides cover a core range of common careers topics. From applications to interviews. From further study to work experience. And lots more besides. It's also worth checking back as we are planning to add some more guides in the coming months.
How to access
You can access the guides through MyFuture. Look out for the Get Started banner or find 'Get Started guides' on the top toolbar. From these links you will find a list of the guides.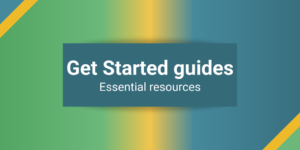 How to use
Using the guides is simple. Have a browse through the resources listed and access those that interest you. Resources you have viewed will be ticked off so you can see your progress and what you have looked at previously. You can go back and view them if you want a refresher though – clicking on the little arrow will re-open the panel so you can review again.

Further help
If you need further help or have any questions we are here to help. We can help you track down information on specific questions and offer advice on how best we can help you. Email us via careers@bath.ac.uk