The Virtual Careers & Placements fair is taking place on 15th and 16th October. Over 90 employers are participating and they are interested in engaging Bath students and graduates. We cannot contain our excitement!
Careers Fairs, whether virtual or in-person, have one single purpose – they are an opportunity for you to meet managers, recruitment personnel and recent graduates from a wide range of employers.  Such events are a great way to expand your network as well as an opportunity for you to ask questions about the recruitment process, available opportunities, and insights into the sector.
How will the virtual fair work?
The fair is a combination of employer presentations and an opportunity for you to schedule short 1:1 meetings directly with recruiters. The whole fair is hosted online through the Career Fair Plus app, and you need to follow these three simple steps to get ahead of the game: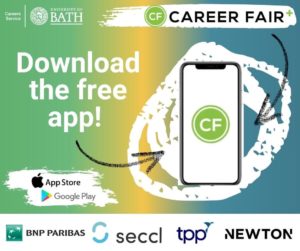 Download the Career Fair Plus app from the App Store or Google Play.
Open the app and navigate to University of Bath.
Browse the list of participating companies, create an account, and start scheduling meetings.
Before the fair
You may want to spend some time exploring which employers are participating in the fair and on which days they are in attendance. Thursday 15th October will bring together employers interested in any degree discipline whereas Friday 16th October brings together employers interested in STEM students and graduates. Consider these tips ahead of the big day to make sure you are prepared:
Prioritise which employers you want to talk to and spend a little time getting some background information by visiting their careers website.
Think about what you would like to know and prepare some relevant questions. This will help to provide a focus and purpose to the conversation, so you do not end up asking bland or vague questions in a panic such as 'so what do you do?' Remember this is your opportunity to make a good impression and find out what you need to help you with your job hunt, so don't ask anything too obvious or basic, i.e. where the answers are clearly on their website!
Keep an open mind, as opportunities can come from the least expected places. Even if you know which sector you want to enter, those working in other areas may still have valuable insights and advice.
BONUS tip: Think about how you will Introduce yourself. You may even want to prepare a short elevator pitch, Mind Tools offer awesome tips! Most importantly, look at your camera, maintain eye contact and smile!
During the fair
First impressions count, more so in a virtual environment. Do consider professional attire and think about where you will be attending the virtual fair from. Ideally you want to be in a quiet location, make sure your background and room is neat and tidy.  Do also consider the following:
Be proactive and do not hesitate to initiate conversations with employers you want to talk to. Be confident, reach out and make connections. Once you are in a live chat with an employer, the ball is in your court to introduce yourself and ask the right questions.
You may find you are relying on written rather than verbal communication. Therefore, use full, grammatically correct sentences. Avoid text speak, memes or gifs and read over your message before you hit send 🙂
When talking to employers do not be afraid to ask about next steps and the best way to stay in touch. Some employers will have uploaded contact information, some may be willing to connect on LinkedIn, so don't be afraid to ask.
After the fair
Don't let your efforts go to waste, do follow up with any connections, thank them again for their time and get to work on your applications. Your careers service is here to support you, have a look on MyFuture for resources, jobs and to book a meeting with one of our advisers.