The Careers Service has over 300 resources available to help you at every step of your career journey. Each week we put the spotlight on a resource that can help you. This week it's….
eCareersGrad
What it covers
eCareersGrad offers two courses to help you with your interview preparation:
Interview success – for general job interview preparation
Master the consulting case – for help with case study style interviews
Both courses have videos showing you example answers and insights from real graduate recruiters on what they are looking for. Giving you both the theory and opportunities to see answers in action.
They are great preparation for any job interview but do have specific information if you are going for a consulting, banking, finance, law, policy or public sector role.
We really love this resource for interview practice! For a practical skill like this you can't beat a good video showing interview technique in action. We highly recommend these courses to get prepared and feel confident for whatever an interview might throw at you.
How to access
Both current students and graduates can access eCareersGrad. You need to register using either your @bath.ac.uk or @bath.edu (for graduates) email address on our Bath specific log-in.
Go to eCreersGrad on MyFuture to find our Bath specific link
How to use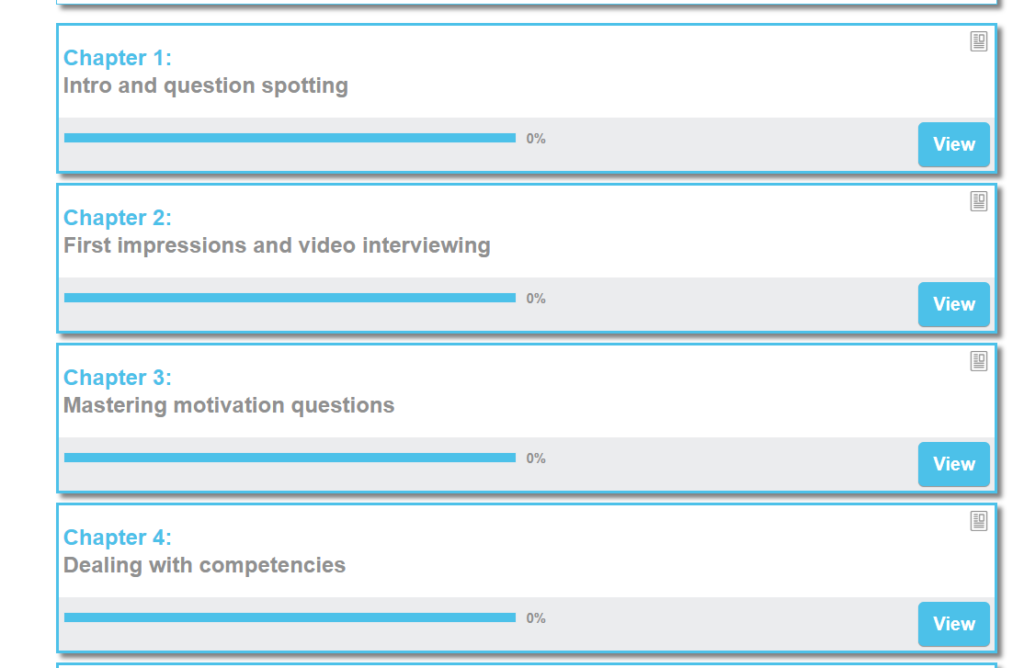 Hopefully the site should be self-explanatory to use. You can work through different chapters to build on your interview or case study skills. The course is self-paced so you can choose how you want to use it. You could go through everything all in one go or take it slow
Put it into practice
Once you have gone through the courses you might want to try putting your interview techniques to the test. We subscribe to Graduates First that allows you to do just that! Alongside fantastic psychometric tests, Graduates First also offers a practice interview platform.
On there you can record yourself answering a variety of interview questions, watch yourself back and get some automated feedback on how you are coming across. It may feel a bit uncomfortable but is a great way of getting used to answering interview questions. Recorded video interviews are becoming very common so this is a great way to practice this format. But even if you have an upcoming interview with a live interviewer – virtually or in person – this is a great way to start practicing.
Find out more about Graduates First
Our Adviser Team can also support you with interview practice. In Semester 1 we generally don't offer full practice interviews. However, you can book a Careers Appointment to discuss any interview concerns or have a quick run through few interview questions.
Find out more about appointments
Further help
If you need further help or have any questions we are here to help. We can help you track down information on specific questions and offer advice on how best we can help you. Email us via careers@bath.ac.uk