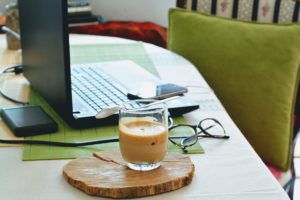 ---
We have several live events and on – demand resources on networking through our Stay Connected programme, which is tailored to graduates. Opt in to the 7 – 11th June programme here.
---
You have just finished your exams and you are wondering about what to do next. Online networking is something you can do from the comfortable surroundings of your home and at any time. But how can online networking support you in getting your first graduate job or further study? Have a look below for 5 key steps to fruitful productive online networking.
What is your aim?
There are many different reasons for why you may want to network online; maybe you want to explore different career pathways, organisations or sectors, ask for application or interview advice or maybe you just want to connect with like – minded people? Your main reason may be that you want to find a job, however this should never be the first question you ask!
You can find more reasons for why you should network online here
What tools can you use?
Bath Connection
Bath Connection is Bath's alumni mentoring portal and we have over 1400 alumni on there who have said yes to support current students and recent graduates. If you feel anxious about reaching out to an alumni for support, then Bath Connection may be the best first place to go, as these alumni want to and are likely to respond to your queries. Register here if you haven't already.
LinkedIn
You can add employers or people you meet at events as contacts on LinkedIn or you can use the excellent alumni tool to see whether there are Bath alumni that work in organisations, job roles or sectors you are interested in. I know many students and graduates have had success reaching out to alumni on LinkedIn, I urge you to have a go!
Social media e.g. Twitter, Instagram and more
You may choose to approach employers, alumni or people working in interesting sectors via other social media channels, this is up to you what you feel comfortable with and what is relevant to the sector you are interested in. For example, academic researchers often network via Twitter.
What do you say?
What you say and ask depends very much on what your aim of the networking is. However key piece of advice is to keep the first message short; tell them the reasons for why you are connecting with them, what you have in common (e.g. are you both alumni from Bath?) and something positive about them e.g. did you recently see them speak at an event and you found them inspiring or do you see something in their careers story that you find exciting?  On LinkedIn I also strongly advise you to add a note. It is all about being yourself, being authentic and think of questions to ask. Here are some examples of questions you may want to ask (however this is entirely up to you!). We have lots more resources on networking with confidence on MyFuture.
Different types of networking
You have managed to get someone to respond to your online networking request! Now have a think about what would be the best approach; would you like to continue via email or would a virtual (or face to face if that is possible) coffee chat be best? Have a read of our resource – Online Networking – how to start the conversation
Follow up
Make sure to follow up afterwards. If you are not interested in taking it further, a warm thank you is enough. However, you can also ask whether it would be ok to contact them further down the line for further questions or advice. You never know, maybe the networking request will develop into a long – term mentoring relationship.
Good luck with your networking!
We have lots of further resources on LinkedIn, networking and online networking on MyFuture.