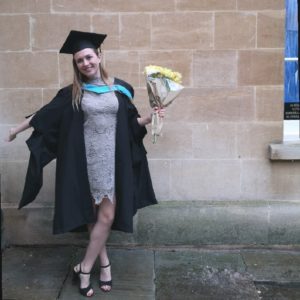 ---
Recently I had the pleasure of meeting our MSc Applied Clinical Psychology graduate Hazel, who recently qualified as an Education Mental Health Practitioner (EMHP). The EMHP role is a relatively recent and exciting role supporting children and young people in schools. The trainee role is currently being advertised through NHS Jobs and third sector agencies. Want to know more? Read the NHS Careers job profile. The Careers Service thanks Hazel for her blog and wishes her all the best in her future career.
---
Can you tell me a little about yourself and where you work?
I started as a trainee EMHP straight after completing my masters, and I've now been qualified as an EMHP since December. As an EMHP, I work within a mental health support team in Oxfordshire which provides mental health and behaviour support to school age children and parents and supports a whole school approach to mental health. Being a relatively new role, the team was created at the same time as we began our training, which has been really interesting as it meant we have been able to see how this has developed from the beginning. Within the team we are made up partly of NHS employees and partly of mental health charity, Response, which has also brought about a collaborative approach between the two agencies. Prior to this role, I had quite varied experience including working with children and young people as a teaching assistant and working at a summer camp in the USA. Plus, working more directly with mental health as a support worker for adults.
How did you hear about and apply to your role?
Towards the end of my masters I began searching for jobs mainly on NHS Jobs and LinkedIn. I was actually looking at assistant psychologist roles as this is always suggested to be the 'gold standard' for experience in clinical psychology. At the time, I didn't know of the EMHP role as it was very new, so it was suggested as related to my search criteria. I then started looking into what the role was and it seemed to fit in really well with my previous experience and current interests.
When applying as a trainee, you're also applying to the graduate/postgraduate diploma at the same time. So, I was interviewed by both the manager of the MHST plus the course director who were both really welcoming and encouraging during the interview. The interview lasted around 30 minutes and included a short role play exercise as well as some scenario type questions. Looking back, I feel very lucky to have been offered the opportunity as I know that the volume of applicants can be really high!
What's a typical working day like?
A typical day in service would focus mostly on completing assessments and interventions. Ordinarily we would be travelling between schools, however, with the pandemic we have mainly been working remotely. As a trainee, we were really well supported with weekly caseload management supervision as well as having group clinical skills supervision every two weeks; where we share video clips of our work and can discuss our practice. The idea of sharing video clips was quite daunting initially but now I really appreciate being able to learn from these sessions. Other parts of my day will include writing up notes from sessions, liaising with other professionals and with schools to support whole school approaches to mental health.
What do you enjoy most about your job?
I have always enjoyed working with children and young people, and I think seeing individuals taking what we've done in sessions and overcoming their challenges is something I find really motivating. Other aspects of the job that I really enjoy is being to spend a lot of time communicating with others, meeting people and being able to work in different locations (when not under COVID-19 restrictions!).I've learnt so much through this role and have enjoyed being able to keep building on knowledge and skills from my BSc and MSc.
What are the challenges?
One of the biggest challenges of the EMHP training was probably that the course was really new and was going through a lot of adaptations – even more so with the circumstances of the last year! With this, I really had to learn to manage my time between working with clients and completing assignments for university. I think being really organised in the beginning of the year was really helpful as things became a lot busier towards the final few months. I also think it was really important to be able to speak up and ask for support when it was needed.
In what way is your degree relevant?
Although you can do EMHP training without having a degree, I do think having previous knowledge of clinical psychology and practice gave me a really good foundation to build on and really helped me in my training. Additionally, a lot of the training and the role itself is focussed on being reflective and this is something that I was able to carry with me from my masters and which still benefits be now.
How has your role developed and what are your career ambitions?
We had only really started to work in service for a short time before the first national lockdown and this has meant that the majority of the role for me has been focussed on doing 1:1 interventions. I'm really looking forward to being able to do more group-based interventions and work around whole school approaches to mental health as restrictions are lifted.
I would love to qualify as a clinical psychologist in the future and working as an EMHP has really solidified that aspiration for me, as well as giving me a much greater insight into the breadth of psychological services. This role has also given me really useful learning in preparation to apply for the Doctorate in Clinical Psychology and has helped to develop my skills as a practitioner.
What are your top tips for anyone applying to be an EMHP?
Try to look reflectively at any previous experience you have (even if it seems unrelated on the surface) and consider the learning you've taken from this. Finally, I would also say not to be put off if they feel they have less experience or their previous roles aren't so related and to just go for it!