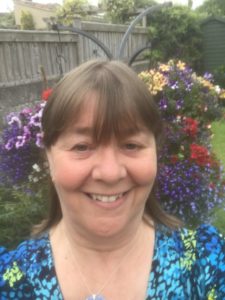 ---
The International Student Support Service is a part of Student Support and Safeguarding which aims to improve and support the international student experience at Bath. The service provides practical advice and information about living in Bath and in the UK. Read more about the service here.
Ann is delivering a webinar on the support available on Wednesday 26th October at 1:15pm. Find more information here. 
---
Introductions
My name is Ann Linfield and my job is International Student Experience Project Coordinator. Although the role is well-established, it's new to me – I have only been in position for a couple of months. Starting anything new is nerve-wracking and I sympathise with anyone else about to embark on a new adventure, whether it's starting at University, coming to a new country, beginning a placement or thinking about the future beyond Bath. Change has never come easy to me, and I have been really lucky to be surrounded by lovely work colleagues. I appreciate all the efforts everyone has gone to in order to make me feel welcome and fit in. I think that is why I really relish my new job. It is all about doing the same for International Students - making sure they feel at home in the UK to get the very best out of being in a different an unfamiliar environment.
What do I do in my role?
Much of my job involves making sure International Students have the information they need before they arrive in the UK. In September, I hosted online pre-arrival sessions about "Living in a New Culture" which covered topics such as how to manage finances and setting up a bank account, food, travel and safety. I've also been organising the coach service running from Heathrow to Bath for new students. You can read more about the service here.
How can you contact me?
When you're new, it's sometimes difficult or embarrassing to ask for help or information – my mission is to make it easy! Anyone with a question is welcome to email me at internationalsupportservice@bath.ac.uk or to make an appointment for an individual chat through MySkills. I'll endeavour is to either find you the right information or signpost you to someone else who can help. The International Student Support team is part of the wider Student Support and Safeguarding team, which includes the Wellbeing Service, the Disability Service, Student Money Advice and Therapeutic & Mental Health Services. We also work closely with Student Immigration Services.
Top tips for new international students
I'm often asked whether I have any tips for new International Students. I have lots but here are the three main ones:
Be kind to yourself. It's not easy adjusting to life and study in a new country. You may well have been top of your class previously but studying in an unfamiliar language can be difficult and time-consuming, and you may find yourself struggling to keep up with your peers. Remember what you are doing is much harder and that you have hidden strengths. Not many people are brave or independent enough to study abroad. You should be proud of yourself.
If you are struggling, reach out for help. In the UK asking for support when you need it is viewed as a strength not a weakness. There are lots of people around you who will be only too happy to help you, including me!
Find your thing and make time for it. It's good for your mental health to take a break from study and do something you enjoy. The SU has over 150 societies that you can join, so there is bound to be one that suits you. Alternatively, your thing may be cooking, shopping, swimming or running. Whatever your thing is, make sure you take the time to do it.
My thing is being in nature. So, at the weekend I'll be in my garden at home but in the week you may well find me walking through the woods round the back of campus. If that's your thing too, be sure to say hello if our paths cross!
The Careers Service thanks Ann for writing this blog and all support she gives to international students.