Sustainable procurement can help to make the University greener. The 2021 Climate Action Survey results show our community is eager for a change in purchasing processes.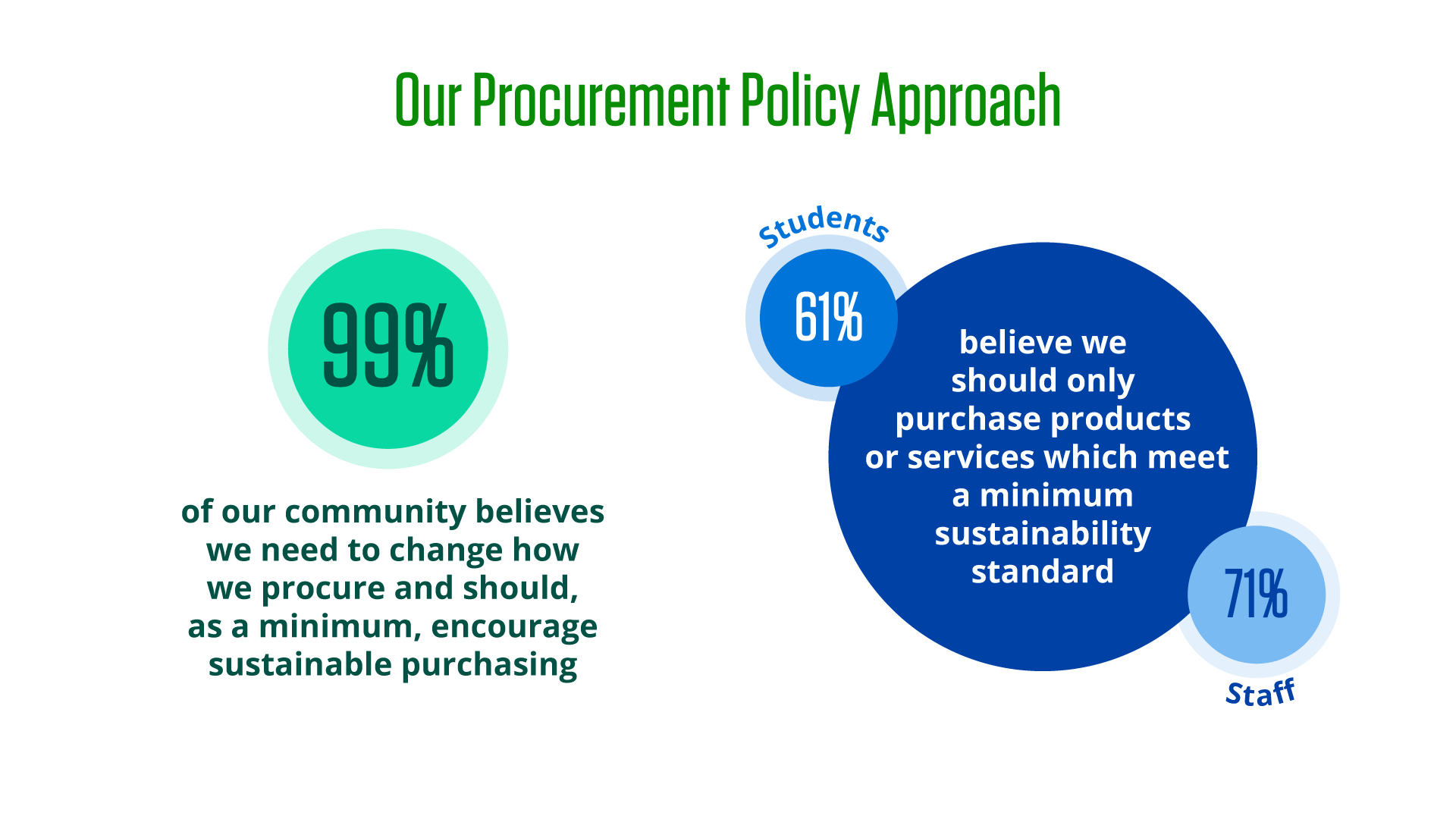 Procurement involves the purchasing of goods or services for University use and requires our procurement team, and individual staff, to identify and select suppliers to best serve the University's needs. These goods and services generate emissions from their creation and delivery, and this is adding to our overall carbon footprint. Often these are also referred to as 'supply chain emissions' or the carbon 'embodied' in products, and, although less visible than some other environmental impacts, they are highly significant.
Results from our Climate Action Survey 2021 show that our community does not believe that current procurement practices within the University sufficiently prioritise climate impacts. Key findings include:
99% of respondents believe we need to change how we procure and should at least encourage sustainable purchasing.
61% of students and 71% of staff believe we should only purchase products or services which at least meet a minimum sustainability standard
But 31% of students and 41% of staff go further and want life to be made easier for them when it comes to purchasing, stating that we should only offer suppliers and products that meet the highest sustainability standards.
While reducing emissions from supply chains will help us to become more sustainable and make a less negative impact on the environment, there is a lot to consider as we strive toward implementing more sustainable procurement processes.
How does procurement impact the University's carbon footprint?
Procurement falls under 'Scope 3' of the greenhouse gas emissions protocol: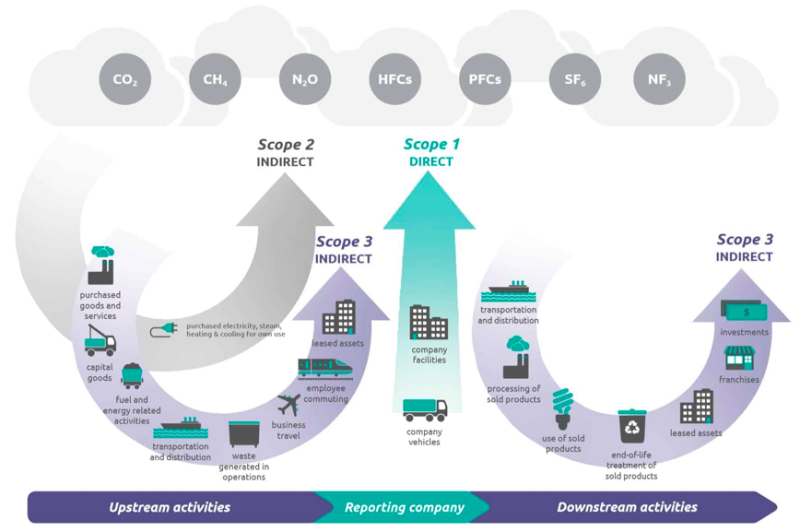 It includes building materials, equipment, food, travel and even business services. Essentially it is the emissions associated with all the goods and services that we buy.
As a University, the procurement of goods & services is the single largest component of our total carbon footprint (almost 60%) and, with over 4,000 suppliers serving us, collecting and measuring accurate data for these emissions is extremely challenging. In some cases of procurement spending, only estimates are currently available. We are focused on working with the procurement team in 2022 and beyond to begin to develop and implement a strategy to improve the accuracy of this footprint calculation.
Challenges to overcome
There are several difficulties to overcome as we aim to lower our indirect emissions through the supply chain. Chiefly, we often do not have any direct contact with suppliers who are further down the chain. This makes it much harder to measure and attribute emissions and more difficult to engage those suppliers. And there is a distinct lack of accurate product footprint data throughout all levels of the supply chain.
There's also the issue of prioritisation. We make many purchases, for a wide range of different goods and services, from a vast number of suppliers. Working out which emissions have the biggest impact and therefore require better supplier engagement will take time. It is the role of the University's procurement team to focus on the services that will make a difference to our footprint and work with suppliers who have shown a willingness to make changes.
Taking the journey together
There may be obstacles to overcome, but work has already started on looking at our procurement processes. We have established a Procurement Scope 3 working group, which will look both at those suppliers who are already prioritising lowering their emissions and also those who need to make more progress in reducing their carbon footprint. A supplier survey will signal to suppliers that we are serious about lowering our footprint and will help us to build stronger relationships while trying to achieve that goal.
We are also beginning to collaborate with both suppliers and even other large buyers to look for credible standards for us all to be guided by. Climate change is something we all have in common, so if we can send a message down the chain that the market is focused on making changes to the way it does business, suppliers are more likely to take it seriously.
However, procurement processes are only part of the solution. To make the right purchasing decisions, we need to engage all staff University-wide to consider the emissions caused by their purchases, for example, by including them in their tender requirements. By supporting procurement in this way, we can make a much bigger impact when trying to lower our carbon footprint. With 41% of staff surveyed stating that they would prefer procurement decisions to be made easier for them by only using suppliers who already meet high sustainability standards, it is very clear that it is a whole team effort.
Going further, the greenest item is the one we don't buy, so the first question we should all ask ourselves is 'is it really essential?'. But where making a purchase is really necessary, choosing items which have a low carbon footprint, last a long-time or are repairable will help us on the journey to reducing emissions. This is the opposite of a fast and disposable culture, and whilst quality and durability might cost a little more in the short-term, over a longer time horizon it can save money and effort for the University.
Tony Brett, Head of Procurement:
"Embodied carbon within our supply chains, or Scope 3 emissions as it's known, represents the largest proportion of the University's overall carbon emission, the challenge to reduce this by 50% by 2030 is a significant one but one we feel procurement can really help with. Thankfully it's also a challenge that many of our suppliers seem equally keen to meet.

We recognise that we must take a measured and structured approach to working with our suppliers as currently little information on current Scope 3 emissions exists. Therefore our actions in the short term will focus on building useful information and engaging with our supply chains to share our vision.

From there we can begin to adapt our procurement processes and ultimately procure the things we need to operate but with a measurable reduction in scope 3 emissions."
Making our supply chain more sustainable
These survey results show that our community is open to and ready for a change in our procurement processes. Managing the environmental impact of our University, while also balancing social and economic issues, is not an easy task. But it's something that we can take steps to improve.
It is now our responsibility to examine each stage of our purchasing decision-making and our supply chain and consider efficiencies that could be implemented. This is challenging, but we have already started work to ensure better transparency with our measurement and reporting.
By working as a whole team across the University, we can show how each purchase decision can impact our journey to net-zero. To get involved, keep up-to-date via our climate change hub.
---
Notes about the survey 
This survey was conducted in November 2021.

This survey was completed by 3985 respondents, representing 39% of University staff and 11% of students.

This survey was commissioned by the Climate Action team with methodology devised and results analysed by Dr Paul Haggar, Prof Lorraine Whitmarsh, Kaloyan Mitev and Hannah Lester.

The collated survey data can be accessed by members of the University of Bath community here.

If you have any questions about the nature of this survey, please contact climateaction@bath.ac.uk