Anxiety about climate change is real – and evident on campus. How can we use this fear to take positive climate action?  
The impact of climate change is affecting people's mental health worldwide and results from the Climate Action Survey 2023 show that feelings of climate concern are widespread within our own community, with 92% of students and staff admitting to feeling some levels of worry about the climate. 
What is 'eco-anxiety'?
Eco-anxiety is a term used to describe the feelings of intense worry, fear and helplessness that can arise in response to the current and projected environmental challenges we face. Those who experience eco-anxiety may feel overwhelmed or hopeless about the current state of the environment and the potential consequences of climate change. This can lead to feelings of anxiety, depression and despair. Eco-anxiety is a relatively new phenomenon that is gaining attention as the impact of climate change becomes more apparent and the urgency of addressing it increases. Research has also found that it is particularly prevalent among young people and children.
Eco-anxiety vs climate worry
Eco-anxiety and climate worry are related concepts, with distinct differences. 
Climate worry refers to a general feeling of concern or anxiety about the impacts of climate change on the environment, society and individuals. It may be caused by a range of factors, such as news reports, personal observations of environmental changes or scientific research on the impacts of climate change. Eco-anxiety, on the other hand, is a more specific and intense form of anxiety or distress related to environmental issues, including but not limited to climate change. 
In the 2023 survey, almost a fifth of students (19%) and a quarter of staff (25%) stated they were "extremely worried" about climate change. Climate worry in our community was found to be higher compared to results from a 2022 briefing released by the Centre for Climate Change and Social Transformations (CAST). As we navigate our daily lives, we are confronted with the reality of the environmental crisis and for many, existing during this era of climate change is emotionally burdensome and can affect our overall wellbeing.  
The Climate Action survey showed that the most intense levels of climate worry are higher in staff - 25% are extremely worried - compared with 19% of students.
However, regular experiences of greater intensity, which would align to experiences of eco-anxiety (for example, where the level of concern has an impact on one's life and functioning) were slightly higher in students (15% of students are reporting negative thoughts and functional impairment related to climate change versus 14% of staff).
We suggest a number of potential reasons for this. For example, staff may have more experience in researching and teaching environmental issues and may therefore have a greater knowledge of the realities of the threats posed by climate change and its impacts. This could lead to greater awareness about the severity of the situation and potential consequences, which would explain higher levels of climate worry. 
On the other hand, students may be experiencing higher levels of eco-anxiety due to feelings of powerlessness and lack of agency in addressing climate change. Students may be more likely to feel that they are not in a position to affect change, which could contribute to feelings of anxiety and helplessness.
It is also likely that differences in attitudes towards climate change between staff and students are influenced by contextual factors including age, life experiences and socio-economic background. These factors could impact knowledge levels and feelings of empowerment and thus contribute to differences in climate worry and eco-anxiety between these two groups.
Overcoming climate worry
While climate worry is considered a negative emotion and can be overwhelming for some, it also shows how much people care about the world, and other people, and it can be associated with positive outcomes, including:  
Motivation for action

: Climate worry can motivate individuals to take action to address environmental challenges. It can be a

powerful driver of change

, inspiring individuals to make personal changes and advocate for larger policy changes.

Increased awareness

: Climate worry can raise awareness of environmental issues and encourage individuals to stay informed about the latest developments in the field. This can lead to more informed decision-making and an increased willingness to support environmental initiatives.

Sense of community

: Climate worry can create a sense of community among individuals who are concerned about the environment. By connecting with others who share similar concerns, individuals can feel less isolated and more supported in their efforts to make a positive impact.

Personal growth

: Climate worry can also be an opportunity for self-reflection. By examining our own values and behaviours, we can identify areas where we can make positive changes in our own lives and contribute to a more sustainable future.
Results from the 2023 survey show negative feelings about climate change are common in our community. While climate anxiety can be a motivator for some, it is important to recognise that it affects different people in different ways. If you are experiencing eco-anxiety or other forms of climate-related distress, it is important to seek support and take care of your own mental health.
"These findings echo research that has shown the growing numbers of people across the world who are distressed about the climate and ecological crises.

People in our community at the University of Bath are not just worried about these crises, we are distressed.

For some (particularly for students), this distress is already at a level affecting their emotional wellbeing and functioning. Such distress is both understandable and rational; it is a realistic response to the fast-deteriorating health of our planet and the failure of those in power to act now to mitigate the worst outcomes.

These findings demand that we respond with both action and care. Our community must come together to find ways of understanding and responding to the psychological burdens of the climate crisis, alongside the vital actions we can take together. In this way we can demonstrate our collective commitment to improving lives and changing the world we live in."

Dr Liz Marks, Senior Lecturer in Psychology and Chartered Clinical Psychologist 
How to use climate worry as a catalyst for change
It is important to find healthy ways to manage negative emotions about climate change. It is a complex and daunting issue that can understandably leave many of us feeling anxious and overwhelmed. The good news is that you are not alone in your concern and there are many ways that you can make a difference in the fight against climate change.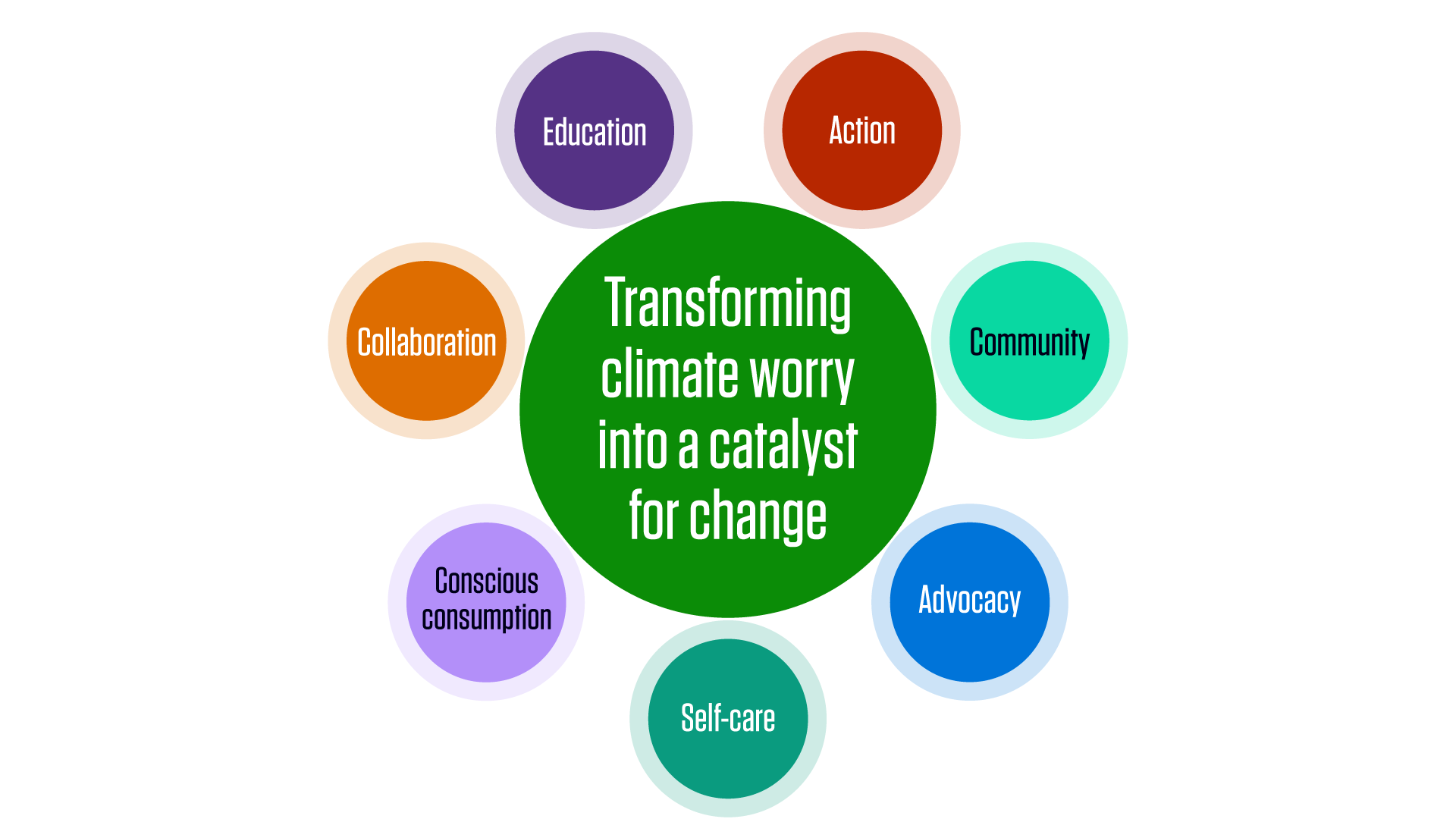 If you are looking to transform your feelings of climate anxiety into action, you can:  
Educate yourself: Learning about climate and environmental issues and the ways to address them can help you feel more empowered. Attend lectures, read books and articles and participate in University climate events to stay informed. 
Take personal actions: There are many ways you can reduce your environmental impact in your daily life, such as reducing your travel, eating less meat and lowering your energy consumption. These actions can make a difference and help you feel more in control.
Join a group or organisation: The University has a number of sustainability clubs or environmental groups where students and staff can get involved in environmental initiatives and campaigns.
Students can join a society that looks at sustainability-related issues, such as the People and Planet Society, Engineers Without Borders, Green Party and Vegetarian Society. Alternatively, you can join a Vertically Integrated Project (VIP).
Staff, why not join or form a Green Team in your department or faculty? (get in touch and we can help you with this) Or if your role is laboratory-based, you can join LEAF to collectively work towards increased sustainability in that environment. Think about other ways to incorporate this thinking in your everyday job - take inspiration from our 11 Principles, perhaps.
This sense of joining with others who have similar values to you can provide a sense of community and support while also making a positive impact.
Advocate for change: Use your voice to advocate for environmental policies and action. Write letters to your representatives, discuss environmental issues with family, friends and colleagues and share information with others in your network. Be a visible role model, an active citizen that responds to consultations, and a voter!
Practice self-care: Taking care of yourself is important when facing climate anxiety. Practice mindfulness, do exercise and spend time in nature to reduce stress and improve mental health.
The University offers wellbeing services for both students and staff:
Support environmentally and socially conscious companies: Support companies that have environmentally and socially conscious practices and products. This can include choosing products made from sustainable materials and supporting local and organic farmers, investing responsibly, or just remember to buy less - the greenest product is the one that is never made.
Collaborate with others: Working with others can be an effective way to tackle environmental issues. Collaborate with students, colleagues or community members to create change and make a difference together. EcoTogether is a new scheme in Bath helping people to co-create change.
No action is too small and every effort counts. By taking action, you can make a direct positive impact on the environment. Your actions are also important as they may influence other people, and the choices that they make. It is possible that this will help you to feel less overwhelmed by climate worry. However, it is important to remember that the individual alone cannot 'solve' climate change; it is not any one person's responsibility to do so. Find ways of connecting with a community who cares, where you can share your concerns and recognise that you are not alone. We will have more impact if we come together and find ways to influence those with the power to make bigger changes in the world.
This is the second in a series of articles highlighting the results from this year's survey. In the next blog post, we will be discussing how we're changing our diets for a sustainable future. 
---
This survey was conducted in November 2022.

This survey was completed by 4764 respondents, representing 41% of University staff and 14% of students.

This survey was commissioned by the Climate Action team with methodology devised and results analysed by Professor Lorraine Whitmarsh, Dr Paul Haggar and Kaloyan Mitev.

Members of the University of Bath community can

access the collated survey data

.

If you have any questions about this survey, please contact

climateaction@bath.ac.uk

.