Solving the gap between motivation and action on climate change is tricky, and as a student this can feel even harder. Here student and Climate Champion Tatiana Horsham shares how she is helping to drive real action as well as giving her top tips for how others can take impactful sustainable action while at university.
I first became a University of Bath Climate Champion in September 2022, at the beginning of my final year of university. I knew that before I left Bath, I wanted to take meaningful action to make positive sustainable change, to help the university get closer to reaching its climate targets.
I have had the opportunity to take part in many events as a Climate Champion. One of my favourite events was the Taking Action at Bath event where we promoted the role of Climate Champions, alongside One Young World, Vertically integrated Projects, and lots of societies such as Engineers without Borders and V Team.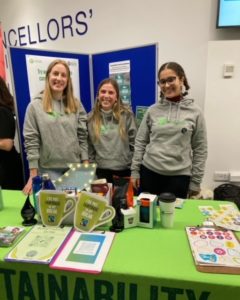 Enhancing your learning is always encouraged in the Climate Champions team with the variety of webinars and lectures you can attend such as London Student Sustainability Conference and Institute of Environmental Management Assessment (IEMA) approved training on sustainability auditing with SOS-UK and English Heritage.
And for a more hands-on experience…
To get an understanding and help increase climate action across the wider university campus, I promoted the Climate Action Survey that was held in November. We are always looking to improve understanding and engagement with climate action on campus.
As a Climate Champion you can also work virtually, whatever the time, and wherever you are, whilst still having impact. This year I have created fun and creative Instagram reels explaining the correct way to recycle, how you can make gift giving at Christmas climate-friendly, and made quizzes to test knowledge and share facts about Fairtrade, as well as written several blogs – including this one! I have also taken part in an exciting Active Travel Campaign where I got to be part of an advert encouraging students to walk and cycle to campus, which are better modes of transport for the climate. This was a fun day, and I got to experience how the world of filming works.
To minimise the amount of kitchen utensils thrown away each year, we ran a kitchen equipment stall and gave away hundreds of free kitchen utensils, helping to solve the problem that commonly occurs every year – students leaving their accommodation with their cupboards still full of plates and saucepans. Not only does this reduce waste in landfill, but it also reduces the amount of new products being bought unnecessarily, and buying less 'stuff' is one of the best things we can do personally to reduce our climate impact. Seeing the excitement on students' faces when they heard it was all free (with donations to the food bank accepted), was definitely a highlight. Giving to people whilst giving back to the planet; the perfect balance!
We celebrated Fairtrade Fortnight in February/March, as part of global promotions. The Climate Champions supported this initiative as Fairtrade food improves, social, economic and environmental standards across the supply chain. Lola, another Climate Champion, shared a great blog about the links between Fairtrade and climate change. Throughout the fortnight we had chocolate brownie tasting, a Tony's Chocolonely talk, and a nursery treasure hunt still to come. All these activities are fun whilst giving me an opportunity to take meaningful climate action on campus, and encourage other students to do the same.
Get involved - my top tips
I really recommend anyone to get involved and make that difference, and here are the top things I would suggest:
Join any societies that work to make a climate impact. Some include: Bath University Green Party, Sustainable Fashion Society, V Team and Vegetarian Society
Take part in the annual Climate Action Survey, and any other surveys linked to climate
Make the transition to milk and meat alternatives!
Walk to campus
Keep an eye open for any climate-friendly activities taking place on campus, and take part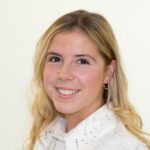 Tatiana Horsham
Climate Champion and 3rd year International Development with Economics student