This Cycle to Work day, we're celebrating the large and friendly community of colleagues and students who are part-time cycle commuters, regular cyclists, e-bike enthusiasts, beginner riders, and all others in between. If it's got wheels and pedals, we salute you!
If you're new to cycling or considering giving it a go, there are many ways in which the University supports cycling, including:
Find out more on the University's Active Travel webpage
Members of staff and postgraduate students can also hire an electric bike from Take Charge Bikes for free for up to two weeks to try it out and consider if this is a suitable option before investing. They have regular and cargo bikes available, depending on your needs. We've caught up with two members of staff who are recent e-bike converts to find out how they got on with the commute.
"I had heard about the e-bike hire option available to staff a while ago but only recently managed to get around to trialling it. I had an old push bike but really struggled with it up the hills (of which there are obviously many in and around Bath!). I don't own a car so mostly just walk everywhere, or rely on the bus, so having an e-bike appealed to me as a possible mode of transport. The e-bike hire was a really simple process and a date was arranged for me to collect the e-bike from town. The people at the hire shop were really friendly and gave me an in-depth tutorial on how the e-bike worked and I felt confident leaving the shop with it. From that point on, I was hooked! The bike is really simple to use, you pretty much just press a button and off you go! I flew up the hills and was home in double quick time. The trial was for two weeks, which was a good amount of time to really test the bike out and get familiar with it. Consequently, I ended up buying an e-bike and now cycle to work and to town. I love it! I am so grateful to the University for offering this trial to staff and would definitely recommend to anyone seeking new and alternative ways of transport."

- Anonymous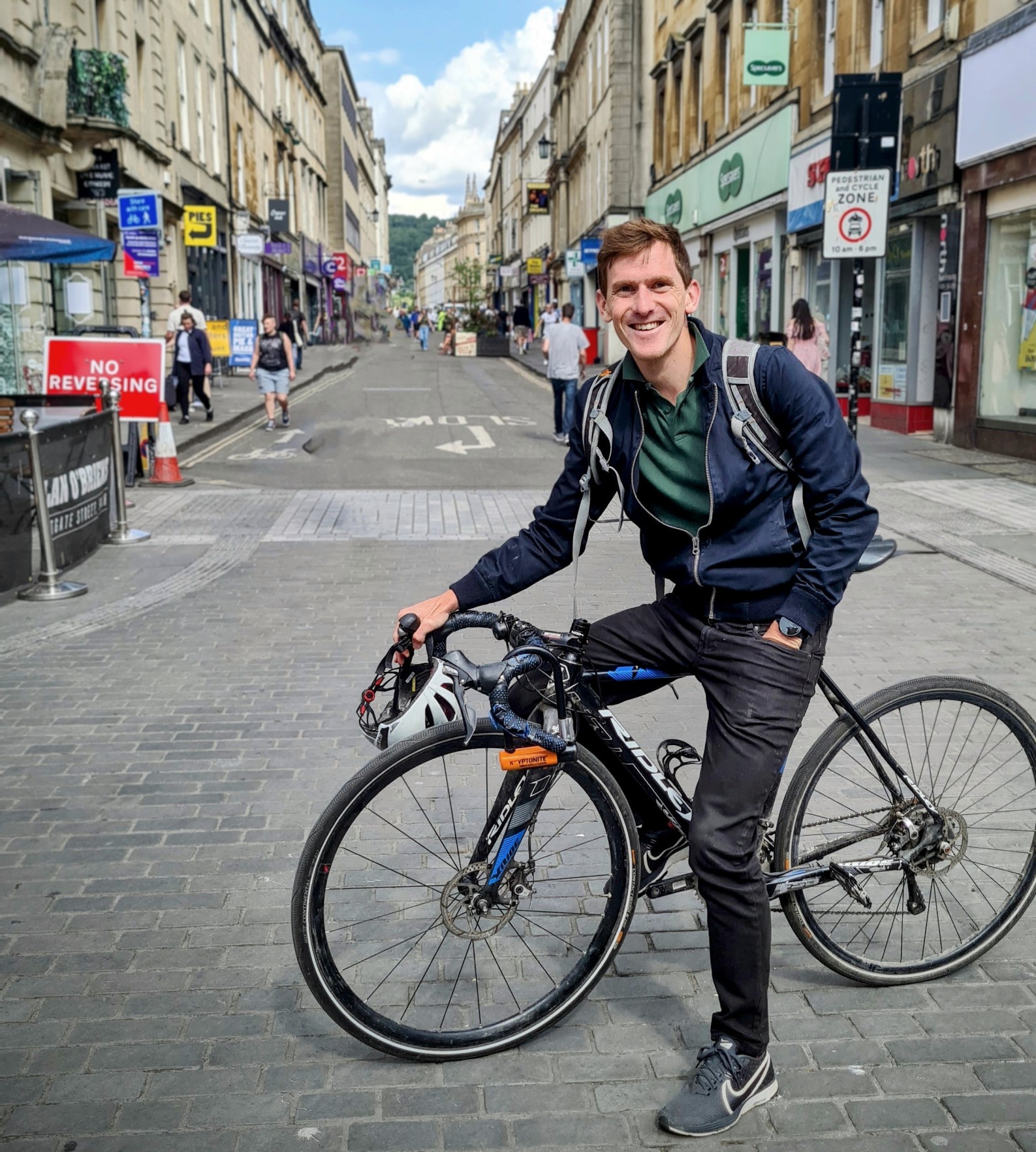 Pete Dyson is a firm convert to e-bikes and has shared some great advice and learnings having made the switch:

Know your hill – I was aware of Bath's big hills prior to moving last year. As a racing cyclist and triathlete, they were actually part of the appeal of moving here! But just not everyday, before every morning swimming session or meeting. Before buying an e-bike last year I used my road bike to understand the gradient and power demands of the hills, mostly to work out if Widcombe Hill was doable or whether I need to use Bathwick. It seemed Widcombe would be fine and this meant I didn't 'overspec' the e-bike with more power than really needed.
Retro-bike – I chose a LaVita Boost hub motor and bottlecage battery. It's simple, gives 250 watts of assistance, costs about £600 and is reliable. I think you'd spend more on bus fares or fuel in a year. It's not really a 'conversion', it just involves swapping out the rear wheel and plugging in the battery. I was sensitive to getting fairly reputable brand as imported aftermarket solutions you see on eBay can be dangerous.
Game changing  – while the hill hasn't disappeared, the cycle up is not a slog, it's fine in all weathers and it cuts the hill part from about 12 minutes down to 8 minutes. Psychologically, it just makes it feel nicer and I never worry about running out of gears or standing on the pedals. On the flat sections in the city and campus I often switch the motor off, I suppose I'm frugal that way.
To each their own – I do get overtaken by more powerful e-bikes. People with Bosch direct drive motors glide past, as do the Voi e-scooters. If you wanted cargo carrying capacity then the overall bike weight would be higher, so you'd need a more powerful setup.
Covered bike parking – the campus bike sheds are excellent, secure and the rain protection give peace of mind. I do wish the racks at the Sports Training Village had rain protection, it's a great shame there's no canopy as lots of bikes are parked there.

- Pete Dyson, AAPS CDT Doctoral Researcher, Psychology
There are also very many students who embrace cycle commuting and active travel, and reap the health, wellbeing and financial benefits of doing so, all shared in this great student film.