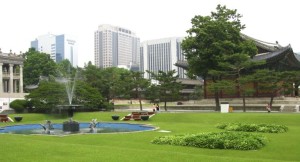 Whorrod Research Fellow Dr Aron Walsh travelled to Seoul to sign a new Memorandum of Understanding between the CSCT and the global E3 institute at Yonsei University, visiting from Saturday 8 to Friday 14 June 2013. 2nd-year DTC student Adam Jackson accompanied him to take part in a student-run symposium with the research group of Professor Aloysius Soon.
This post was contributed by Adam Jackson.
We joined Prof. Aloysius Soon's Materials Theory Group for their second "Materials Information, Characterisation, and Exploration" (MTG-MICE 2) workshop on 11 June. Looking for a creative environment, the students booked a venue in Heyri, the scenic "artists' village" close to the North Korean border.
The word-play theme continued with student talks on "Brodium" (bromine on palladium) and the "Tinkerbell" project, while a theme also emerged in the concept of scale: Prof. Soon, Universtity of Toronto student Britna Lee and I each presented work on bulk properties. Bridging atomistic theory to practical engineering properties is a powerful tool, but a lot remains to be done. Aron Walsh and Yonsei student Johnny Kim focused more on computational scaling; materials modelling accounts for a significant proportion of supercomputer usage, and it is important to be efficient while using cutting-edge technology. Suhyun Yoo, who recently received a Bath Global Partner Scholarship, is currently using some of our computing resources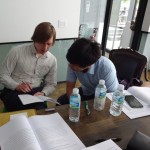 We were also able to visit two other leading research centres: at the Korea Advanced Institute of Science and Technology (KAIST) we caught up with Yong-Hyun Kim; Prof. Kim will visit Bath at the end of July. Seoul National University (SNU) is the top public university in the Republic of Korea, and we were invited to present a seminar in the Department of Physics; after presenting my work I faced some very insightful questions!
Of course, when in Seoul we had to take in a few of the sights... and vast quantities of delicious food (after getting to grips with some seriously hefty chopsticks). Deoksugung Palace provided some history while the Cheonggyecheon stream has been reclaimed to form a beautiful community space. The streets themselves are connected by a sweeping network of underground (and air-conditioned!) arcades.
MTG-MICE 3 is in the process of being organised; it will be held in Bath in September 2013 just before the DTC Summer Showcase (which our visitors will also be joining), and we hope to live up to the high expectations set by this fascinating and enjoyable session.