Lisa Sargeant, final year DTC student, undertook a one month internship way back in Janurary at Almac in Northern Ireland. Here's what she had to say about her experiences: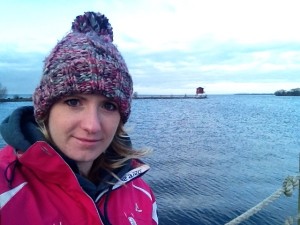 Taking experiments from the millilitre scale to the litre scale can always be a challenge, but one that's necessary to see a future in any given application. I was fortunate enough to spend a month working with the biocatalysis team at Almac in Northern Ireland doing just that.
This is not the first time Almac have collaborated with Bath University. Indeed, Tom Moody of Almac has been strongly involved with Simon Lewis' research group in the Dept. of Chemistry for several years. More specifically, they were involved with Julia Griffin's PhD (a recent graduate of the DTC), and her work on microbial oxidation for chiral synthetic intermediates. I was fortunate enough to meet Tom at last years' CSCT summer showcase, which sparked this secondary collaboration.
Whereas Almac's expertise isn't so much in biofuels, they do have plenty of experience of taking microbial cultures from shake flasks and putting them into fermenters, all the way from two litres up to 100 litres.
As you may have seen, I recently published a paper which looked into tailoring the lipid profile of R. glutinis by changing temperature and well as the concentrations of carbon and nitrogen. These were all undertaken as 100 ml growth studies. At Almac, I took the most favourable of these conditions and attempted to replicate them in their fermenters, whilst adding in some other variables.
One of the variables I changed in the fermenters was growing the yeast with and without ultrasonic treatment. It has been suggested that when applied at a low level, ultrasound can increase product production, so I gave it a go with my yeast. And was it successful? I'm afraid you'll have to wait for the publication to find that out!