Green Man Festival is an international music, science and arts festival held annually in Crickhowell, Wales. The festival has evolved into a 25,000-capacity weeklong event, that attracts people from the United Kingdom and Europe, making it the biggest summer festival in Wales. 
Being sustainable is fundamental to Green Man – they support Vision 2025 and have pledged to reduce their environmental impact by 50% by 2025. For this reason, five CSCT students – Olivia Faye-Dickinson, James Runge, Mohamed Katish, Emma Daniels and Mirela Johnson – identified in Green Man Festival a great opportunity to tell the crowds about the CSCT's work in plastics.  
A Green(er) Man
Being green is part of the festival's identity. Some of the steps towards sustainability taken by Green Man include banning single-use plastic wherever possible, offering compostable packaging and cutlery only, powering the event with renewable resources, using compost toilets to reduce water use, and donating camping waste to refugee aid collectives.
We were excited to contribute to the conversations surrounding plastics – since COP26, public knowledge about the environment, carbon emissions and sustainability has increased, and we were showcasing the CSCT's work developing more sustainable and environmentally friendly plastics, as well as talking about the history of plastic and discuss themes in our work that tackle other environmental issues.
Our stall
We found our happy place in the lovely Einstein's Garden, the first science area at a UK music festival and a leader in science engagement. Sharing the space with us were other Universities and a few companies, plus a lot of parents and children eager to play and learn a bit more about plastics.
Equipped with some thrilling games designed by fellow CSCT students and our 'History of Plastics' interactive timeline, we were well kitted to initiate all sorts of conversations with people big and small. Through these activities, we spoke about how plastics have evolved from the pre-petrochemical plastics such as cellophane to modern-day bioplastics such as PLA, the difference between oil-based and bio-based plastics, the challenges of developing bioplastics and when they may become mainstream.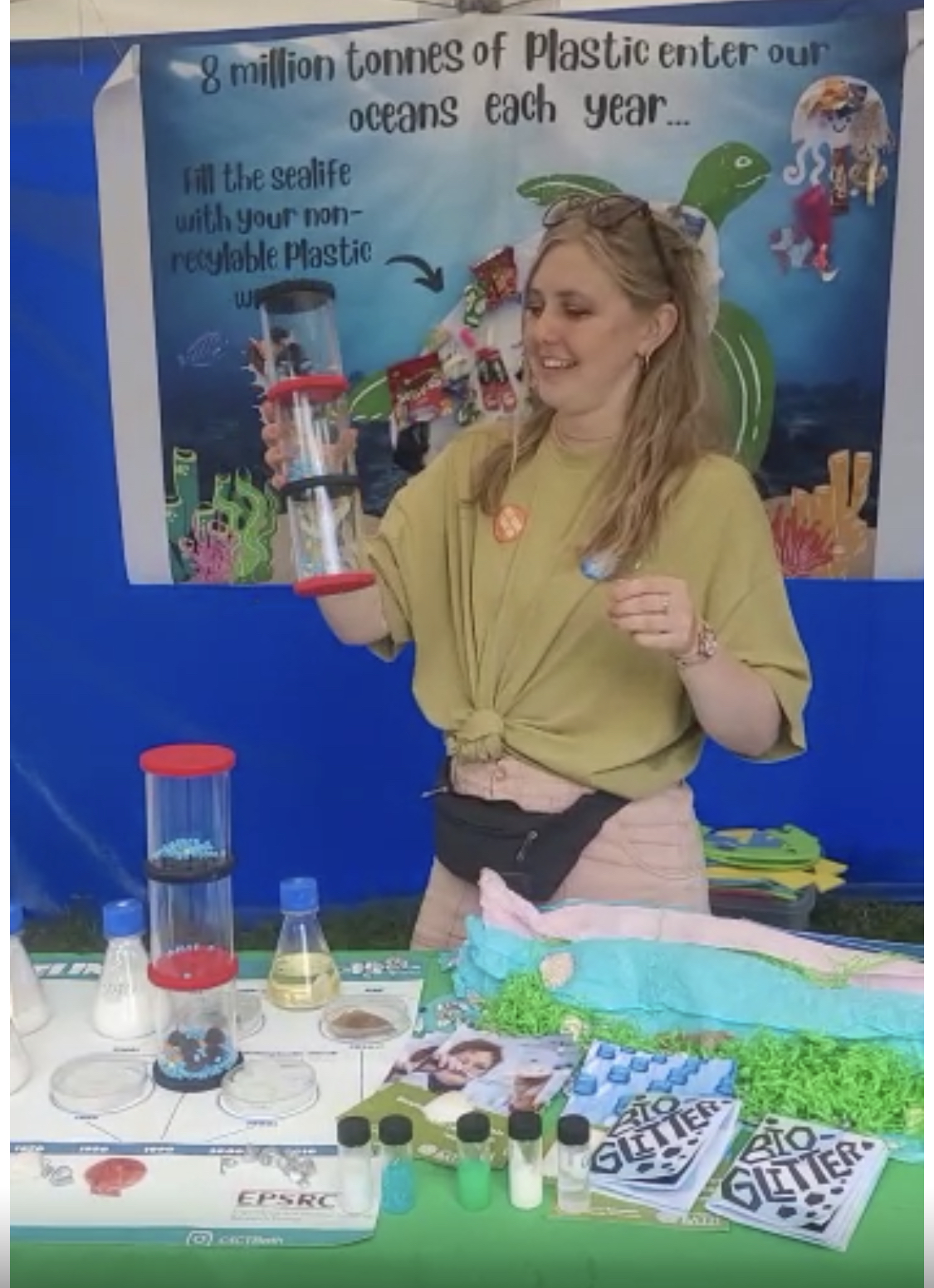 We also discussed microplastics – where they come from and how they filter through the water treatment process to end up in the ocean. This got people thinking about how deeply rooted plastics are in our day-to-day and how to identify plastics in a product. But this isn't without hope – there are a few people out there, including the CSCT's own spin-off Naturbeads, who are leading the development of biodegradable microbeads.
To add even more interactivity to the experience, we made our stall decoration a waste-based collaborative endeavour that had more than one objective –
To collect single-use plastics and make them useful for a little longer (turning them into part of the artwork)
To start discussions about what can and cannot be recycled, and why
To delve into plastic ocean pollution and the research-based solutions that we are developing, e.g. using sugars to develop bioplastics or sourcing them from industry waste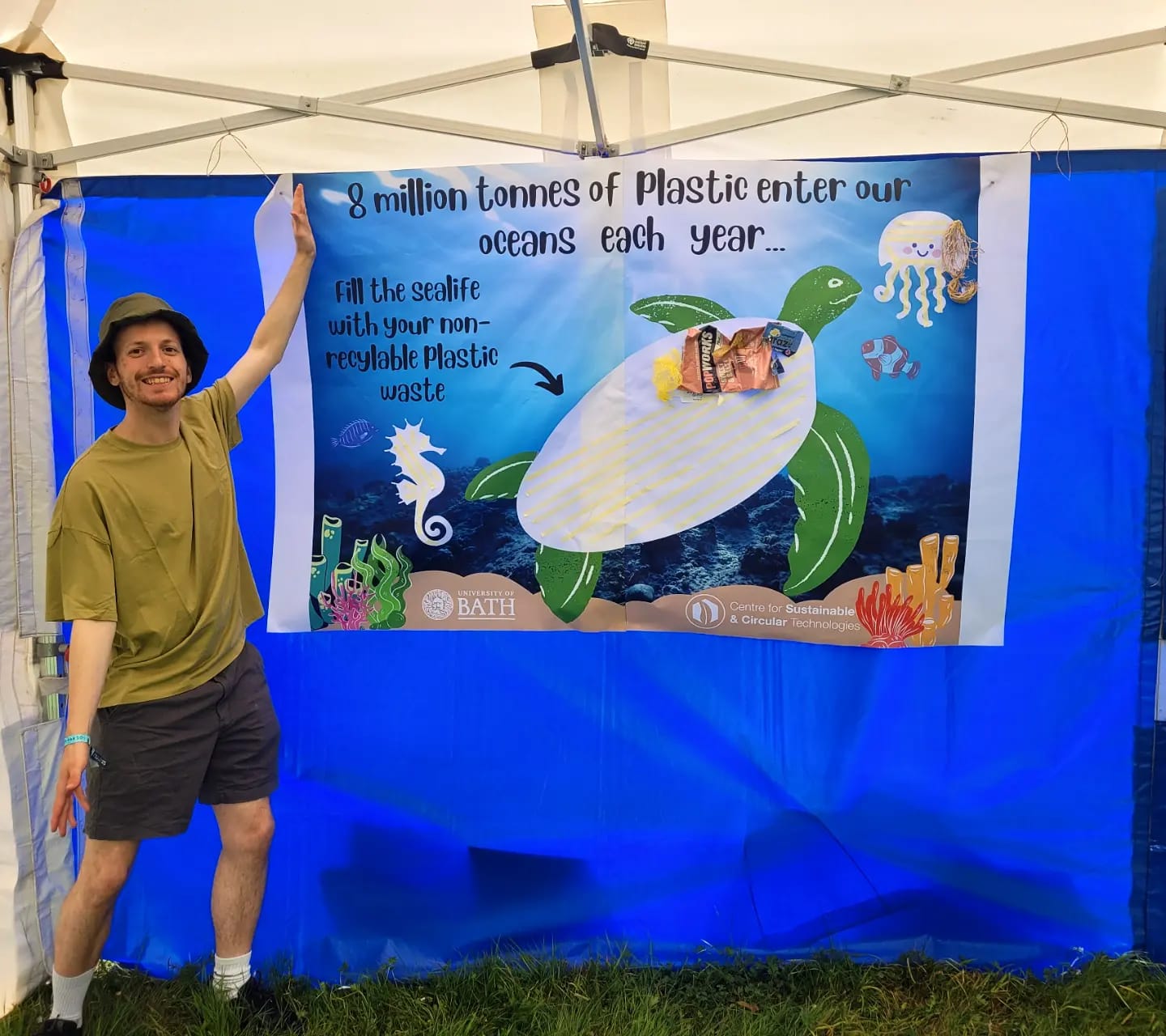 So, how did it go?
We had a fantastic time!
Besides running the science stall, we got to explore the rest of the festival grounds and enjoy live music. But where the festival really delivered was on the amazing people that we met and spoke to.
We discussed our own PhD projects, as well as wider sustainability, energy and environmental topics, with a very diverse crowd whose common trait was eagerness to learn about what we do and how we do it.  A whooping 1000 conversations, approximately, with people of all ages!
This was such a valuable experience for us. Not only did we love talking about our projects (after all, that's what we are passionate about - we'll talk about our work to anyone who'll listen!) but, hopefully, we inspired a few people to pursue a career in STEM or even to start new collaborations with us.
Thanks to all the lovely people who stopped by and thanks to the Green Man organisers for putting together such a wonderful event!