A student blog as part of the Doctoral Exchange Series organised by the Doctoral College.
---
Stonewall's 2018 LGBT in Britain University Report demonstrates that LGBT inclusion in universities across the UK still has room for improvement.
"...all too often, LGBT students still face barriers. This includes little confidence in bullying reporting procedures, a lack of visible commitment for LGBT equality and inadequate equality policies." Stonewall UK LGBT in Britain – University Report
I'm a current doctoral student in the Department of Computer Science. As co-chair of the Kaleidoscope Staff and PGR LGBT+ group, I was keen to explore experiences of LGBT+ doctoral students at the university. I prepared questions for the first Doctoral Exchange session, including:
· What particular issues affect LGBT+ doctoral students?
· What would help make you feel more comfortable working as an LGBT+ researcher?
· What can allies do to be more inclusive of their LGBT+ peers?
I could already answer some of these from my own perspective. The sorts of things that came to mind for me are shown in the picture below.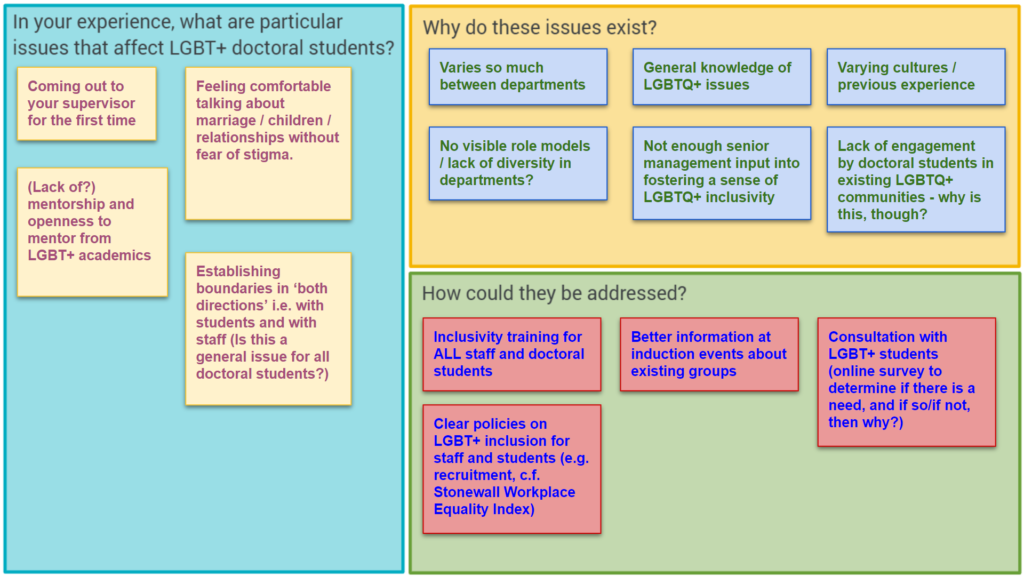 Unfortunately, no one attended this first Doctoral Exchange session, which begs the question: why?
We want to hear from you
Engagement with the LGBT community can only work if we know what sorts of things are important to that community. Fill in this quick survey to let us know what you think about provision for the LGBTQ+ community at the University of Bath. The survey is completely anonymous, but you must be signed in using your university email address to access the form. We welcome responses from staff and doctoral students at the university.
Upcoming LGBT Academic Events
LGBTQ+ visibility in academic communities can be improved with events focussed on bringing together members of the LGBTQ+ community and their allies. Here are a couple of events that are coming up in the next few months to keep an eye on and attend.
October 21st 2020 13:00 – 15:30 BST: LGBT+ in HE: Building networks, making change (online event)
January 8th 2021: LGBTQ STEMinar 2021 (online event) An open call for abstracts is open until Friday 20th November 2020
More About Kaleidoscope
We recently published our Terms of Reference.​ Find out more about us on our blog. Sign up to our members mailing list (for LGBT+ staff and PGR students).​ Sign up to our allies mailing list (for staff and PGR students who consider themselves allies).
---
About Doctoral Exchange
This blog was written as part of the Doctoral Exchange Series, a round-table discussion series for doctoral researchers to share experiences and ideas in a peer-to-peer environment. All topics are student-led. The programme can be found online on the Doctoral Exchange webpage. If you are interested in facilitating a session then please email doctoralengagement@bath.ac.uk.