Author: Clodagh Chapman -
---
Hi everyone! My name is Clodagh and I'm now almost six months into my year-long placement with Unilever, working as Process Development Technologist within the Ice Cream Category. My role involves working on a number of short-term projects both alone and in a team, with the overall aim to apply an engineering approach to develop, evaluate, and improve processes used to make ice cream across the company.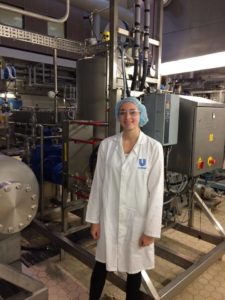 Settling In…
As for most, the thought of leaving the security of university and starting a full-time job was very daunting. However, thinking back now to what I anticipated a workplace to be like, I could not have been more wrong! I quickly learnt that the 'real world' wasn't quite as intimidating as I expected it to be; not once did I get laughed at for asking a silly question or for getting lost in the offices. Instead, I was greeted with a smile from everyone I met or passed by, and quickly felt like part of the team.
My first week with Unilever was spent taking part in the Ice Cream Technology Course, a training week run annually, which is aimed at newcomers to the category. This meant I gained vital knowledge on every area within the Ice Cream category, as well as having the chance to network with many others based in Ice Cream across the globe.
One thing that surprised me most during my first week – and still surprises me up until today – is how much time and effort goes into the development and production of an ice cream!
Gelato Flavour Profiling
One of my main projects so far has been based on the flavour profiling of a premium gelato company. Seeing as gelato products are so focussed on flavour delivery, this work was important in establishing the flavour profile of current products, as well as seeing how this compares to competitor products.
This was a very technically challenging project, which involved running trials in the pilot plant here at Colworth, as well as analysing the flavour profiles of samples using Gas Chromatography – Mass Spectrometry. This project taught me that even if the work you are given is not something you have directly learnt about at university, you have to apply the skills you have and use your initiative to research and learn about a whole new area of study.
My biggest achievement so far on placement was a result of this project – the huge improvement in my presentation skills. After only ever presenting once at University, I was always very nervous at the thought of having to stand in front of a big group and present alone, but practice makes perfect! After a number of smaller presentations, I was trusted to present my findings to Supply Chain, an important customer of the Ice Cream category, and to a Senior VP in the company.
Life in Bedford
During my placement year, I am living in Bedford - a relatively small town around 60 miles north of London. Getting used to living in a new town where you don't know anyone is always difficult, but by joining clubs outside of work meant it didn't take me long to feel at home.
One of the best things about working full-time is having weekends to yourself – with no guilty thoughts that you should be finishing that assignment for university – so I try to make the most of them! I like to spend my weekends exploring the local area and visiting friends all over the country.