Author: Uvindu Wijesinghe -
---
Hi Everyone!
I'm Uvindu, though most of my friends know me simply as "UV". Originally from Sri Lanka, I moved to Botswana when I was 7 years old. After finishing my A-levels, I moved to the UK in September 2014 to begin my degree in MEng Electronic & Electrical Engineering (EEE) at Bath. I have now completed 2 years, and I'm currently on placement. I will be sharing my experiences on placement here and hope it will help students who are planning on doing a placement in the future!
As I am over 3-months into my placement I realise I've got quite a bit of backtracking to do – prepare for a long post!
I started my placement on Septmber 5th 2016 at SAIC Motor Technical Centre (SMTC) UK. First off a bit about the company.
About the company

SAIC (Shanghai Automotive Industry Corporation) is a Chinese state-owned automotive company. The company has a history reaching back to 1955 when they were called Shanghai Internal Combustion Engine Components with a focus was on engine and power train technology. Over the years they have gone through numerous mergers and name changes. They are now the largest vehicle manufacturer in China, and rank 46th in the Forbes Fortune Global 500. Their joint venture with Volkswagen is the longest surviving automotive joint venture between a Chinese and foreign company. They also have a joint venture with General Motors since 1998. The joint ventures allow SAIC to build and sell these foreign branded vehicles as well as collaborate and share technologies which are of benefit to its own marques. The heritage MG brand and the Longbridge plant was acquired by Nanjing automobile in 2006 after the MG Rover collapse of 2005. SAIC then merged with Nanjing Automobile in 2007. Other brands owned by SAIC are Maxus, Roewe and Yuejin. They also produce and sell vehicles for Baojun, Buick, Chevrolet, Iveco, Skoda and Wuling.
SMTC UK is their operation based in UK where a large amount of research and development takes place. The UK offices are based in Longbridge Birmingham where the old MG Rover plant was located. The UK offices are largely involved with the development of the MG and Roewe marques of vehicles. MG branded vehicles are sold locally in the UK and the adaptation of the vehicle to the UK market also happens here.
About my department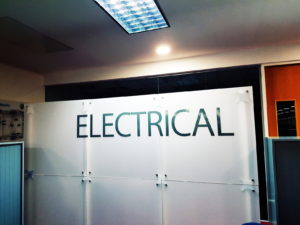 At SMTC I work for the electrical engineering department. There are around 20 other engineers working for the department. The team is involved with the development of styled electronics, infotainment, telematics, electrical integration in new vehicles and more. Responsibilities include designing the in-car entertainment, interfacing all the different electronic modules in the vehicle ensuring compatibility and planning all the wiring for the car.
My placement plan involves working with different sections under my department over the course of the placement. I am currently working with the integration team but will move on to styled electronics and project management over the next few months. Once I have worked with the different areas my main focus area will be determined taking my performance and preferences into account.
Training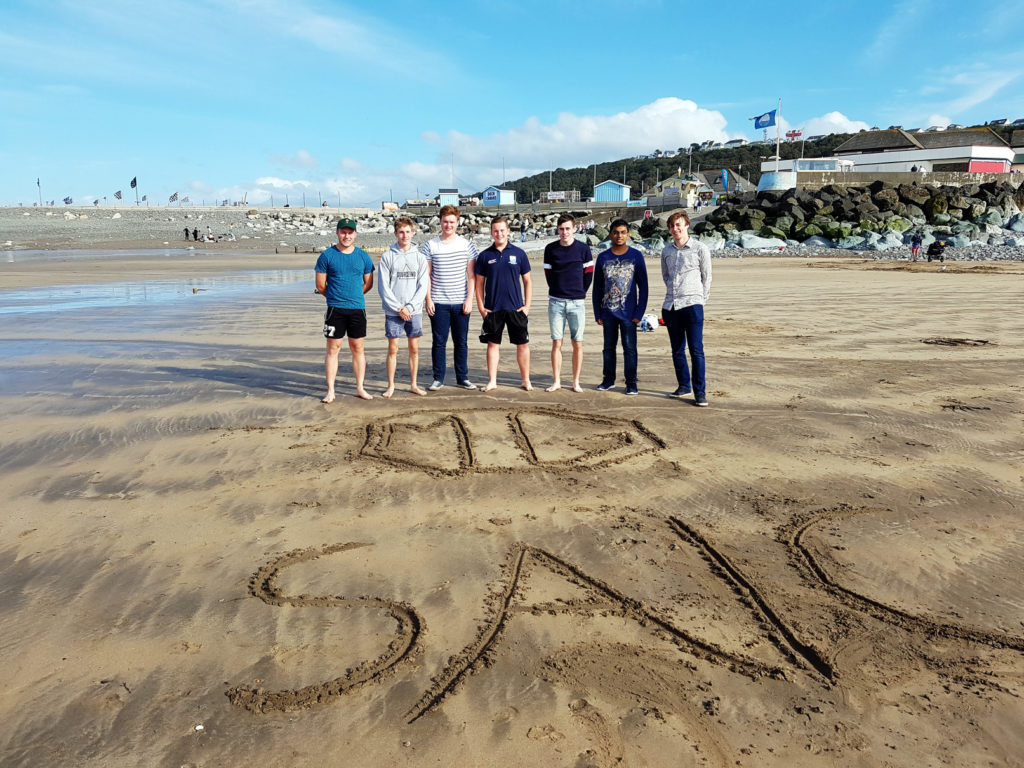 After our first day of orientation, we were sent to a team building camp at Skern Lodge, which is located near a small fishing village called Appledore in Devon. We were taught different leadership and management styles as well as workload management and handling deadlines. We learned these skills through performing activities such as assault courses, orienteering, archery, egg-drop challenge and many more physical, hands-on activities.
We've had a lot more training courses since then, including project management, Excel and CATIA.
Activities
General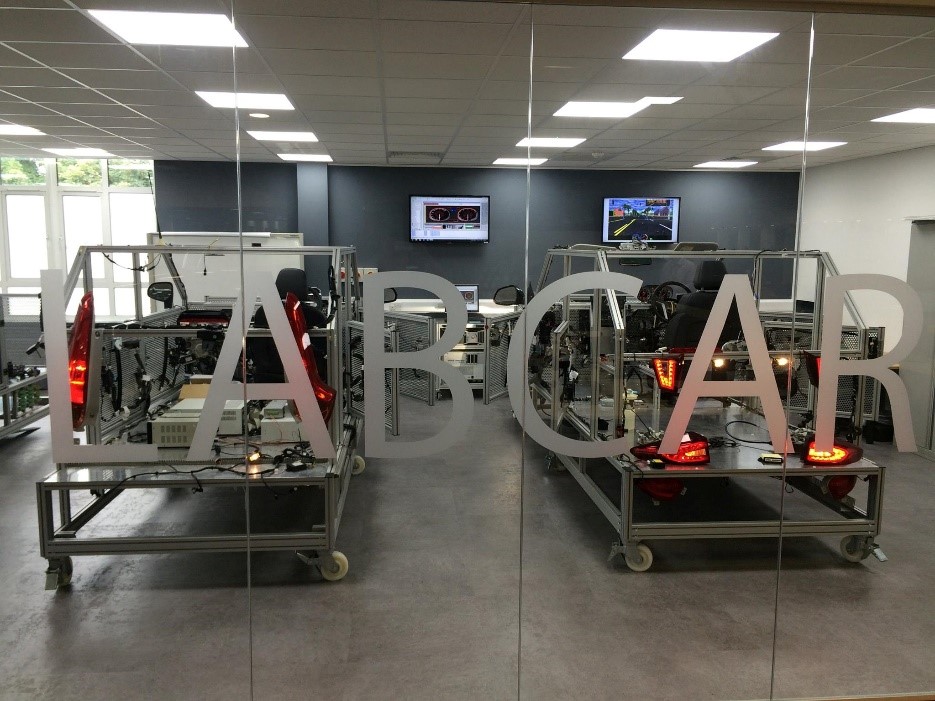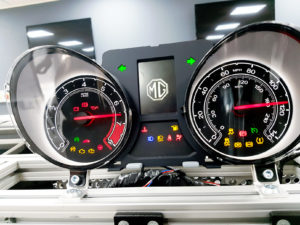 Working with electrical integration, I have been given an overview of the electrical systems and the current electrical engineering vehicle projects carried out by the department. I was introduced to the fundamental concepts of CAN bus (Control Area Network) and familiarised with the components dealt with in the department. I was introduced to the Labcar, which is a room with three metal structures representing the frame of three cars and each car frame has all the electronics fitted to it, allowing easy access and manipulation of devices.
Testing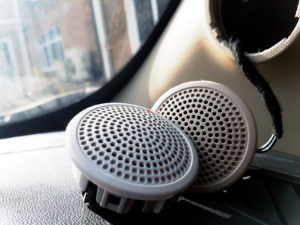 I have carried out various tests on systems during my time here. These have included testing out body control modules with prototype software as well as assessing the quality of speakers for future models. The speaker test in particular involved playing music in the car while swapping out the speakers to assess the difference in quality. I got the other interns involved as well to get a broader spectrum of opinions.
Investigation

I investigated a fuse box after a company endurance vehicle had been left on a beach during high tide for an extended period of time and was presenting electrical problems. The fuse box was suspected to be the root cause and I was assigned the task of tearing it down to investigate. The findings were then presented to a team of engineers in charge of matters concerning the current fleet of vehicles.
Projects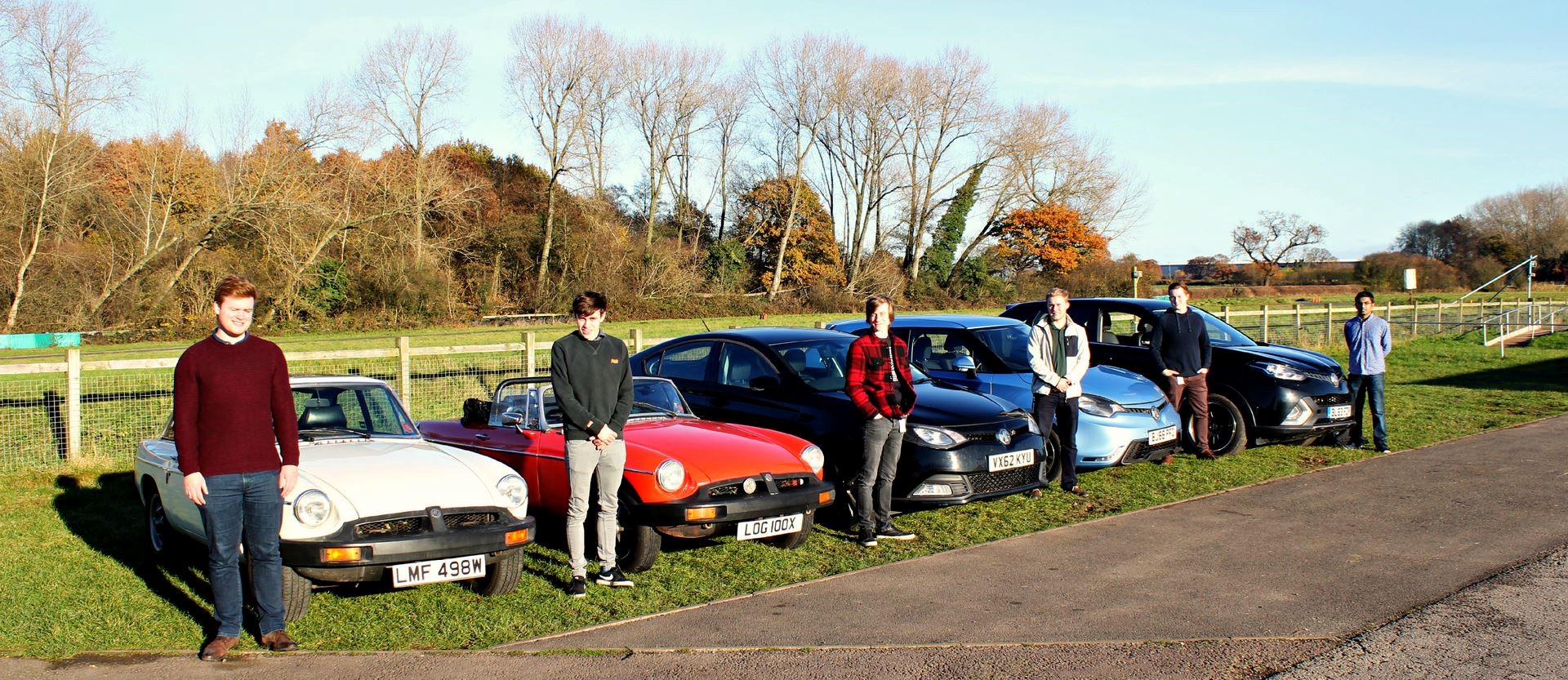 I am currently working on a few projects including some for my department as well as an intern project involving all 7 interns working for the company. The project involves making major changes to an existing vehicle. My focus is ensuring all the electronic units communicate correctly with each other ensuring the smooth running of the vehicle. I have to ensure the engine management unit we use is compatible with the ABS and any other electronic units we may use, and build a device to translate signals where there are any incompatibilities. As a part of our research we had a ride and drive event involving both new and old vehicles which was both fun and productive!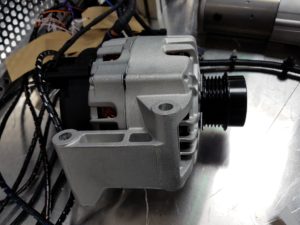 Another project I'm working on is to build a test rig for the vehicle alternator. The aim of the project is to use an electric motor to turn the alternator which then charges a car battery. This battery powers the labcars that were previously mentioned. The motor will be controlled by a computer and programmed to mimic an engine going through a specified drive-cycle. This will allow us to simulate external driving conditions within the lab and see how all the devices on the car cope with varying engine loads. I am the lead on this project and will be doing most of the research, supplier contact, component selection and the building involved, including the programming of the final motor drive.
Life outside work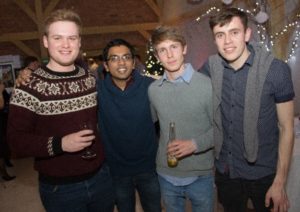 There are various after-hours activities offered by SAIC. I play badminton with the other interns on the onsite badminton court that is actually an old vehicle production workshop that has now been re-purposed.
There are also football and golf clubs as well as an after-hours track group that organise track events where we can race company cars around racing track!
We also have numerous social gatherings and events including a grand end-of-year Christmas party which gave us an opportunity to meet with colleagues from throughout whole company and have a relaxed evening with good food and music!

We also hosted a Christmas dinner at our place to get everyone together for a final meal before leaving home for the holidays!
As for living arrangements, the company had arranged two houses for us to rent, saving us the hassle of traveling and house hunting before the start of placement. I live in a four-bedroom house with loads of space and a less than 10-minute drive to work. We also have a couple of restaurants, bowling alley and an IMAX cinema just a five-minute walk away, making life very convenient!
That about covers a lot of what I've done over the past few months. I have the next two weeks off and will be flying back home for Christmas. I will try and post more timely updates in the new year, maybe try and make that my new years resolution!
Until then, I wish everyone a merry Christmas and a happy new year!
Uvindu