Author:
Steve Cayzer -
---
Live Online Learning : even better than the 'real' thing
I generally practice flipped teaching, where students spend the precious class time working in teams on meaningful learning activities.
Flipped teaching is sometimes viewed with trepidation, the fear being that the pre-work required will overload students
. I counter this
by:
scaffolding the pre-learning (a rule of thumb is no more than 15 minutes of recorded content for each hour of contact time).
using some of the class time for facilitated teamwork on summative assessments (student work that in a traditional setting would occur outside the classroom).
Therefore
rather than adding to student work, the students do more work before class and less work after it
.
I found this model works quite well with students when it's explained
clearly
(my students want, and deserve, explanation and motivation for my pedagogical approach)
.
So how well does this work online?
Even during the emergency online teaching, students indicated that they valued the continuation of live online teaching
.
"… continued live lectures after lock-down … was very valuable for students like me who want to keep interactive lecturers and other students

."
This was particularly striking since the time of class (3-6pm) was now rather inconvenient to some of my students who were now in a different time zone
. Even those now working late at night continued to take part and engage in class.
The use of breakout rooms in some cases worked better than their
previously
cramped classroom environment.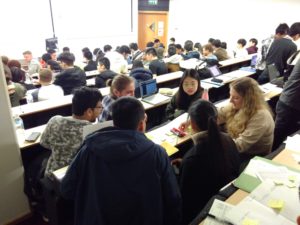 Moving into the new academic year (and with a more sociable time zone arrangement) I was expecting the sessions to be an important part of my teaching
.
My expectations
were exceeded
– I was
pleasantly
surprised to find that even at the end of the semester, attendance was at 100%
.
Indeed, I did not achieve this in my on campus teaching last year, nor even this year.
In a typical lecture theatre it is hard to get input from anyone further back than the first few rows, but the engagement of all students during a live online session was
really
impressive
.
The fact that students can share their initial thoughts in the privacy of a breakout room does seem to build confidence as reflected in our end of semester student feedback :
"Breakout Rooms: Allows you to mix with others and gives an opportunity for people to get comfortable working together

."
All of
which suggests that the convenience and inclusiveness of online sessions is something I would want to keep in my regular teaching
.
The one caveat is to protect against digital exclusion (for example, students with connectivity issues, or with lower specification IT kit)
. 
To help this, I record all my sessions (except the breakout rooms) and am working on improving the captioning
.
 Students
really
value breakout rooms for private team discussions, and I am going to reflect on the best tool for this (eg
Teams
,
Zoom
,
GatherTown
)
.