Julian Sulley, Director of Technical Services, shares his experience of training apprentices and attending the Bath College Celebrating Success Awards: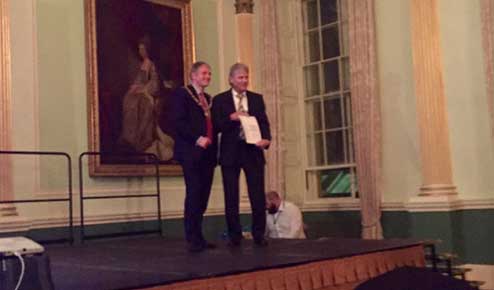 I was privileged to represent the Faculty of Engineering & Design at the Bath College Celebrating Success Awards 2015 at the Guildhall on 5 November 2015. The award was in recognition of our close relationship and ongoing work with the College regarding our three apprentices, Emma Walker (Year 3 Mechanical), Bethany Tavener (Year 2 Electronics & Instrumentation) and Benjamin Hampton (Year 2 Mechanical).
Back in the summer of 2013, we decided to change our apprentice training provider and following a number of consultations, selected the Bath College, under the direction of Mr Rob Aldous, Engineering Project Manager & Assessor. Emma was our first apprentice to undertake her studies with the College and we were all quite anxious to see how this new arrangement would work. Her first year proved to be an unmitigated success and acted as a catalyst to submit the case to recruit a further two apprentices. We undertook a joint recruitment exercise with the College, which included psychometric tests and interviews. The process was extremely rigorous, but proved to be very successful and culminated in the appointment of both Bethany and Benjamin.

Emma has now completed her college studies, six months ahead of schedule, having gained a double distinction in her final college report. Bethany and Ben have also excelled, both gaining distinctions and credits across all subjects. This success is down to the hard work, application and commitment, not only of the apprentices themselves, but to Rob and his team at the College, and to all the technicians in the Department of Mechanical Engineering under the supervision of Vijay Rajput and Andy Church. They all devote so much of their time to pass on the skills and experience required for our apprentices to achieve their skilled technician status. It was on their behalf that I was delighted to receive the award from the College, since it is down to the combined effort of all involved that we received this accolade.
It was also particularly pleasing to witness the presentation of the College Award for Outstanding Achievement in the form of The Rotary Young Person's Community Service Award to Bethany for all the voluntary work that she undertakes within the community of Bath. Last year she devoted 245 hours of her own time consisting of two evenings a week plus weekends working with young people, a truly outstanding commitment. Not only did she receive a certificate of commendation from the College, but also a special award from the Rotary Club of Bath in recognition of her charitable work.