Have we met yet? We've been introducing ourselves through meetings and events (such as the Faculty TEL event), but if we've not yet had the chance to speak with you, here's a reminder of who we are and what we do.
We are two (job sharing) Learning Technologists, Rachel Applegate and Yvonne Moore - that's us in the mugshots below.
We're aiming to coordinate projects to provide advice, guidance and/or training in the use of learning technologies in the Faculty.  Then we'll communicate lessons learnt from these projects so that the benefits are shared across the Faculty.
Examples of projects could include:
planning to develop your Moodle course beyond the basics
designing a Moodle course for new units or programmes of study
implementing online assessment and feedback (e.g. using Moodle / Turnitin)
creating videos to support revision (e.g. using Panopto)
providing generic feedback via video / audio (e.g. using Panopto)
developing eportfolios for employability or assessment (e.g. using Mahara)
using social media to communicate with students and employers and/or experts (e.g. Twitter or Facebook)
developing online collaboration activities for students (e.g. using wikis such as Confluence or web based collaboration tools such as lino.it and padlet)
You can find further information via the FED Technology Enhanced Learning wiki pages. Please don't forget that support is still available from the central eLearning Team where you can access how-to guides and help with common tasks in Moodle (Support Hub) and other centrally supported technologies.
We hope this is a helpful reminder of our roles and we look forward to meeting and working with you in the future.
One more thing, during the next six months, we will be seeking your feedback to help us identify priorities for the type of support we offer. In the meantime, if you have any suggestions or questions please get in touch:
Rachel Applegate and Yvonne Moore at fed-tel@bath.ac.uk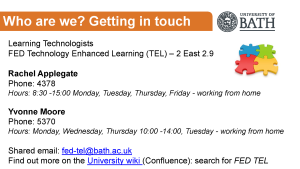 ---
P.S. Don't forget to subscribe to this blog and other useful blogs like the Moodle Service blog. This will ensure you get an email when new content is posted.  You can read about how to keep up-to-date with internal communications from a previous blog post.
---