Our third event saw Dr John Orr describe how he and his colleague, Dr Saverio Spadea, used a web conferencing tool called Adobe Connect to deliver a successful, blended workshop – with 20 participants on campus and another 50 online.
Their workshop included:
4 presentations, 2 presenters on campus, 1 in the USA and 1 in Canada
A lab demonstration via webcam in 6E lab
Online Q&A using the web chat tool
Face-to-face Q&A using a mic
A number of tips were identified for anyone delivering this kind of online event:
Time your event to take account of different time zones where possible
Set defaults to mute/no video for participants
Use a USB web cam which can be moved around easily
Keep to strict timescales for remote presenters – avoids having to interrupt them to get them to stop
Use a sign-up form to judge how many people may watch online – you may need to  ask for extra seats for your virtual room
Have a contingency in place in case one of the remote presenters hits a technical snag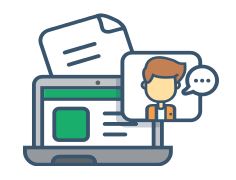 Adobe Connect is software which allows groups of people to meet virtually using video, text chat or audio.  It lets people collaborate through the use of shared presentations, shared files or shared desktops.
It also provides opportunities for interaction via a series of simple tools, such as hands-up and polling.  It gets used for a variety of purposes when the participants can't all meet in person.
Example uses are:
Online events such as workshops, conferences or meetings
Broadcasting presentations or lectures to students
Online tutorials with students
Group work – online collaboration between students
Revision or exam preparation sessions for students
Student presentations for formative or summative assessment
Guest speaker presentations
Online demonstrations via desktop or video
Thanks to Marie Salter from the e-learning team who presented an overview of Adobe Connect and the process for setting up and accessing a 'virtual room'.  If you're interesting in finding out more you can contact e-learning@bath.ac.uk for details on getting set up.
Want to know more?
| Link | Details |
| --- | --- |
| | For tips on setting up this kind of event watch the video recording of John describing how they did it. (You'll need to log in to Panopto). |
| | For more context about this blended workshop. |
| | For the Adobe Connect recording of the workshop, where you can see the interaction between the different parties. (It can take a few minutes to connect and play). |
If you'd like to talk to us about this or other Technology Enhanced Learning events please contact Rachel and Yvonne on fed-tel@bath.ac.uk