Author: Dr Bernardo Castro -
---
Dr Hannah Leese, Dr Matthew Lenox and I recently visited the Universidad de las Américas Puebla (UDLAP) in Mexico. We gave a series of talks and met with our UDLAP counterparts to establish research collaborations and discuss possible student exchange agreements.
About UDLAP
UDLAP is a top private university in Mexico with a single self-contained campus located in the historic city of Cholula, a two-hour drive from Mexico City. UDLAP is a fully bilingual university founded by a group of American expats in the 1940s and, uniquely among private universities in Mexico, it offers a large choice of degrees in science and engineering. UDLAP is a member of the Southern Association of Colleges and Schools Commission on Colleges in the USA. In addition, it holds international accreditation for several of their undergraduate courses, including Advanced Accreditation by the Royal Society of Biology for the Honours Programme of the Biology degree, and Accreditation by the Royal Society of Chemistry for the Nanotechnology and Molecular Engineering degree. The Chemical Engineering Department is considered the best programme among all private universities in Mexico, for the 9th consecutive time, and it is accredited by the Engineering Accreditation Commission of ABET.
Being of a similar size and in similar surroundings to Bath, UDLAP is an ideal destination for our students looking to experience an excellent learning environment and living in Mexico but without the need for any degree of proficiency in Spanish.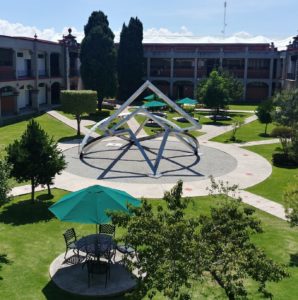 Exploring the Universidad de las Américas Puebla
During the visit, organised by two of our PhD graduates, Dr Nelly Ramirez and Dr Alejandro Serrano, as well as Dr Araxi Urrutia, we were shown around the campus facilities and visited the large teaching lab for Chemical Engineering. We also attended a lunch hosted by the Faculty of Engineering attended by the Dean of the faculty, the Dean of Research and Postgraduate Studies and other academics and administrators. We held working meetings with UDLAP officials Juan Carlos Ley (from the international mobility office) and the Academic Director of the Department of Chemical, Food and Environmental Engineering, Dr Maria Teresa Jiménez.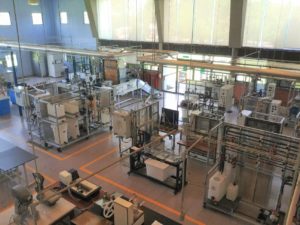 Forming partnerships
This visit follows a visit by Dr Alejandro Serrano to Bath earlier this year, where he gave a presentation about his institution to academics and mobility and placement officers from various departments. This talk generated interest from several departments.
Dr Araxi Urrutia and Professor Robert Kelsh from Biology and Biochemistry have previously visited the UDLAP campus hosted by Dr Serrano. Alongside other colleagues at Bath they are in discussions with their UDLAP counterparts about running joint field trips in Mexico's rain forests for Bath and UDLAP biology and natural sciences undergraduates in Mexico. Such a move would allow to exchange expertise and provide an international experience to both cohorts of students. This is an example of cross faculty sharing of networking opportunities being organised by the working group for the creation of the Institute for collaboration with Latin America at the University of Bath spearheaded by Dr Juan Ferrero.