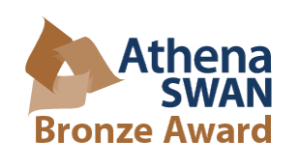 We did it!
Many congratulations to all involved in helping to create equity across the department. Our efforts have been acknowledged by Athena Swan who earlier this year presented us with a bronze award. Our application for the award was commended on a number of specific points, including:
The range of career stages represented on the Departmental Self-Assessment Team.
Recognition in the need to engage men as agents of change.
Time and funding support for Aurora participation.
Appointments for cover of maternity leave.
A number of processes to support career development, particularly the Annual Research Funding Account.
Following this fantastic achievement, Simone Fullager will be stepping down from her role as department lead, passing the baton on to Cassandra Phoenix. We are in the process of forming our new Athena Swan Implementation Committee (ASIC), who will be responsible for implementing the action plan proposed as part of our application for the bronze award, along with addressing wider Equality and Diversity issues across the department.
Stay tuned for introductions!