In true Top-Of-The-Pops style, here is this months countdown on what's been rocking the Equality and Diversity charts this month (the Athena SWAN genre):
Non-mover at number FIVE is the BMJ research paper confirming our suspicions that gender equity programmes have the potential to address inequity, yet can also unintentionally reproduce and reinforce gender inequity through their enactment. Potential programme impacts may be undermined by barriers to staff availing of career development and training initiatives, and by wider institutional practices, national policies and societal norms.
New entry at FOUR is our developing relationship with the University Research Staff Working Group. The group seeks to improve the working practices, skill levels, job satisfaction and career management of researchers in order to recruit, retain and get optimal performance out of the best possible research staff. If this is you, or if you line manage research staff:
Bookmark their webpage,
Contact the faculty rep Phillip Brooker with any questions or comments you may have,
Familiarise yourself with key information aimed at Research Staff within the University.
Watch this space for more initiatives within the Department that will support you in your role.
THREE cheers for the Research Committee who are working to ensure that some of the most interesting, excellent female and male scientists get to take centre stage in our Department Seminar Series. The importance of having regular access to a range of different (positive!) role models within our field is not to be underestimated. If you're looking for inspiration, ideas, or just fancy learning something new and seeing where it takes you, look out for email updates from the brilliant Emma D.
TWO (or more!) heads can be better than one... and that's exactly why we're strongly encouraging each and every staff member, regardless of your career stage, to get out there and find yourself a mentor through the University Mentoring Scheme. Have a chat with Fiona Gillison (department co-ordinator) if you have any questions about the scheme.
And at number ONE is the launch of our 'Health fortnightly coffee and catch-up'. It was great to see so many staff and students from across the Department break out of the office, lab, library, class room (and in some instances other committee meetings!) to be there on the 11th January. What a great opportunity to introduce yourself to people you've never quite got around to speaking with, learning what our fantastic bunch of PhD students are all up to, and generally catching-up with people who you might not have seen since last year (haha - see what I did there?).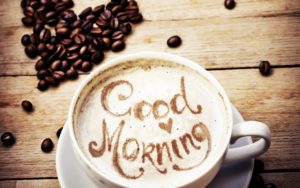 These will continue to be held on the 2nd & 4th Wednesday of each month 10:30 - 11am in the Level 5 communal area.
Bring your own drink ... and any tasty treats that you'd like to test out on your colleagues.