Over 300 people attended an online discussion on the future of the term BAME and the need for a new category. With over 1,000 participants on a waiting list, a phenomenal demand for places that confirms the importance of this issue.
For those of you that were unable to make the discussion, you can find the recording here: https://www.youtube.com/watch?v=6kEmfnrTAGY
The paper that attempts to capture the debate around this by Dr Gurnam Singh, Dr Chrissie DaCosta, and Dr Steve Dixon-Smith, Beyond BAME: Rethinking the politics, construction, application and efficacy of ethnic categorisation, can be found here:  https://pure.coventry.ac.uk/ws/portalfiles/portal/41898015/Beyond_BAME_final_report.pdf
Old Criticism Resurfacing
This is not a new discussion. Back in the 1990s when I started working in race relations, the term Black (with a capital B) was used to describe the experience of those experiencing racism. This was criticized as too blunt (Modood 1994). We then started using the term BME (Black and Minority Ethnic) which then was criticized as many Asians did not identify with the term. Most recently BAME has been criticized (Gabriel, D 2021) as it homogenizes minoritized populations into one big cluster whilst 'white' is never named as an identity, reinforcing the privilege of White identity.
With the acronym being encouraged to be dropped in a recent Government report, the need for a term that captures the experience of a group of 'peoples' without categorizing them and labeling them is a highly topical issue. There are a number of challenges, it is not just about the ongoing struggles of oppressed peoples' self-identification, and the need to capture the lived experience of those on the receiving end of racism, be it individual, cultural, or institutional. It is also the transience and inconsistency of language. What is called 'race' in one country might be labeled as 'ethnicity' in another, while 'nationality' means ancestry in some contexts and citizenship in others. Even within the same country, one term can take on several connotations, or several terms may be used interchangeably.
In a world where nations and national identities are almost constantly changing, and where, hybrid identities are becoming the norm, there is no reason to expect established categories for comparing different groups of people to be around forever.
At the current time, the term 'BAME' appears to have very few supporters. Yet all the evidence points to ongoing racial disparities and the need to capture the lived experience of racism. The alternatives to 'BAME" have been outlined below with their individual pros and cons.
Alternatives to BAME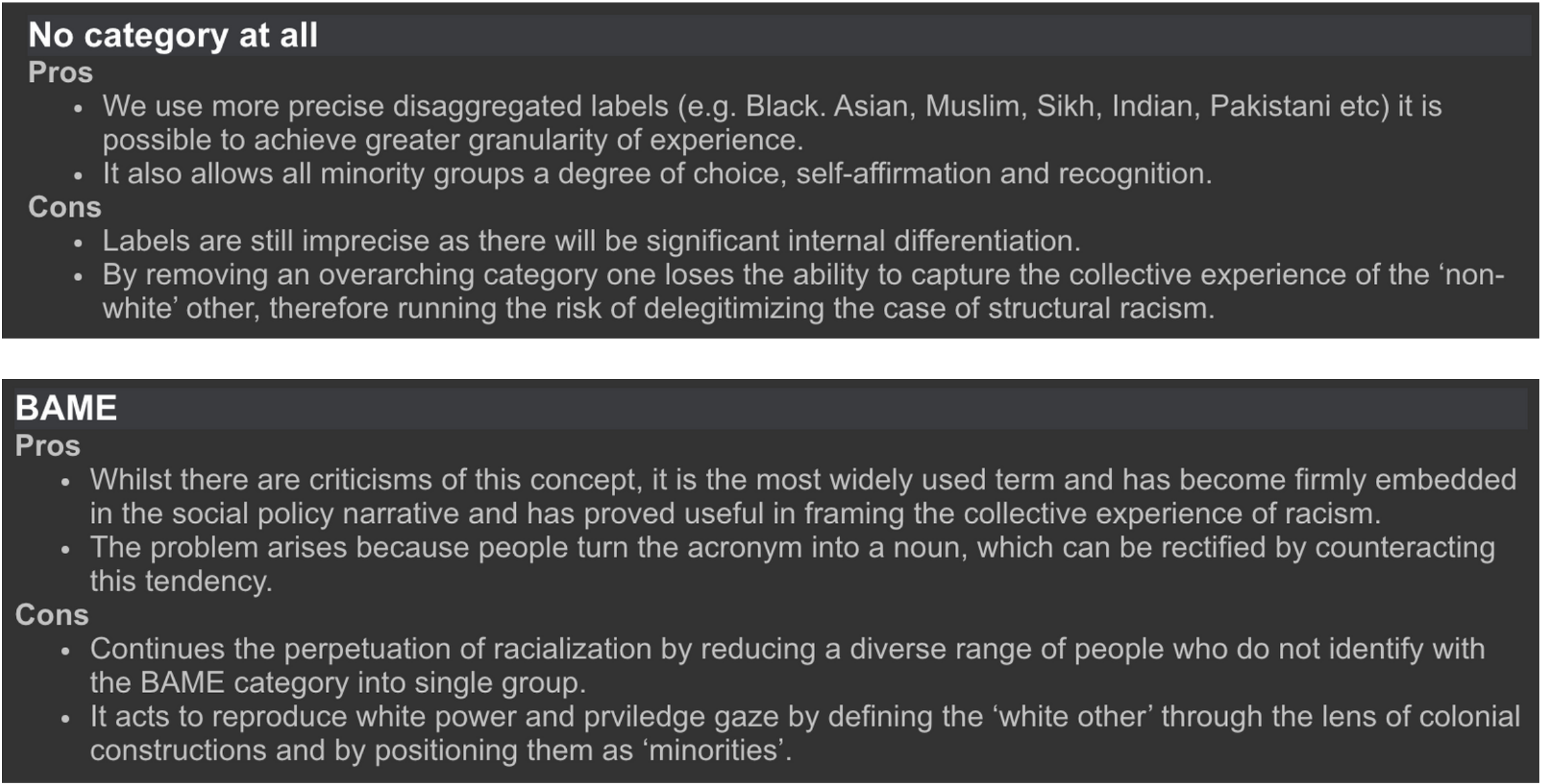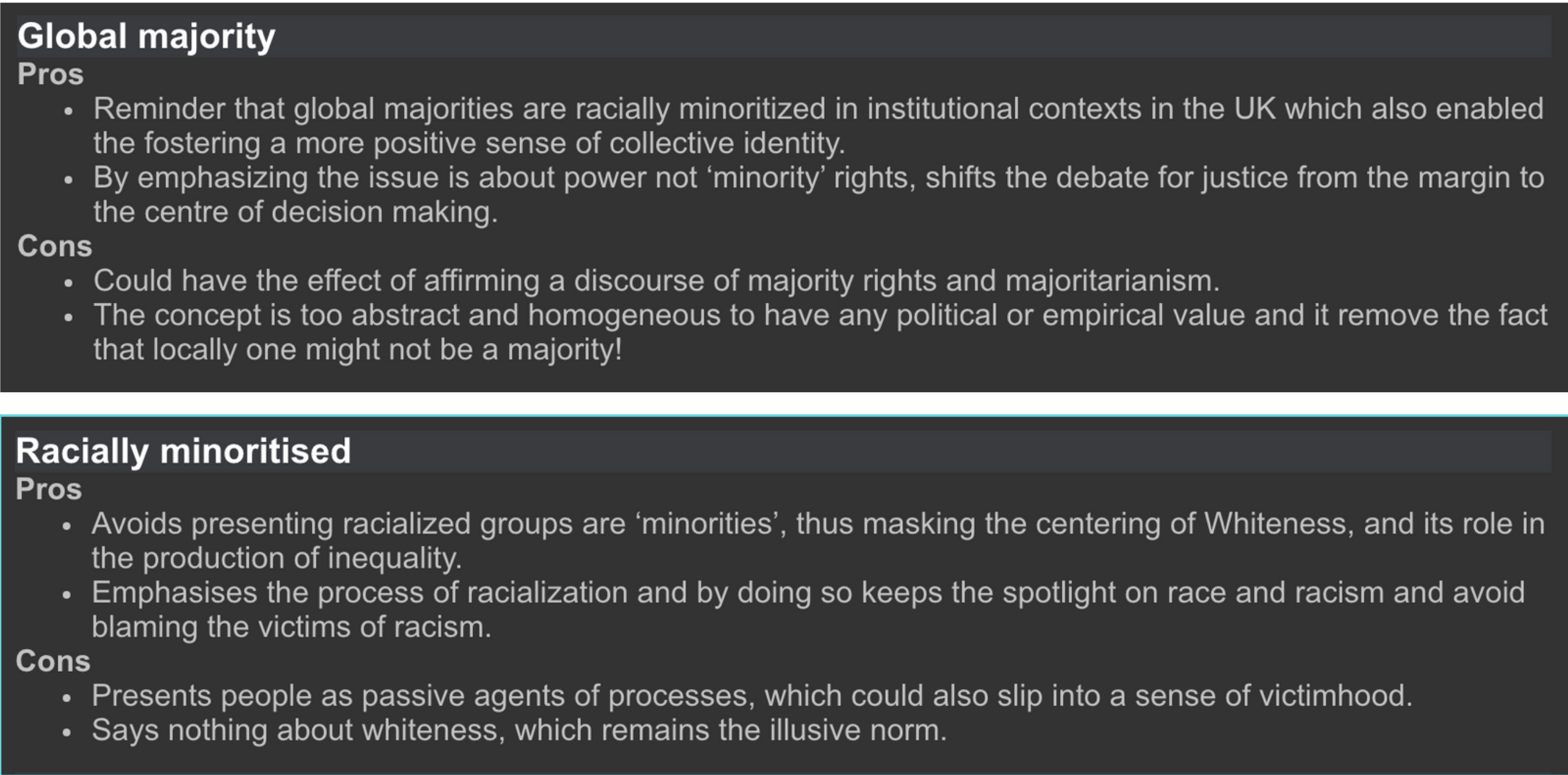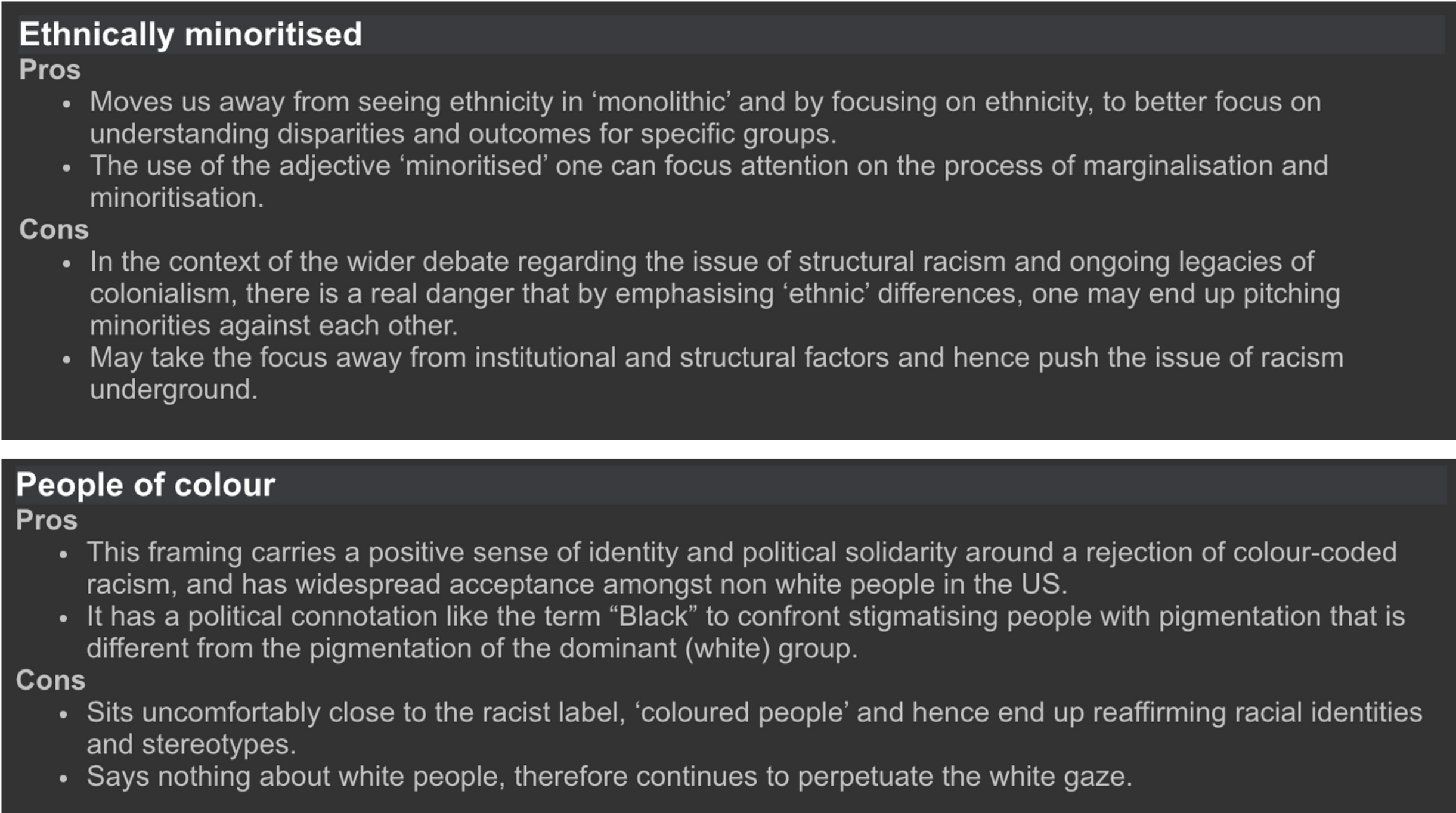 This is an ongoing discussion.
There is a poll that is still active where we can all vote: https://coventry.onlinesurveys.ac.uk/finding-an-alternative
The online discussion took a snapshot look at the poll results and the top category was 'No Category'; 'People of Colour' came in second and staying with BAME was third.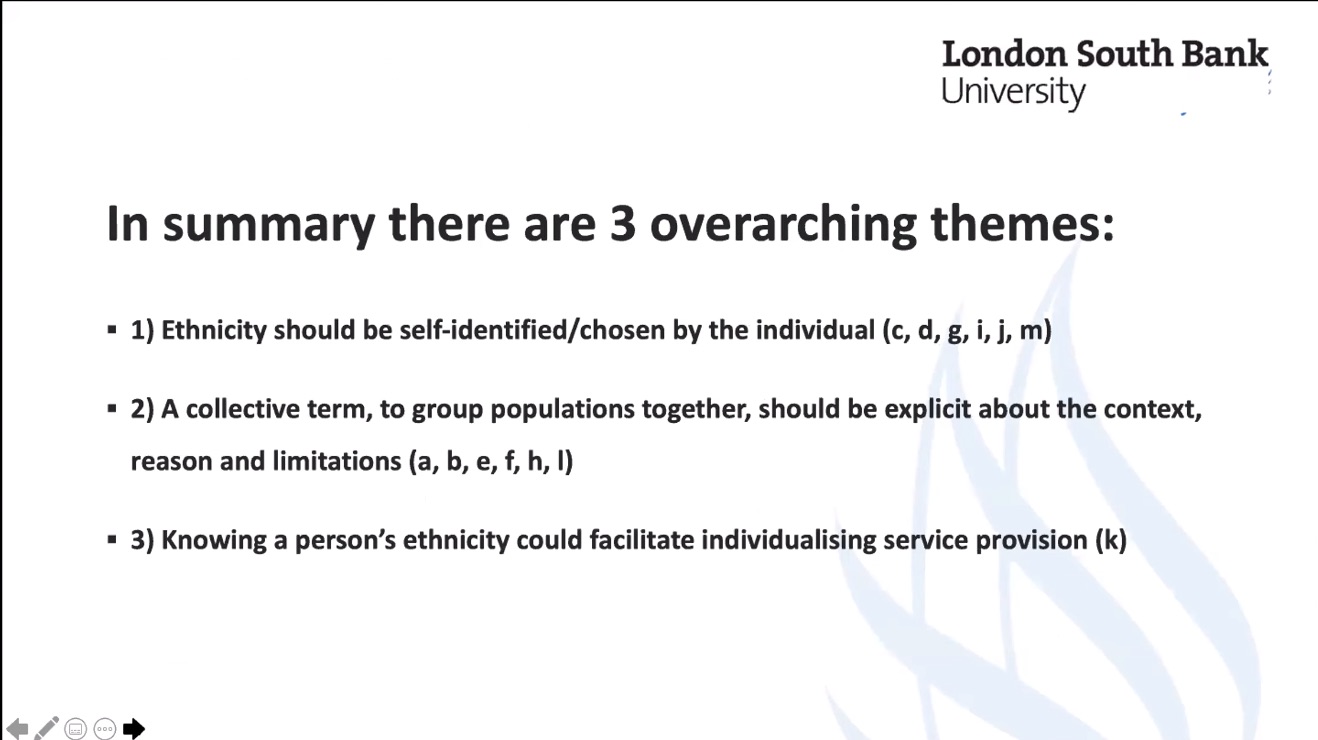 Whilst the online discussion was taking place, Dr. Gurnam Singh conducted a live poll that showed the following results:
People of Colour - 24%
Racially Minoritised - 24%
BAME - 21%
No Category - 17%
Global Majority - 14%
Ethnically Minoritised - 14%
My personal opinion is that it is not my place as a white individual to decide or have a voice in this discussion but to amplify the voices of others with lived experiences of racism. The combination of the poll results is pushing me towards the use of the term 'people of colour' if it is absolutely necessary for a term to be used. But this is an ongoing discussion and my first response would be to ask those involved what term they would want to be used for the purpose of the inquiry.
The one thing that we have to ensure is that discussions around a label for ethnically minority groups do not stand in the way of concentrating on the necessary anti-racist work. The danger is we spend more time discussing labels and semantics as opposed to the very real systemic, individual and cultural issues.
Our thanks goes to Dr Gurnam Singh from Coventry University for leading on this work and his colleagues at Coventry and from other insitutions.