Last week, I joined the Vice-Chancellor, Pro-Vice-Chancellor (Internationalisation), IRO Partnerships Manager and the Director of ICHEM at the British Council's annual international conference - Going Global 2015 in London. This annual event gathering leaders in Higher Education from around the world was a fantastic opportunity for us to take part in important debates and discuss issues and challenges facing our sector.
With over 1000 participants at the conference, it was a great opportunity for us to catch up with existing partners, develop new relationships and showcase the University to international stakeholders.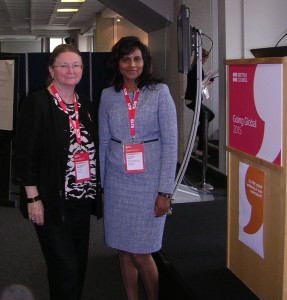 One of the popular sessions - "TNE: global wellbeing or new imperialism?" was chaired by the Vice-Chancellor and entirely curated by Professor Rajani Naidoo (pictured with the Vice-Chancellor above). Focusing on how transnational education can develop creative synergies across borders and cultures, speakers discussed its impacts at local, regional and national levels. Through an innovative concept - fishbowl conversations, participants also shared their opinions on whether transnational education contributes to global well-being through mutual benefit or whether it's simply a new form of imperialism. Participants were divided in a number of groups, each focusing on a specific topics, shared examples of best practice and made policy recommendations as well as suggestions for further research to be carried out within the field of Higher Education Management.