On Friday 29 January the International Mobility team (Lorna, Agathe, Tracey and myself) welcomed 82 exchange students: 64 international exchange, 16 Erasmus (European) and 2 Visiting (fee-paying) to be precise. They were from 26 different nationalities. The largest nationality groups were Canadian, American, Chinese, Australian and French. The smallest nationality groups were, just to mention a few, 1 Italian, 1 Uruguayan, 1 Norwegian, 1 Malaysian and 1 Austrian. Luckily they all made friends quickly.
The day started bright and early for us and at 8.30am we were setting up for registration. The students all turned up for tea and coffee and to collect their University of Bath Induction Pack.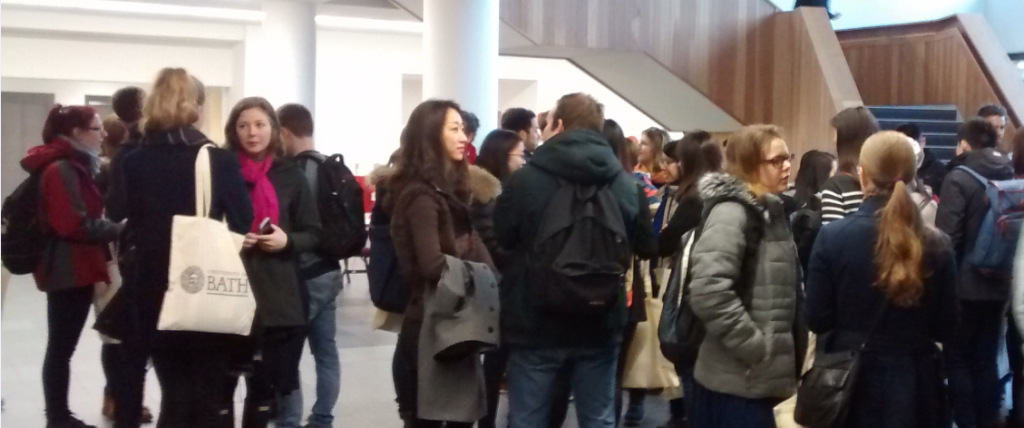 We then moved to the lecture theatre for the Induction presentations. We had representatives from Student Services, the Students' Union and the Academic Skills Centre who came to introduce themselves, organised a game of human bingo and supported the event with information and guidance.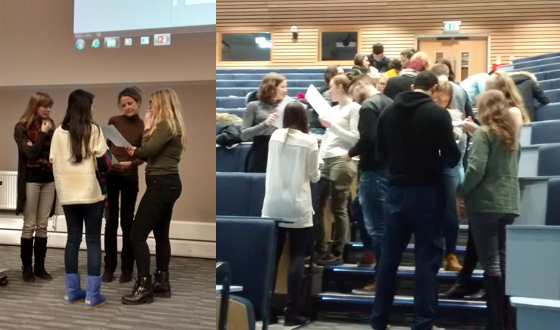 It all went very well and lunch was served promptly at noon in the foyer. Everyone seemed to enjoy it, as no food was left to waste.
After lunch the students were taken on a campus tour by the Students' Union Officers, had their documents checked and met their Department Coordinators.
At the end of the day we offered two drop-in sessions for the first time this year. One was run by us, the International Mobility team, to help the students create their online timetables. A current Erasmus student also kindly came to support us in answering questions that only a student would know! The second drop-in session was run by the Academic Skills Centre team in order to help the new students enrol onto their classes. They were well attended and proved to be successful.
On Friday 12 February the students will head to the Roman Baths for a tour followed by a drinks reception organised in conjunction with BEN (Bath's Exchange and Erasmus Network) and the Students' Union. We like to keep them busy!