On the 17th February I set off for Mexico City and Bogota, on a visit aimed at meeting with and attracting students to come and study at Bath, consisting of Education Fairs and individual student interviews facilitated by our agents in Mexico and Colombia.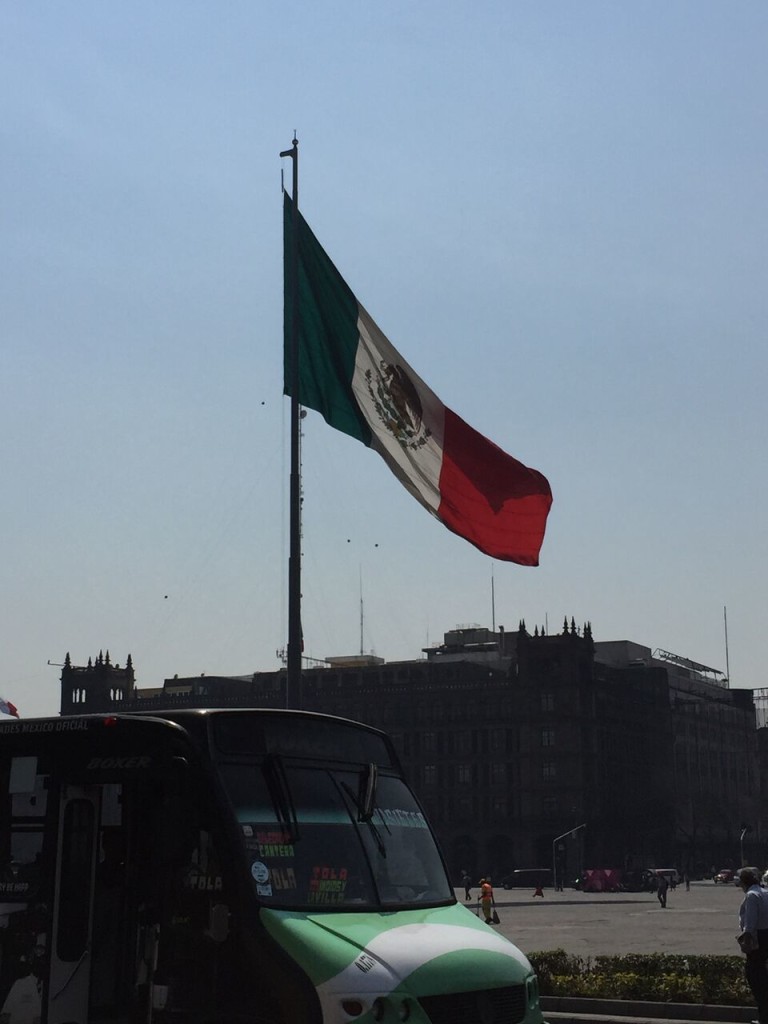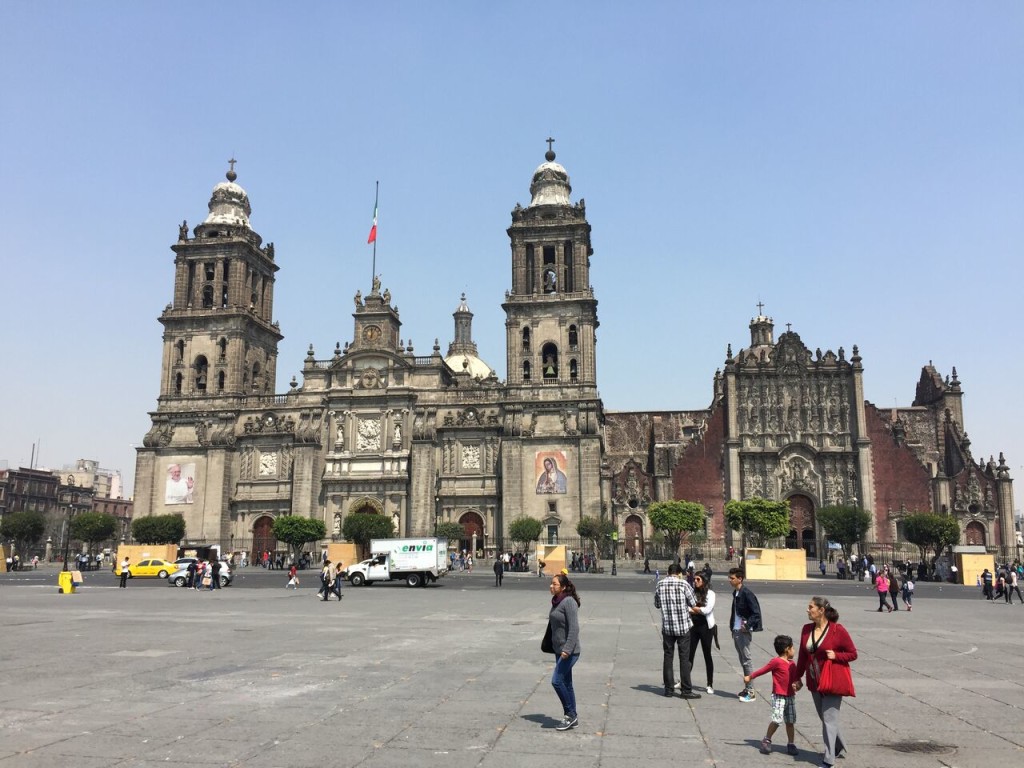 The weekend of 20 and 21 February was spent in the Centro Banamex, just outside of Mexico City at the FPP Eduexpo, with higher education institutions from all over the world hoping to meet with high-quality students.
Normally I manage the Bath stand at these fairs alone, or with the help of an agent, or perhaps even one academic from the University of Bath. But this time I was lucky enough to get help from a group of academic staff and PhD students from our Department of Mathematical Sciences (Professor Andreas Kyprianou, Dr Gavin Shaddick, Dr Dan Simpson, Dr Karim Anaya-Izquierdo plus PhD students Dorka Fekete, Matt Thomas and Alice Davis) who had come to Mexico for their 2nd BUC (Bath-UNAM-CIMAT) joint workshop on the theme of 'Thinking Globally: The Role of Big Data', which was taking place at the National Autonomous University of Mexico (UNAM) from 22 to 24 February.
I was also glad to hear from Matt Thomas, our maths PhD student, who really enjoyed helping out at the fair. He told me: "I was pleasantly surprised about the popularity of University of Bath, and during the day I spoke to many different students from different disciplines promoting the University to them. Having been an undergrad at Bath too, I could talk to the students at different levels. They were very interested in hearing a student perspective on the university and hopefully this will encourage a few students to apply at least!"
I'd asked if perhaps one or two of the group could pop along to help me during the weekend fair, so I was quite surprised when the whole group of 7 showed up, willing to help and talk to potential applicants, despite the fact that many of them hadn't done this before. Normally I would think a stand manned by 8 people is a little excessive, but in fact we were rushed off our feet! The fact that our stand already looked busy helped to draw in more crowds, so we created a good buzz around the Bath stand – something to think about for future events maybe?
It was great to have help from the BUC group and I was so impressed by their willingness to engage with potential applicants.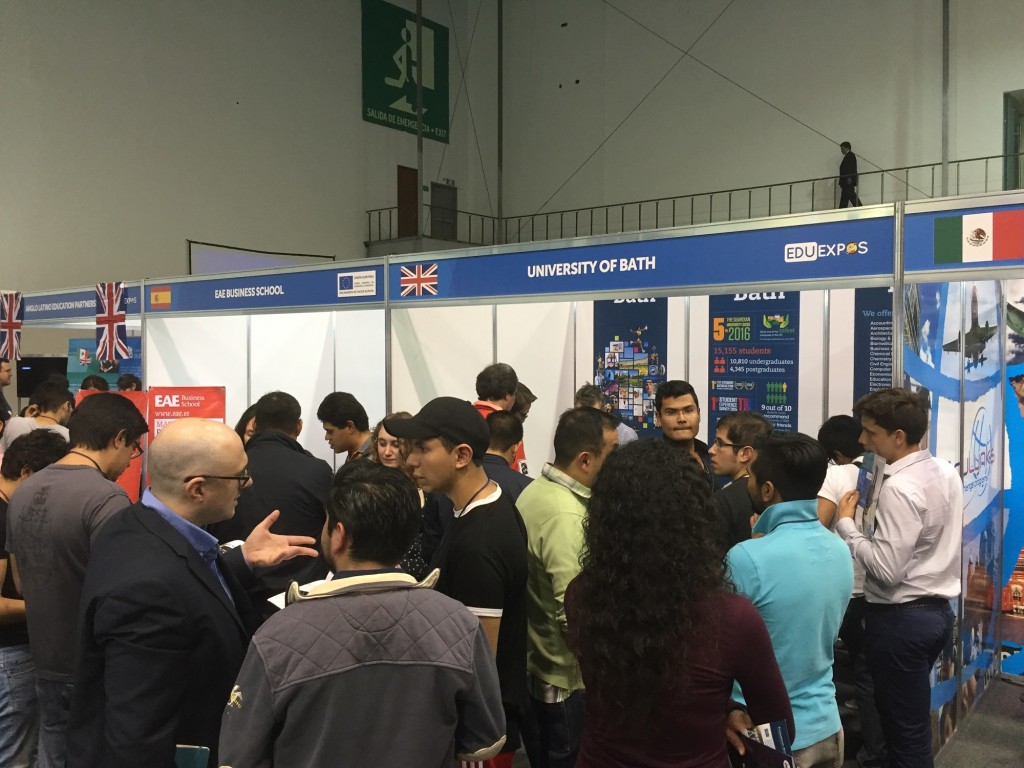 The following Monday was the first day of the BUC workshop at UNAM, with a mini-conference for the PhD students planned for the afternoon. In the morning I joined forces with Silvia Ruiz Velasco from IIMAS at UNAM, which is the Research Institute for Applied Maths and Systems, to present our postgraduate programmes at UNAM and Bath respectively. Our audience was a mix of maths students from different institutions and levels, and our aim was to make them aware of the opportunities for Masters and PhD study at both institutions, also highlighting the opportunities for exchange of staff and students.
I found it really interesting and rewarding to be able to join forces with maths colleagues and PhD students to ensure that there was some synergy between our activities in international student recruitment and partnership development. This approach really helps to raise our profile in Mexico, and demonstrates our desire to engage on many different levels. This engagement in Mexico is important to key partners like Consejo Nacional de Ciencia y Tecnología (CONACyT), who fund all of our Mexican PhD and most of our Masters students at Bath (a total of 17 students).
Along with Andreas Kyprianou, Gavin Shaddick and Victor Rivero from the CONACyT research institute for Mathematics (CIMAT), we went to meet with Pablo Rojo Calzada, Director of Scholarships and his team at CONACyT, to tell them more about the BUC workshops, and inform them about the value of doctoral training centres such as SAMBa at Bath. We also invited Pablo to come for a visit to Bath in June for the next BUC workshop and Integrated Think Tank, involving industrial partners.