Media and PR Manager, Andy Dunne, and Business Engagement Manager from the Faculty of Humanities & Social Sciences, Emily Richards, recently spent a week in Amman as part of the ERASMUS+ International Credit Mobility scheme.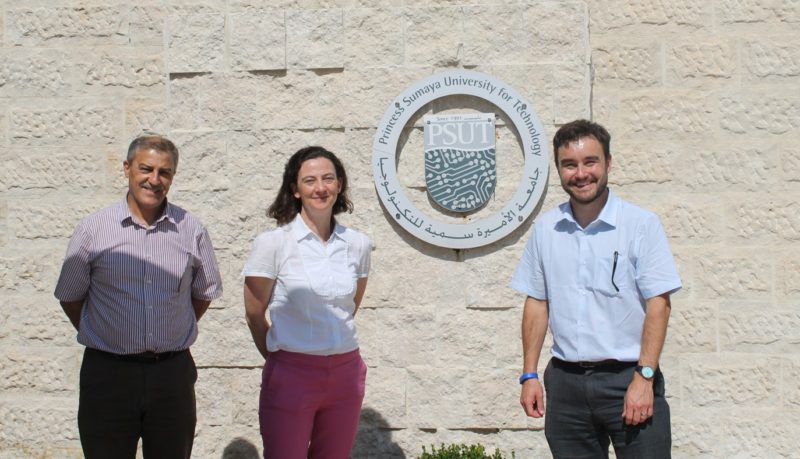 It was a huge privilege to spend time in Jordan at the beginning of the month to discover more about the amazing country and to learn much more about how and why, across a range of different themes and initiatives, University of Bath connections in the country are making a difference.   
Organised through the ERASMUS+ initiative, with help and support from our International Relations Office, the primary purpose of the week-long trip was to foster stronger relations with counterparts working at our two partner universities in and around Amman: Princess Sumuya University for Technology (PSUT; our hosts) and the German Jordanian University, based near Madaba.
These universities are each different in focus, but across both there is lots of common ground with activities here at Bath. At PSUT, we toured the Queen Rania Center for Entrepreneurship which is headed up by Bath Management graduate Mohammad Obaidat, met the alumni and engagement team and spent time with their PR and Media Department. A visit to GJU included talks with their international team, Office for Industrial Links - where there was much interest in how student placements here at Bath are organised – as well as in-depth discussions again with Media and PR colleagues.
From a communications perspective, establishing these connections with counterparts working in both press offices will be really valuable when it comes to sharing the results of collaborative research in the future. One such project will be the results of the interdisciplinary research Healthy Housing for the Displaced which is all about developing 'healthier', more sustainable shelter for refugees. This work is led by Bath, but involves academics at both PSUT and GJU.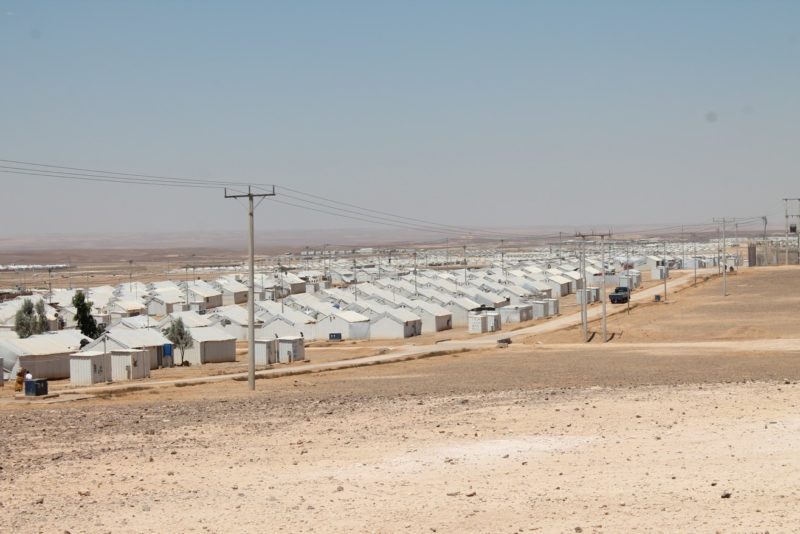 During the trip we were fortunate enough to be granted permission to see this particular project up close with a visit to the research facility at Azraq camp. Roughly 100km outside of Amman, located in the heart of the desert, Azraq is a different world. First opened in April 2014 and operated by the UNHCR, the refugee camp is home to nearly 40,000 refugees displaced by civil war in Syria, 60% of whom are children.
Its scale overwhelming, you can all too easily imagine how the day-to-day challenges for those living there could be unbearable. We visited early in the day, but already the temperature was stifling; at night it can drop to below freezing. Our research aims to make the living conditions that bit better, by experimenting and modifying existing designs to mitigate against the variation and fluctuations in temperate, and to do so in a sustainable and cost-effective way.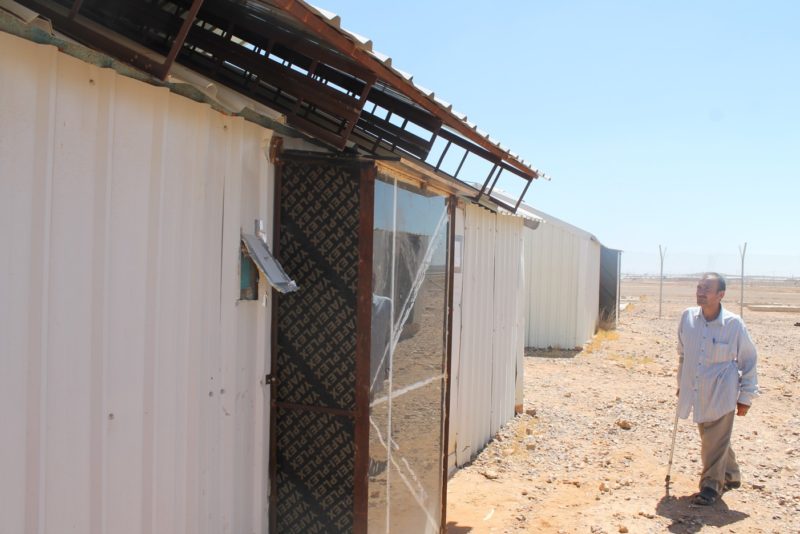 As part of the visit we met representatives from the UNHCR to find out more about the challenges they face and their hopes for this particular project. We also spoke to our host for the week, Professor Omar Bani Ahmad from PSUT who has been directly involved in the work, to understand more about the practical and logistical challenges in getting it up and running, and the early successes they have already seen.
For this project, my personal hope is that, by working with communications colleagues at our partner institutions, we can pool resources in order to tell the story of this work and reach new audiences. One particular action discussed was translating the news story into Arabic and using PSUT and GJU's connections to share the news across the wider region.
In addition to visiting partner universities, we travelled to the Amman Baccalaureate School (ABS) where links with our Department of Education stretch back over decades. ABS is a Study Centre for our MA Education course and each year academics from the Department travel to Jordan to teach.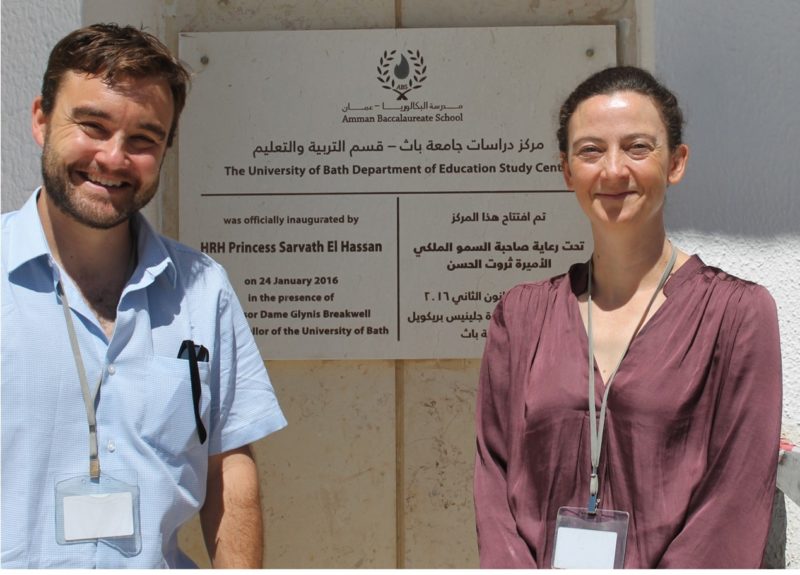 Through an initiative funded by the University in response to the refugee crisis, the Department of Education also currently delivers training to Jordanian teachers studying for a PG Certificate in Education through the Queen Rania Teaching Academy. This year, 11 state school Jordanian teachers – those who currently 'double teach', teaching Jordanian students in the morning and Syrian / Iraqi refugees in the afternoon - will be the first cohort to graduate from the course. We already have a new cohort of 14 lined up for the next academic year. In advance of their graduation ceremonies in Jordan this October, I really hope to speak to some of the teachers to help tell their individual stories.
In between, we met a range of other stakeholders in the City where there is a great potential for future collaboration. These included potential placement providers for our students, including with UNICEF and Bank Al Etihad; the British Council in Jordan which administers funding to support certain research projects; a journalist from the only English-language newspaper, The Jordan Times, who was particularly keen on upcoming research stories from the University; and the influential Chevening Alumni Association based in Jordan – an influential network of FCO Chevening Scholars. This network includes Bath graduate from the 1980s, Omar Rafie, who will shortly return to the City to begin a PhD with us in the autumn.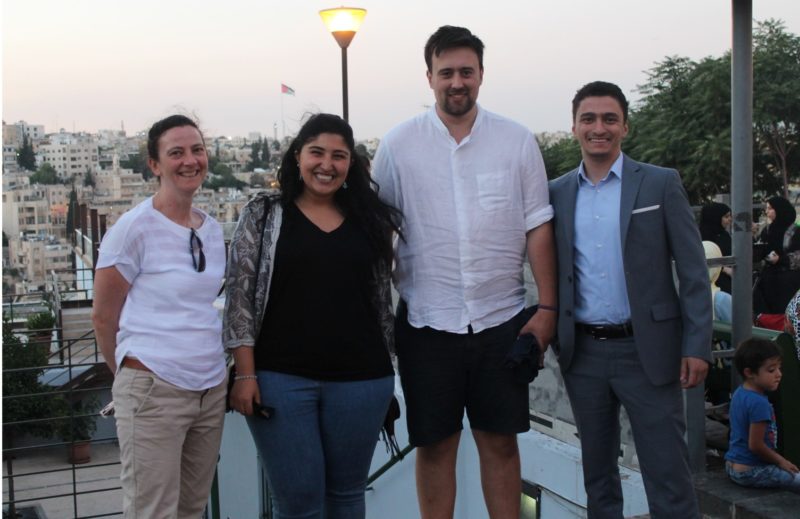 We currently have a number of students and alumni in Amman so we also took the opportunity to catch up both with current students on placement in Jordan and those participating in our distance learning masters, as well as recent alumni. In addition we hosted drop-in sessions for a small number of University of Bath offer holders eagerly awaiting their results from the IB, helping to answer their questions about university life as well as living in the UK.
In just one week it was really clear that our connections in Jordan stretch far and wide and there is a huge amount of awareness, interest in and goodwill towards the University from a range of individuals and organisations. All these different connections put together tell a rich story about our partnerships in Jordan, one which is much more than the sum of its parts.
We look forward to working with colleagues here in Bath and in Jordan to tell that story and to help further strengthen our links.
If you would like to find out more about any of the points covered above please contact Andy (ajd65@abth.ac.uk) or Emily (mpseb@bath.ac.uk) directly.
For information on how to apply for the ERASMUS+ Staff Mobility Programme see https://www.bath.ac.uk/campaigns/apply-for-erasmus-staff-mobility-programme/.