Mandarin Chinese teacher Daisy Zhu from Skills Centre tells us about her experience of leading a virtual exchange (VE) programme with China.
Virtual Exchange makes it possible for Chemical Engineering student Thet Su at University of Bath (UoB) and TCSOL student Yang Fang from Xi'an International University (XAIU) to share their typical day and learn each other's unique ways of living. When you learn a new language, you'll discover a whole new world. Things that we take for granted in our daily life may look fascinating to someone from a different culture
What is virtual exchange and how did our programme come about?
Virtual Exchange (VE) is a practice that consists of guided education activities that are technology enabled. These activities involve interaction between "individuals or groups who are geographically separated and/or from different cultural backgrounds". VE is an excellent tool for me as a teacher because it enables my students to "travel" to China and have a taste of real Chinese culture without incurring huge expenses.
When I met Dr Xu from Xi'an International University (XAIU) at the British Chinese Language Teaching Society annual conference in summer 2019, I knew I had found the perfect partner. Like me, Dr Xu is keen to build international relationships and create opportunities for his students to broaden their horizon. We discussed the possibility of doing a VE project and started working out a plan.
The trials and triumphs of three virtual exchange projects
Our first VE project began in February 2020 when the world was about to experience unprecedented change and uncertainty. We encountered challenges such as time difference and technology incompatibilities. Facing and overcoming these challenges made us more resilient and creative. Our students have just completed their third collaborative project and we are all delighted with the outcome. Students developed many skills in the process, including teamwork, communication, problem-solving, and time-management. They also greatly enhanced their intercultural awareness and interpersonal skills. A bonus from these VE projects is that students also learned to use each other's preferred communication channels, for example WeChat, Teams or Zoom.
Some students formed a group spontaneously and had great fun accomplishing an ambitious project together.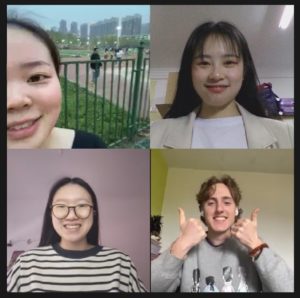 *The photograph shows Cristina, Michal, Zhenzhen and Fenglin having fun during one of their group meetings via WeChat. Their project was comparing the education systems in England, Scotland, Portugal, and China.
Overflowing creativity
Covid-19 caused some disruption to our project as it did to many other things, but it also made us more innovative: students' inventiveness really has no bounds. Using a variety of creative media, participants produced joint work on an array of topics, including food, tea culture, tourism, embroidery, religion, music, festivals, films, and much more.
XAIU student Peiyu was partnered with UoB student Nandy who is based in Cape Verde. During one of their early exchanges they made an amazing discovery: even though they grew up in different continents, they both played a strikingly similar game in their childhood, called "Sapatinho de Licá"
and《丢手绢》(Diu shoujuan) respectively. This chance finding gave them the idea to create the following video.
*Nandy did all the artwork in this video. Nandy's talent inspired Peiyu to give her the Chinese name骆兰笛 (Luo Landi, meaning flower and music in the desert).
Friendship and other benefits
Our students built excellent rapport while collaborating on their joint projects. They relished the opportunity to talk to people from their age group in colloquial English or Chinese, and they felt motivated to build up their conversational skills. Among the many benefits reported by our students, better understanding of different cultures, fun, and improvement of employability skills come up regularly.
For many, the biggest gain is finding friendship. Almost all students said that they would keep in touch after they completed their projects. Below are a few testimonials from some students in their own words:
"I have been able to gain new perspectives on various topics and understand things from different points of view. Language is a way of communicating culture, but this can be difficult sometimes in a formal setting. The programme allows for relaxed conversation which develop your language skills in a more natural way and help understand the culture to communicate authentically." UoB student, Michal
"I like my weekly chats with my partner. We can talk about anything and exchange ideas on many topics. I do find speaking in English hard, but I like the challenge. I feel that I am improving all the time." XAIU student, Fenglin
You can read about VE projects, from a students' perspective, on the Skills Centre blog here: 5 great reasons to do a Virtual Exchange
What next?
Intercultural understanding plays an important role in any cross-national co-operations. VE would be beneficial to students studying subjects other than languages. In the post-Brexit era, we have seen a rise of xenophobia and racism in society, fuelled additionally by the current pandemic. I believe that VE projects such as those described here will help counter these tendencies and provide opportunities for increased intercultural awareness and understanding. The Foreign Languages Department at the Skills Centre now has several other virtual exchange projects in operation, involving learners and speakers of Arabic, French, Portuguese and Spanish. I hope that our positive experiences will give our university community some food for thought, and that our initiatives will contribute to the promotion of Internationalisation at Home across the University.
If you're interested in learning more about virtual exchange projects at the University, sign up for our event on the 10 June here: Connection Students through Virtual Exchange.