At the start of Semester two, I was lucky enough to be part of the team hosting induction for new incoming semester abroad students. As a new member of the International Relations team, I was so excited to be able to see the new students experience one of their many 'firsts' as they embark on a new adventure.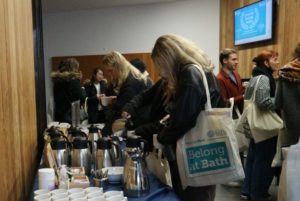 Students from Bath's international partners, who had arrived in the UK in the previous days, were greeted in the Chancellor's building with refreshments, breakfast, and the brilliant International Relations team, who had organised welcome packs with University of Bath goodies, practical information and even a voucher for some of the businesses in town. This is where students met and mingled for the first time, discovering each of their backgrounds and building connections. On my own year abroad, this very same day was where I met some of my closest friends, and I can't wait to see this cohort build friendships that last long after this experience.
Next, students listened to presentations that gave vital information about the upcoming year. The International Relations team, The SU's Community Officer Meg, and the University of Bath's skills centre and student services gave an introduction into life at the University of Bath. Looking at all the opportunities, events and academic courses offered to students, I have no doubt students will never be bored and will make the most of the next few months.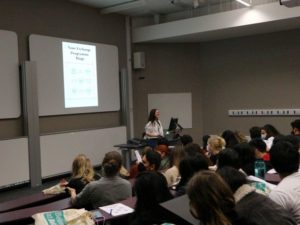 To end the morning, the University of Bath's student ambassadors took small groups of the newly inducted study abroad students on a tour of the campus. This gave students the opportunity to get to know where lectures and seminars are held, and find key points on campus, such as eateries, offices for services, and experience the outstanding natural beauty we are lucky enough to have on campus. Students may end up huddled with a coffee in the SU in the winter, but soon they can look forward to studying by the lake in the summer!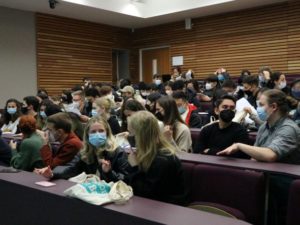 The induction continued throughout the week for students, with several events such as a tour of Bath, an international meal and a coffee morning at university built into a schedule to ensure that students felt welcome and ready for the upcoming semester. Florencia, the International Mobility Coordinator for the University of Bath, did a great job putting the induction together, with the whole team playing a part in welcoming students to their next adventure.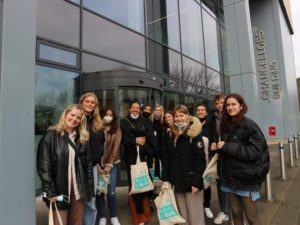 I am joined by the whole team in wishing our new students the best time as they study with us here at the University of Bath. We can't wait to see what they achieve academically, but we are also so excited to hear about all their adventures and stories as they explore Bath, the UK, and create lasting connections to each other and the places around them.
Samantha Braund, International Relations Casual Communications Assistant