Pedro joined the Bristol & Bath Brussels Office on 10 January 2022, arriving in the unofficial EU capital at the start of financial year and working there until mid-September, before returning to Bath to commence his final year.
A month after finishing his placement Pedro reflects on his time in the Brussels Office:
As the world recovers from the pandemic and society eases back to normality, I was lucky enough to follow suit during my 9 months in Brussels. Throughout my placement at the Bristol & Bath Brussels Office I have had the pleasure – and burden – of following EU politics at an unprecedented time of European emergency; initially from Brexit and the post pandemic implications directly affecting the Office's partners, and subsequently due to the Ukrainian conflict and the energy crisis. As a result, I attended multiple online and in-person events on the matters and helped our partners mitigate possible consequences. Hence making our representation more crucial than ever as our Office had to pick up the pieces and find other alternatives to the amenities lost from Brexit and other developments affecting UK institutions in Europe. While these international developments made my experience more challenging, they allowed me to learn how the EU decision-making instruments work under pressure and how to assist UK organizations within European dimensions through a critical period for them.
Therefore, throughout my time at the office I attended and reported on multiple EU events specifically for the University, making sure to identify funding opportunities from programmes like Horizon Europe and keeping up to date with any initiative or development affecting universities, which unfortunately due to Brexit and the pandemic there were quite a few. I worked closely with Bath's International Relations Office to certify that the university was considering all opportunities given to European and UK universities. While Brexit significantly reduced EU students' population in the UK, Bath was still able to hold very similar student enrolment numbers regardless. Students and faculty in the Universities research departments also continued to receive significant support from EU institutions, and the university as a whole benefited from generous financial schemes with the help of the Office's contributions.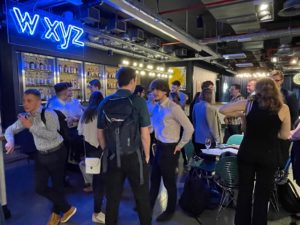 Moreover, throughout my time at the Office, we were able to organise two networking events for University of Bath students on placement and alumni living in Brussels, which were both a notable success. The events each hosted around thirty participants working in European affairs and similar fields, hence inducing valuable conversations relating to our office and our partners.
It was a real pleasure to work in a small team which slowly grew throughout my placement, from initially being comprised of only me and the Head of Office, Paul Davies, to a team of five. This continuous change in office personnel was a learning experience for me as it forced me to adjust to the developing team dynamics and gave me the opportunity to facilitate in the induction of new recruits.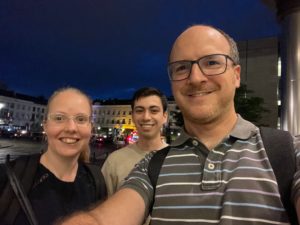 My time in Brussels was unparalleled to anything I had ever experienced, as a little less than a year ago I found myself traveling to a country I had never even visited, which spoke a language I barely spoke, to work a job I had no prior experience in. From the start it took me straight out of my comfort zone and allowed me to individually grow in the one of the most beautiful and lively cities in Europe. Being away from everything I once knew was crucial as it forced me into full independence and pushed me to take full responsibility for my lifestyle, be healthier and explore the city I lived in. Ironically, from the 'frites' to the beer to the stunning scenery and networking events Brussels was the perfect place to work and live. The city's working and recreational environment is quite unique and I honestly see myself returning to the EU capital one day.