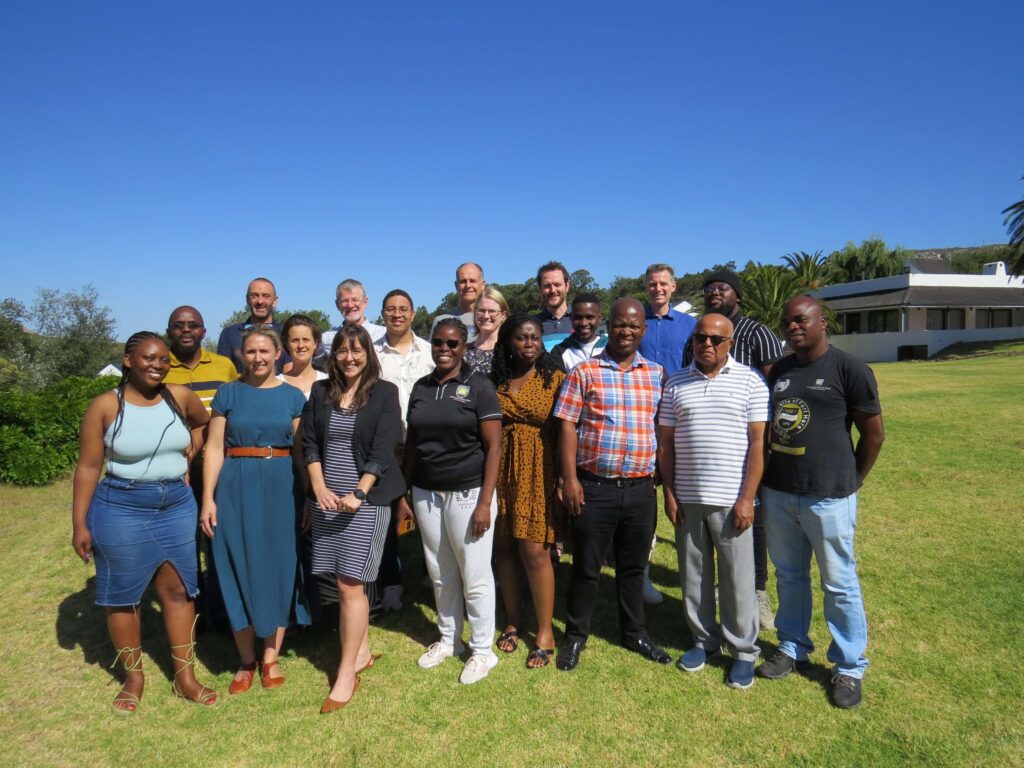 In January academics from the University of Bath visited South Africa as part of a collaboration with Stellenbosch University and the University of Fort Hare, located in Western Cape and Eastern Cape respectively. The collaboration, sponsored by the British Council, forms part of South Africa's national University Staff Doctoral Programme (USDP). This aims to strengthen South Africa's university sector by increasing the number of academic staff with doctoral qualifications, making up for a historic deficit and responding to the rapid growth in demand for high quality university education across the country.
James Copestake (SPS), Matt Dickson (IPR), and Kerry Papps (formerly Economics) joined co-supervisors from Stellenbosch and Fort Hare at a symposium for the ten doctoral students being sponsored under the collaboration and jointly supervised across the three universities. Aurelie Charles (SPS), Stephanie Merchant (Health) and Juani Swart (Management) also took part via Zoom. Restrictions arising from the COVID-19 pandemic meant this was the first opportunity for the doctoral candidates to meet each other and their supervisory teams in-person.
The venue was the Houw Hoek Hotel, a historic coaching inn set in mountains East of Cape Town, near the small town of Grabouw. The objectives of the symposium were:
to provide an opportunity for all doctoral candidates to share progress with their doctoral research
to facilitate sharing of good doctoral supervision practice
to strengthen planning and support for the students as they progress through their studies
The symposium combined tutorials and seminars with structured writing sessions using the 'Pomodoro' technique, and some variably vigorous walking in the surrounding mountains. Its centrepiece were presentations from the ten staff doctoral students, opening up discussion of many aspects of social and economic change across the country and wider region, including:
urban planning, job search, community and employment opportunities
early years education and the motivation of rural schoolteachers
infrastructure management including remote sensing of road surface quality
the mental health effects of social media
rural-urban livelihood strategies and land ownership
informality and financial service linkages
Additional sessions addressed thesis publication and post-doctoral funding, critical realism and mixed methods research methods, project management, and (on the last day) addressing academic stress through mindfulness.
Feedback on the event affirmed the importance of in-person meetings and structured study time. It was superbly choreographed by Jaco Franken, Manager of the Graduate School of Economic and Management Sciences at Stellenbosch University and the Bath-Stellenbosch-Fort Hare USDP project lead.
Following on from the visit James Copestake travelled on to Gqeberha (previously Port Elizabeth) to give a public lecture and to visit Fort Hare's main campus in Alice, whose illustrious alumni include three former presidents (Seretse Khama, Nelson Mandela and Robert Mugabe) and numerous leaders of the anti-Apartheid struggle.
While a welcome break from UK weather for the three UK visitors, the trip confirmed South Africa's beautiful scenery, wealth of talent and spectacular cuisine, it also brought home the complexity of its interconnected and ongoing struggles with inequality, corruption, daily power outages and climate change. Under the programme several students and staff from Stellenbosch and Fort Hare are also due to visit Bath during the next year.
If you would like more information on the USDP Programme please contact Prof James Copestake
The full list of thesis titles of the USDP Students:
Full name of staff member
Name of Institution Employed and registered for PhD 
Title of Thesis
Supervisor/Co-supervisor Name
Megan Melissa Bruwer
Stellenbosch University
Evaluating traffic state from historical Floating Car Data in a developing country
context
Prof Johann Andersen, Dr Ian Walker
Jacomina Magdelena Van der Merwe
Stellenbosch University
Investigating the impact of transport accessibility on employee churn rates within
the lower skilled labour market in South Africa.
Prof Stephan Krygsman, Prof Ingrid Woolard, Prof Kerry Papps
Kurt Marais
Stellenbosch University
A social network analysis on behaviours that influence mental health and wellbeing
Drie Lieschen Venter, Prof Stephan Visagie, Dr Stephanie Merchant
Mosima Wilhelminah Ngwenya
Stellenbosch University
Health Inequalities in South Africa: A relational equality approach
Prof Ronelle Burger, Prof Ajit Mishra
Ashlene Shanell Van der Berg-Ross
Stellenbosch University
Investigating the relationship between Local Government Human Resource Development (HRD) Practices and Organisational Performance – the Case of Local Government Western Cape (WC).
Prof Zwelinzima Ndevu, Prof Juanni Swart
Anele Ncedo Maqubele
University of Fort Hare
Land Acquisition and Sustainable Human Settlement Development in South Africa: The Case Eastern Cape and Western Cape Provinces
Prof Andries Bezuidenhout, Prof James Copestake
Zikhona Dlaza
University of Fort Hare
Decent Work in Rural South Africa: Testing a Calling-Needs and Teacher Self-Concept Model
Prof Willie Chinyamurindi, Dr Katharina Chudzikowski
Mongi Tshaka
University of Fort Hare
The role played by informal finance to livelihood and job creation in South Africa
Prof Munacinga Simatele, Prof James Copestake
Besuthu Hlafa
University of Fort Hare
The impact of education on health behaviour and health outcomes in South Africa
Prof A Tsegaye, Dr Dumisane Hompahse, Dr Marisa von Fintel, Dr Matt Dickson
Nqobile Natashe Mpala
University of Fort Hare
Examining the macroeconomic impact of capital flows in selected SADC countries.
Prof Forget Kapingura, Dr Auriele Charles