Written by Dr Paul Shepherd, Department of Architecture and Civil Engineering and the Centre for Digital, Manufacturing & Design (dMaDe).
My journey started in Bath at 5am, the start of a very, very long day that would take me to Bogota in Colombia via Paris, France.
I am the University's academic representative on the Magalhaes Network, a grouping of 18 Latin American and 20 European Universities that work together to promote student mobility in Engineering and Architecture.  At the network's previous AGM, I was elected onto the Steering Committee, which means that alongside a number of online meetings during the year, I also attend an in-person meeting of the Steering Committee, where we deal with the majority of the organisational business of the network, such as dealing with membership issues, organising the schedule for the next AGM and developing the network's strategy.
The Steering Committee member from Pontifica Universidad Javeriana in Bogota kindly offered to host the meeting, hence me setting my alarm for an unheard-of pre-5am hour and heading off to Heathrow.
Of course, nobody in their right mind would fly out of Heathrow at such a ridiculous hour, so my transit to the airport, through security, and out to the departure gate went remarkably smoothly. If only the same could be said for my stay in Paris Charles De Gaulle, which is now my least favourite airport … and not only because rain-clouds whilst coming in to land robbed me of any decent view of the engineering icon that is the Eiffel tower.
Bad things about my CDG experience :
Tried to have a sensible Teams meeting whilst sat on a windowsill with the sound of people arguing about "ou est l'avión" in the background. Next time I must remember not to sit next to the "assistance" point.
The price of food – I couldn't decide which was the biggest rip-off between a 2.50€ packet of Salt & Vinegar crisps, a 7.50€ no-frills sandwich, or paying 2.45€ for a tiny fat-free yoghurt of unspecified weight (which I thought was against EU labelling rules). My guess was 50g, and for that price I'd want the fat, and maybe the rest of the cow.
My pet hate of escalator handrails that move faster than the steps, thereby stretching your arm as you travel.
Good things about CDG :
They have Pigeons roaming freely inside the terminal hoovering up crumbs off the floor – an unusual, yet admittedly cost effective and low-carbon cleaning system.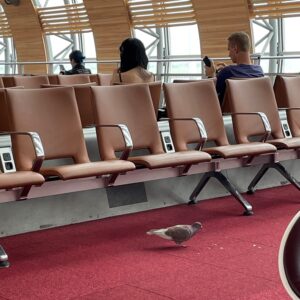 The flight on to Bogota was one of highs and lows. I experienced that sinking feeling when it looks like a small child is going to sit next to you, and the relief when they continue down the aisle, then the joy when they closed the doors and it was clear I would have an empty seat next to me for the whole flight.  The optimism of sitting on the tarmac ready to leave on time, and the disappointment when the captain announced a 40min delay blamed on a French Air Traffic Control strike.  I was glad to get out of CDG-controlled airspace, but the 10h40 flight from there to Bogota did seem to drag on a bit, and even the combination of PhD thesis and in-flight episodes of "Fresh Prince" didn't help me get any sleep.
On arrival I walked the gauntlet of illegal taxi drivers offering cut price rides into town and finally made it to my hotel after the mandatory half-hour chat with the taxi driver about which football team I support and him listing all the things he grows on his allotment, most of which he had to describe by look and taste because I don't think they have been seen in the UK. Waiting for me in the hotel reception was the Colombian academic I had recently collaborated with on a Royal Academy of Engineering research project, who had insisted in taking me out for a beer when he found out I was in town. So, all in all I'd been awake for over 24hrs before I finally hit the sack and Fitbit ranked the 5hrs sleep I managed to get as "Fair" before I had to get up again and meet my Magalhaes friends for breakfast.
The first day of our meetings started with a short tour of the main PU Javeriana campus. To my delight, this included the Civil Engineering labs, which reminded me very much of my own department labs, just six times larger. Where we have a state-of-the-art facility consisting of a virtual-reality equipped room, which can slide back and forth slowly to recreate the type of building sway you might experience at the top of a tall tower in the wind, they had a moving platform the size of a small house, on which they can build a small house, and shake it violently to reproduce earthquakes.  On my office desk I have a robot-arm the size of a football to simulate small-scale construction. They had an automated manufacturing plant with three car-factory-style robot arms and a drone-arena.
We then got down to business, developing a strategy for the Magalhaes network to expand its activities to include cross-Atlantic collaboration and mobility in Research & Innovation. We discussed lots of ideas and reported back on individual progress we had made since our last (online) meeting. It was long and intense day, only broken up by the fantastic lunch in the University's rooftop restaurant, and finished off with dinner in an Italian-style restaurant – much to the amusement of the Network President and his colleagues, from Torino, Italy.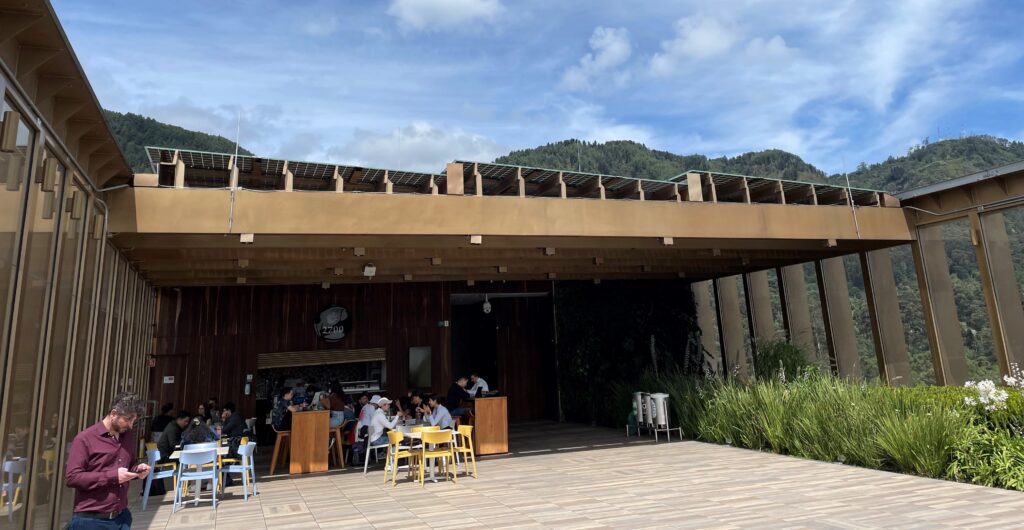 I kicked off the second day by presenting the University of Bath, the research of my faculty, and my own research on Computational Design (in Spanish!) to the undergrads, postgrads and staff of PU Javeriana. We then reconvened the Steering Committee to go through the day's business. This included drafting an agenda and agreeing logistics for the next AGM, which will be held in Bath in November. We also reviewed the network Statutes and drafted proposed changes to be put to members at the AGM. Since the statutes are nearly 20years old and no longer well-suited to the context and nature in which the Network operates,this task took a lot longer than planned, and we decided to forego our dinner reservation in order to get it finished rather than try to do it via email.
This meant that we were finally waved off by our host at 9pm. As we waited for taxis to take us back to our hotel, standing next to the University Security Guards with batons and dogs and watching 20-year-old police officers with large guns walk past, our host pleaded with us to only travel by taxi and not to walk the streets after dark … just in case.
For the morning of our final day, our host arranged the obligatory trip to the National Gold Museum and then pointed us in the direction of the Historic Quarter, where those of us with later flights found a wonderful traditional restaurant where we ate a fantastic 3-course set-menu which came to about £6 per person (CDG airport should take note). The meal included a surprisingly delicious soup starter that the waiter had described as "banana-and-pork", which turned out to be … exactly that.
I spent the afternoon catching up on work before heading off to the airport and after what was quite literally a fruitless search for Colombian wine in the duty-free shops, I made my way to the gate. Queued up in the tunnel waiting to board we were all told to put our carry-on bags in a line up the middle of the tunnel and stand to one side. Armed police with sniffer dogs then proceeded to walk up and down the line of bags and allow these huge Alsatians to apply a thick layer of dog spit to each bag individually. After my customary check through the tunnel window to make sure pilots look professional and aren't messing about in the cockpit, I finally boarded at midnight.
10hrs flying and 3hrs sleep later I changed planes in CDG, resisted the temptation to buy a Lego Architecture Eiffel Tower set next to the tills, and made the final leg back to the UK. After carrying my dog-slaver-covered bag through customs, I got to take the new Elizabeth line from Heathrow to home!
Of course, the work doesn't stop there.
The next AGM will be held in Bath on 20th & 21st November and I am working with Colleagues in our International Relations Office, who are already hard at work organising the event, which will see senior leaders from the 38 Magalhaes member Universities visit our campus and develop ways of implementing the initiatives we developed in Bogota.
So, if you see a group of lost-looking people wandering around the city with Magalhaes-branded umbrellas in November, please do stop and say Hola!