It goes without saying that LGBTQ+ people are amazing.  We are.  I've decided as such and my word is gospel at this point.  That being said, I wouldn't be allowed to say that if it were not for some of the bravest people out there who have made an impact on LGBTQ+ rights and who just happen to not be LGBTQ+ themselves.  These people are allies.
Allies are individuals who support and advocate the rights and equalities of others who are marginalised and discriminated against in society.   In this instance, heterosexual (straight) people who advocate the rights of LGBTQ+ people.
Over the next few blogs, I will be highlighting key names across the world who are making their voices heard on behalf of the marginalised.  In today's issue, we're looking at an actress who champions LGBTQ+ rights like no other.  Our Queero, Nicola Coughlan.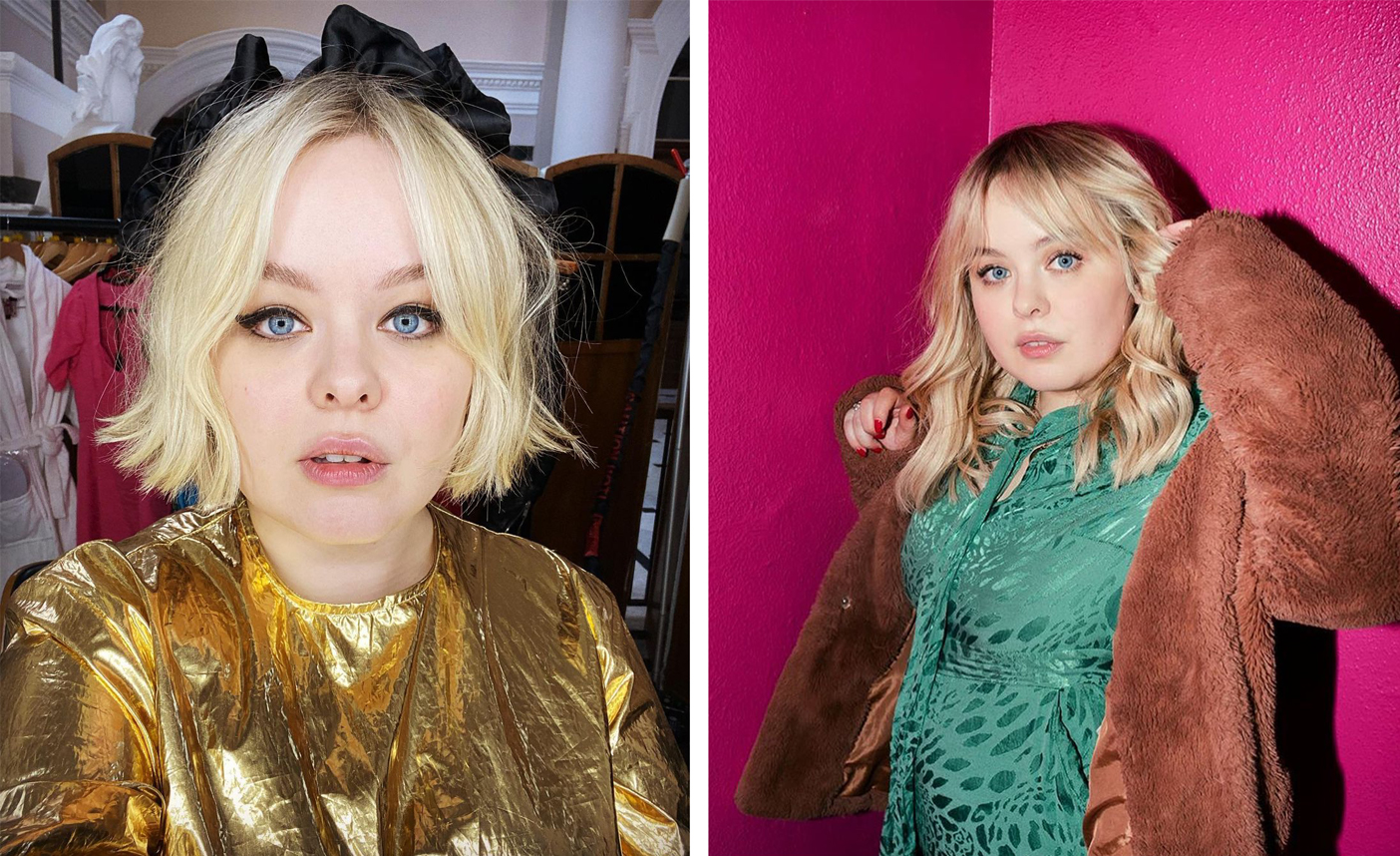 Nicola Mary Coughlan was born in Galway, Ireland on the 09th January 1987.  She grew up in Oranmore, a small parish-town on the outskirts of Galway city and became interested in acting at an early age.  Following her graduation from the National University of Ireland Galway, Coughlan moved to England where she trained in acting.
Coughlan's early acting career was small, with bit parts in animation and on stage.  When when work became difficult to come by and her finances were running low she returned to her family home.  The impact of not achieving her acting goals left her bed ridden with depression.  Coughlan credits her family for helping her to recover, starting with when her sister physically pulling her out of bed and taking her out of the house.
Coughlan's respite and recovery was a slow and arduous process but in 2015 she secured the leading role as Jess in the Old Vic production of Jess and Joe Forever – a coming of age story about the titular characters and their journey of friendship across a number of summer holidays.
For her performance, Coughlan was nominated for the Offie Award of best female performance.
In 2018, Coughlan had achieved her first big break with the role of Clare Devlin in Channel 4's Derry Girls.  The comedy series is a set in the 90s during The Troubles in Northern Ireland and revolves around a group of teens (family and friends) with big plans which often result in disaster.
Clare is person who is uptight, meticulous and somewhat conditioned to order, yet advocates social justice and change.  At the end of the first series Coughlan's character came out as lesbian at her Catholic girl's school. *
The series was a huge success and met with high praise on the authenticity of the lives of people during those times.  It has created a firm fan following the world over with its Netflix release and is Channel 4's most successful comedy to date.
On the back of her success with the second series of Derry Girls, Coughlan's next big role came in the form of Penelope Featherington in the acclaimed Netflix series Bridgerton.
The series is based on the novels by Julia Quinn and is set in 19th century Regency era Britain, filmed around Bath city itself, and I would characterise it as a Pride & Prejudice meets Gossip Girl with a dash of Vanity Fair. **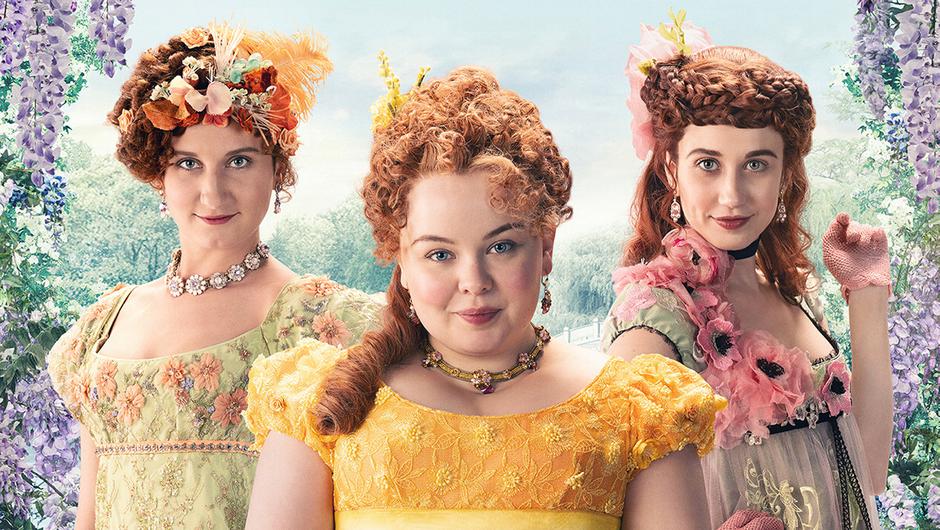 The series differs from most period dramas in that the cast, unlike the novels, is racially diverse, a theme which is discussed through lead characters played by British actress Adjoa Andoh, of Ghanian decent, and Regé-Jean Page, British-Zimbabwean actor.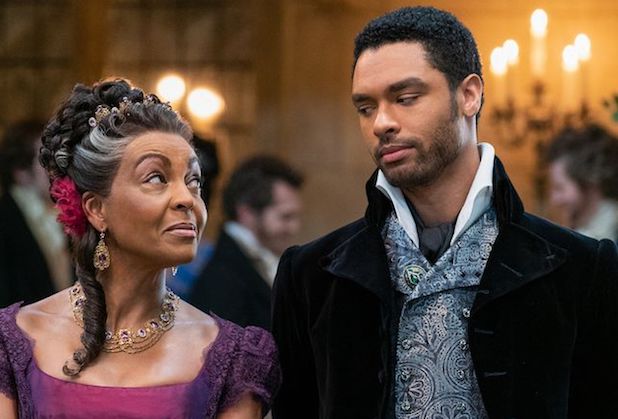 The series is a triumph in television production and has been viewed by more than 82 million Netflix accounts.  I would highly recommend watching it, although perhaps not with your mum and dad – there are some very adult scenes that even had me shocked!
Yes, Nicola Coughlan is without a doubt an amazing and talented actress and one that I love to watch during a series binge, but her time here on the Kaleidoscope blog isn't really for that.  Her reason for being here today is of course because she is a Queero for being an ally.
Coughlan is a loud and proud advocate for all thing's equality, whether that's for women rights and societies views on body image, abortion laws and equal pay, to LGBTQ+ rights, the latter of which we are here to spotlight.
Coughlan's role as Clare Devlin has been highly praised by the LGBTQ+ community for her natural portrayal of a teenager within the community and for not taking an overly stereotypical approach that often occurs with heterosexual interpretation of LGBTQ+ people.
Now a high-profile celebrity figure, and a humble one at that, Coughlin uses her voice to continue her work in activism and social change.  She supports numerous LGBTQ+ issues including the eradication of transphobia, raising awareness of LGBTQ+ history, and regularly claps back at the bigots and the naysayers.
If you decide you don't want to watch things I'm in because of my support the LGBTQ+ community that's fine, it's your choice

I'm also in the most popular show Netflix has ever released so that also softens the blow somewhat ❤️

🏳️‍🌈🏳️‍⚧️🏳️‍🌈🏳️‍⚧️🏳️‍🌈🏳️‍⚧️🏳️‍🌈🏳️‍⚧️🏳️‍🌈🏳️‍⚧️🏳️‍🌈🏳️‍⚧️

— Nicola Coughlan (@nicolacoughlan) February 18, 2021
And following the announcement that same-sex marriage was legalised in Northern Ireland back in January 2020, Coughlan shared her joy with the community and in particular, Northern Ireland's first same-sex couple to get married.
🏳️‍🌈Congratulations to all the Wee Lesbians (And the rest of the LGBTQ Community!) in Northern Ireland!!
I'm so delighted for you all 🏳️‍🌈 https://t.co/Amh7aVM0q5

— Nicola Coughlan (@nicolacoughlan) February 12, 2020
But it's not just the Twittersphere where Coughlan' Queeroic nature reigns supreme, her Instagram is also used to highlight inequalities dealt to women, the disabled, the BAME community and of course the LGBTQ+ community.
She also provides links to resources for being a better ally and various fund raising projects inlcuding Black Lives Matter.
Earlier this month, Vanity Fair invited Coughlan along to list her top Valentines gifts and used this opportunity to name drop her favourite LGBTQ+ charity, The Rainbow Project.
"On Valentine's Day we all need to remember that love is love is love. EqualiTee are one of my favourite LGBTQ+ brands that have the best range of graphic tees. Any and all profits that come from EqualiTee are put straight back into the services provided by The Rainbow Project, an LGBTQ Charity in Northern Ireland, which include counselling, sexual health care, advocacy, and mental health support."
It seems she spreads little bits of equality everywhere she goes and I love it!
Nicola Coughlan, you are our champion, our advocate, our friend, and our family.  You tell our stories through kindness and honesty, no matter the cost to you or your career.  You are vocal in a world that often stays quiet and you stand your ground as force to be reckoned with.  You share our success, not to raise your own profile but to highlight it to a world that keeps us hidden in the dark.  You are our Queero and we thank you for everything you do and more.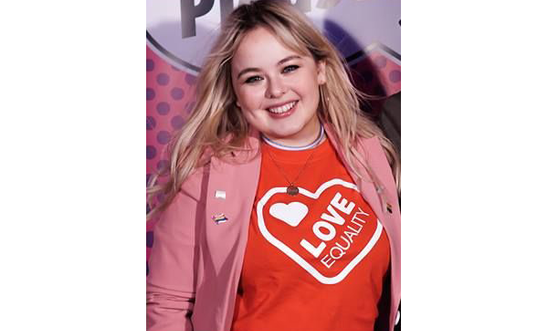 -
* I'm aware that there is a big discussion at the moment regards heterosexual people playing LGBTQ+ roles and this is something I aim to discuss further in the future.
** And no, not because of the narrator's commentary effect similar to Kristen Bell, but for the viperlike competitive nature of the characters trying to one up the other through gossip and scandal which may or may not be true.