Third year BSc Biology students, Romy Rice and Noemie Engel, write about their experiences on placement from September to December 2016 working for the Maio Biodiversity Foundation in the Cape Verde islands.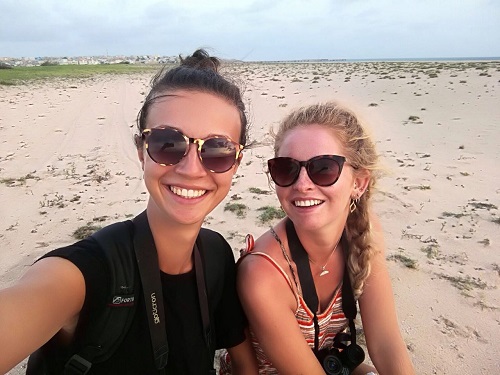 In September 2016, we embarked on an adventure to Maio, a seemingly uneventful little island in Cape Verde with only 8,000 inhabitants, which turned out to be one of the most lively places we have ever experienced. With untouched beaches stretching for kilometres, vibrant yet quaint villages, and incredibly friendly people, we immediately fell in love with the place. We worked for a local NGO, the Maio Biodiversity Foundation (FMB), carrying out fieldwork for 3 months with a small shorebird, the Kentish Plover, as part of our university placement year.

The Kentish Plover has a non-migrating breeding population in the Salina do Porto Inglês, Maio, and this population has been researched for many years. Our fieldwork consisted of monitoring the Kentish Plover population by collecting data on parental care and breeding ecology whilst simultaneously contributing to an ever increasing international database.
Specifically, our routine comprised of nest search and measurement, chick and adult ringing, family monitoring and surveying the area for potential threats to the plover population or the Salina.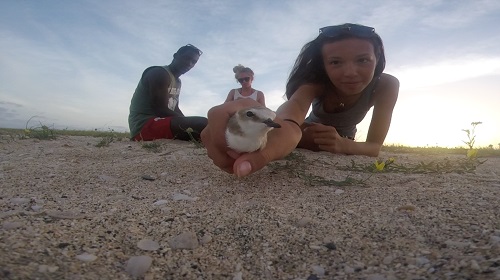 Outside of our fieldwork, we took some time to explore the island and appreciate the different culture. At first glance, the island did not seem to have much happening as it was very quiet, with its tiny population and basic settlements, however we soon discovered that Maio was teeming with life and energy. From spotting whales on the local beaches to enjoying traditional Cape Verdean dishes in the homes of our local friends, we immersed ourselves in Cape Verdean life, trying to experience as much of it as we possibly could. The natural beauty of Maio is outstanding, as is the generosity and kindness of the people occupying it. We were accepted into the community and felt at home within the first week of
our stay, with special thanks to our friends from FMB.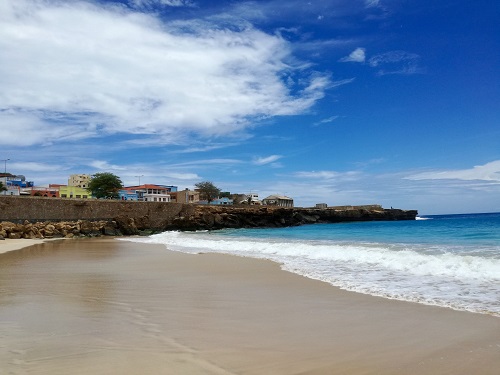 As pleasant as this may sound, it was far from a holiday. Living in such a simple, isolated place wasn't always easy, as many food items were limited, the chance of having running water back at home was 50:50, and home comforts were few and far between. Due to the unpredictable nature of the tropics, we encountered some unusual situations, such as getting stuck in the mud whilst running after chicks, wading out to islets through foul water filled with acacia spikes, and working in 30°C heat surrounded by a smell not dissimilar to rotten eggs.
We had to deal with flat tyres every couple of days, managed to get the car stuck in just about any terrain, and were driving off-road in some pretty questionable locations. As with any tropical location, nobody was safe from the inevitable 'travel-tummy', constant sweating and irritating fly bites, but in the end the whole experience was more than worth it.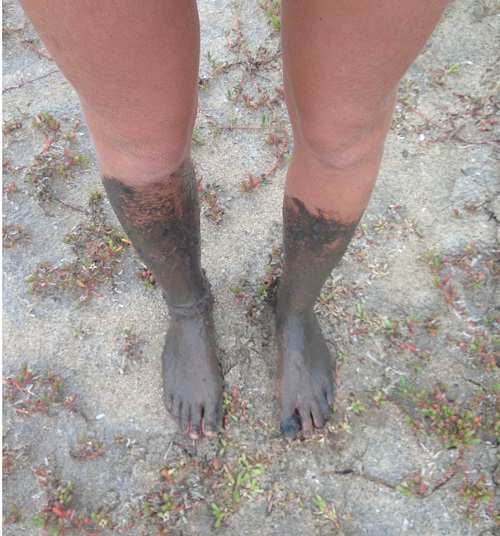 FMB runs multiple research projects including the Salina Bird project, the Turtle program, various Marine conservation projects involving sharks, fish and cone snails, as well as undertaking protected area surveys and promoting eco-tourism. FMB hires local people and organises workshops, often working with fishermen, to highlight the importance of ecology and conservation to the island's residents. They also engage in educational activities to teach children from a young age about the importance of protecting the environment with all its inhabitants. By doing this kind of research we can make decisions based on our results to take appropriate conservation actions that actually make a difference to our environment.
All in all, the past 3 months were an absolute success. We not only gained a great deal of fieldwork experience, learning a vast range of practical skills, such as bird-ringing, but we also now understand a lot more about the workings of an international conservation organisation. On top of the academic rewards, our time in Maio taught us a lot of life lessons.
Being surrounded by an African culture in an environment less developed than home has really changed our perspectives on the world. We left Maio with brand new eyes, deepened understanding and appreciation of conservation work, and friends for life.