Yesterday was the 208th anniversary of Charles Darwin's birthday, and what better way to celebrate it, than to children learn about natural selection, sing happy birthday to Darwin and eat some delicious cake?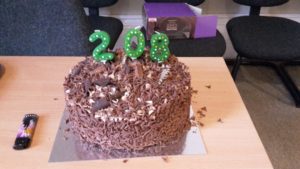 The Bath Royal Literary and Scientific Institution (BRLSI) very kindly hosted Dr. Paula Kover (a reader in the Milner Centre for Evolution), Lucy Eaton, Lauren  and Amy  (final year Biology undergraduates doing research in science education) to run a workshop on Inheritance and evolution, called "The evolution show". The children, volunteers and us had a great time, playing Chinese whispers with DNA sequence to learn about mutation, building birds and seeing how mutation and inheritance can make the bird become better at flying with the help of natural selection. The children loved seeing the tree of life, that shows the evolutionary relationship among all major groups of organisms, and discover that a T.rex barbecue was likely to taste like chicken!
Organizing workshops for young children (audience were 8 to 10 years old) is always a big challenge, because it needs to make evolution accessible and fun.  This time, it involved a lot of last-minute laminating, photo copying, and a mad dash around all the local supermarkets for numbered candles (Have they gone out of fashion?).  But it was all worth it, since 69% of the children attending the workshop gave us a score of 9 out of 10,  or higher.  Also, the undergraduate students that helped had a good experience, and are ready for some more teaching of evolution to young kids in primary schools this term.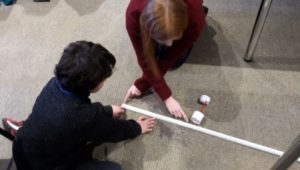 Measuring how far the bird flew.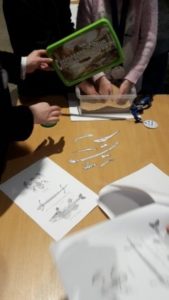 Digging for fossils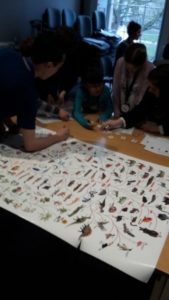 Exploring evolutionary trees
For more information on educational resources run by the Milner Centre for Evolution see here. And  Dr. Paula Kover also offers a wealth of resources for primary schools - see here.