Mentoring students is a great way to reconnect with your University and provide practical help that brings benefits all round, as one alumnus volunteer is finding out. Rachel Skerry meets the team behind Our Honest Foods, and their mentor.
---
The last BA2 magazine showed just how connected our alumni and students are, through a diverse support network which provides scholarships, offers work experience, supplies placement grants and invests in student enterprise projects.
Leafing through the magazine last year, graduate Laurence James (BSc Mathematics 1976) was inspired to get in touch to find out how he could help current students. He says, "I've always had a connection with the University. I'd never lost touch but, equally, I'd never felt particularly engaged."
Laurence – who has almost 40 years of business experience behind him – leapt at our suggestion that he volunteer to mentor a student enterprise group, partly because it spoke to his own inner entrepreneur. "If I'm honest, it's something I wished I had been able to do, but in 1976 if you were a maths graduate you either became an accountant, a teacher or you went into business on a graduate trainee scheme. I can't recall anyone thinking 'I'll be an entrepreneur'– I don't think the word had even been invented!"
The enterprise group in question were final year students Charles, Giles and Joe. Each had aspired to run their own businesses from an early age, cutting their teeth on enterprising schoolboy ventures. Giles sold sweets, Charles went door-to-door mowing lawns and Joe made smoothies in the Food Technology classrooms at lunchtime, recalling, "I was usually late to classes because I was scraping strawberry pips off the ceiling".
Thrown together by the University's highly competitive BSc Business Administration programme, they quickly sought to channel their different talents into a shared ambition. Fast forward to 2013 and, with a fledgling business plan, the soon-to-be graduates were looking for guidance.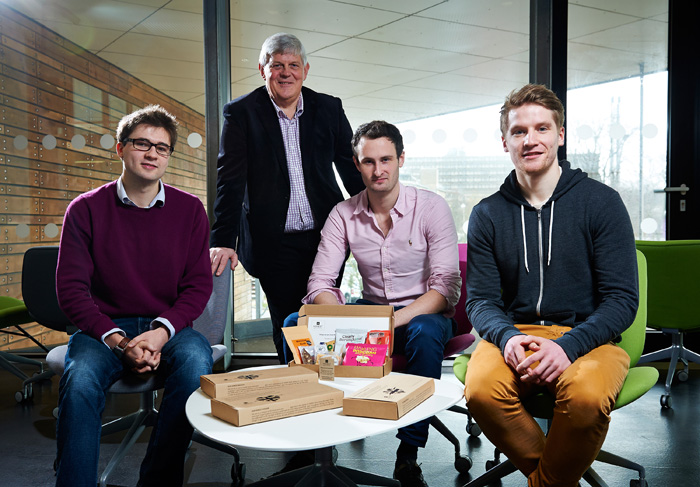 The University's Student Enterprise team arranged for Laurence to meet the group and he was bowled over: "I could see I would benefit from all their passion and energy – it's infectious. I was very excited about the whole prospect."
The team's initial business idea was to supply Bath Freshers with a welcome pack when they arrived on campus, filled with essentials such as toothpaste, shower gel and Cup a Soup. 'My Student Box' hit the rocks when they discovered that they couldn't get access to a sufficient number of company contacts to pitch their idea. Thankfully, they were brimming with other ideas, and with Laurence's guidance, they changed course.
In autumn 2013 Charles, Giles and Joe launched Our Honest Foods, delivering boxes filled with snacks to offices and homes. They're called Honest because they started off by leaving an 'honesty box' in each office where they delivered, so customers could pay for each snack individually. All the snacks in the boxes are British and most are sourced from small companies, which is something they are passionate about. They do everything from designing the packaging and marketing and sourcing the products, to making the office deliveries and selling at markets.
The group agrees that having a mentor has been invaluable, and the dynamic of their relationship with Laurence has changed as the business itself has evolved. Early formalities were soon abandoned in favour of a more relaxed approach: "Now we just go for beers!" observes Charles.
Laurence agrees. "I don't think we've had many formal meetings. It's more on demand. They say 'We've got some things we want to talk through, can we get together?' and we'll perhaps spend an hour at my place and go for a beer. But it works."
Joe says, "We joke that it's like counselling, but at the same time keeping that informality makes it cathartic for us. What comes up in conversation after just five minutes is usually the biggest issue that's facing the business at the time."
Each member of the group brims with confidence, acquired in part by coming through a tough business degree with flying colours. So what does their mentor add to the equation? Charles reckons, "The business degree teaches you the language of business, but not necessarily the strategic side. You do get taught theoretical strategy but when you're in the real world, it's different."
On Laurence's part, he feels he is contributing the benefit of his business experience: "Having been in corporate life for so long, it's difficult to suddenly think as an entrepreneur. I tried to do it myself and went through a big learning curve. Also if you're going to be an entrepreneur there is no better time than when you're fresh from university because you don't have the commitments you have later in life."
So what's next for Our Honest Foods? Thanks in part to local publicity, they recently secured a deal with the Bath Abbey hotel for a snack box to be left in every guest room, and they're thinking up ever more innovative ways to get their tasty products out into the market place. Making Bath their business base is also helping them to open doors locally and, as Giles says, "Having the University of Bath tag is a real advantage for us."
Accolades are coming thick and fast. Recently they won a Shell LiveWIRE award and in April they won the University Business Plan Competition, sponsored by Deloitte, which will see them head to New York to meet leading alumni in business.
Whatever the immediate future holds, they and Laurence have no intention of parting company. Giles says, "The University has been brilliant because it set us up with a great mentor and then let us be. There hasn't been a necessity to fill out a form saying 'We met on this day', or have a regular monthly catch-up. It has been in ours and Laurence's hands."
And, as Laurence says, self-effacingly, "I would hope that they remember me when they go public!"
Are you inspired by what you have read? We have a variety of ways in which you can help current students and recent graduates, including becoming a mentor like Laurence. Please get in touch at alumni@bath.ac.uk to find out more.