More than 2.5 million children under five die every year from diseases that could be prevented by vaccination. Now one researcher from our Department of Chemistry thinks she may have found a solution to the long-standing challenge of transporting and storing vaccines without refrigeration. Andrew Dunne finds out more.
---
It was taking her newborn daughter Melinda for routine inoculations at the local doctors' surgery in 2011 when Dr Asel Sartbaeva experienced her 'light bulb' moment for an innovative research idea. Observing that vaccines had to be taken out of a fridge and used almost immediately, she identified a challenge facing public health officials worldwide.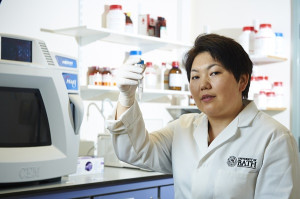 "Vaccines need to be kept between 2˚C and 8˚C. Above or below these temperatures they degrade. So, how do you store and transport vaccines, especially to remote parts of the world where they are so needed?" she explains when we meet.
The answer, she discovered, is a costly and often impractical process of constant refrigeration, otherwise known as the 'cold chain'. This challenge leads to wastage and leaves vulnerable patients without the life-saving treatments they need. Recent estimates suggest that more than 6 million people around the globe, of whom 2.5 million are children under five, die every year from vaccine-preventable diseases. A recent UNICEF report suggests that transportation costs for vaccines can run to as much as $300 million a year.
"My trip to the doctors really got me thinking," she tells me. "What if I could use my knowledge of inorganic materials to make vaccines stable at room temperature?"
Drawing on her experience and expertise working with silica-based materials, Asel envisaged an idea for a new nano coating that could protect a vaccine from its environment both in transit and for storage. Using the latest chemistry advances, she set out to show how a protective substance could be grown around individual vaccine molecules, enabling it to be taken anywhere in the world without refrigeration.
Publicising on the world stage
I catch up with Royal Society Research Fellow Asel in the University's Department of Chemistry, refreshed and invigorated having delivered one of the keynote presentations at a recent Google X Conference in California. "I think it was partly the effect of the Californian sun, and partly the interest and enthusiasm in my project!" she tells me, explaining how her talk, one of only 18 from around the world and one of only two from the UK, generated a lot of interest from both Google X and other organisations globally.
"Google X is about promoting moon shot ideas – ideas that, in a traditional sense, might struggle to get funding but have the potential to make a real impact globally or internationally. I was delighted to be invited, to share a platform with innovative thinkers across different disciplines, and to meet business leaders and policymakers who expressed great interest in my plans."
Her idea for nano-coating vaccines, which also saw her as runner-up last year for the prestigious L'Oreal-UNESCO Women in Science Fellowship, would produce a lightweight, easy-to-transport, solid material packed with vaccine. "Once doctors were ready to administer the vaccine substance, the protective coating could be broken using either chemical or physical methods such as acids or microwaves," she explains.
Collaboration with colleagues
By collaborating with colleagues from the University community, including Dr Karen Edler in Chemistry who has provided advice and guidance on using this technique and keeping proteins alive, and Dr Jean van den Elsen from our Department of Biology & Biochemistry who has provided specific expertise on vaccines, Asel has been able to progress her plans quickly.
"It's true to say this project would not have started had I not come to Bath," she explains. "I have really benefitted from working together on this with colleagues with expertise in different areas who have helped me to challenge ideas and save a lot of time." Asel is also supported by postgraduate students Tristan Smith, whom she supervises as part of his MRes, and Yun-Chu Chen, a PhD student.
Thanks to a gift from a Bath graduate, Asel has now been able to get the project off the ground. With further funding, her next challenge is to obtain data from initial tests to prove the concept and to apply the coating to small-body insulin, antibodies and other drugs which currently require cold chains for storage and transport.
A global journey
Originally from Kyrgyzstan, the daughter of an arty family, Asel has always challenged conventions. Her father's background was in design and architecture, her mother's in social science. Asel's parents expected her to study philosophy at university, but instead she saw her future in physical science.
While at high school, the Soviet Union broke up, resulting in immediate economic hardship in her country. Her family could not afford to pay university fees with the only option to get a state scholarship, which she received with a place at Kyrgyz-Russian Slavic University, the best in Kyrgyzstan. An up-side of the break up of the Soviet Union was the fall of the Iron Curtain, when it became possible to travel. "There were very limited opportunities, particularly in research, when I graduated, but I knew I wanted to do a PhD to continue my studies", she says.
Instead, Asel worked for the British Council where by chance she saw an advert which would set her on course for a new life overseas. "At the British Council we had deliveries of various international publications. Everyone always went for the Economist; I was the only one interested in reading the New Scientist. It was in an edition one week that I found a PhD opportunity in Cambridge. I emailed and within four months was on a plane for the first time travelling to the UK."
At Cambridge, Asel worked in a research group with physicist Dr Stephen Wells – now also at Bath – whom she married in 2002. After other academic appointments at Arizona State University (2005-2007) and Oxford (2007-2012), Asel joined the team at Bath in 2012.
Inspiring a future generation
Asel is passionate about using her experiences to inspire future generations of women scientists, and in particular those working in higher levels of academia. She is currently involved in a number of initiatives in this area, including Springboard workshops, mentoring early career scientists and encouraging young women to take up a career in science.
"If my experiences can help future female scientists to succeed, my mantra would be to believe in yourself and to never give up."
Asel's work is certain to inspire the scientists of the future, and has the potential to improve the lives of millions of people around the world.
If you would like to find out more about supporting this project, or any other area of research at Bath, please contact Senior Development Manager, Stephanie Lear at s.lear@bath.ac.uk.