How did 140 metres of concrete contribute to Olympic gold?
On a soggy Valentine's Day evening 2014, students, staff and sporting superstars alike gathered around the TV screens at the University's Sports Training Village. What brought them together was Bath-based athlete Lizzy Yarnold's final skeleton run which saw her storm to Olympic victory in Sochi, finishing almost two-tenths of a second ahead of her nearest rival.
British Skeleton has its headquarters at the University; Yarnold trains here, following in the sled tracks of her landlady, graduate Amy Williams, who won gold in the same event at the 2010 Olympics in Vancouver.
Despite not having an ice-track in the country for athletes to train on, skeleton is now one of Britain's most successful Olympic sports. How has the University helped this unlikely rise to dominance?
Tucked away beyond the playing fields at the eastern edge of campus is 140 metres of sloping concrete. The push-start track, built in 2001 with help from Lottery funding, is the only facility of its kind in the UK. It features wheeled sleds running on rails, and allows skeleton and bobsleigh athletes to work on their sprint starts all year round, away from the ice.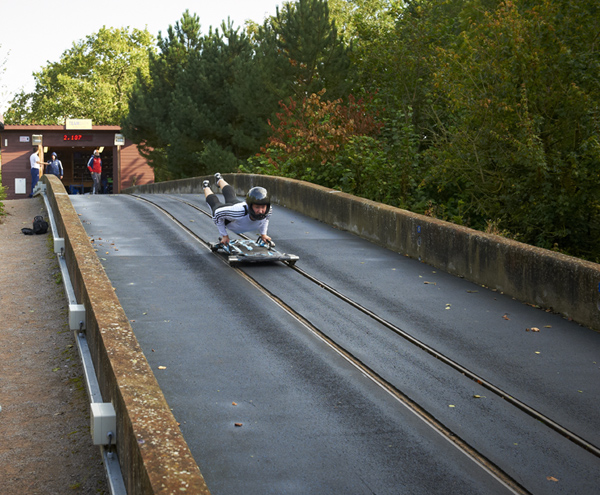 In a skeleton or bobsleigh run, the speed of the start is crucial. It's calculated that any one-tenth of a second advantage you gain at the top of a run can become three-tenths by the time you reach the bottom. Successful athletes therefore need to have a perfect combination of power and sprinting speed.
The push-start track has an impressive track record (pardon the pun). Athletes who have trained here have won four skeleton medals in four successive Olympic Winter Games: Alex Coomber (bronze in 2002), alumna Shelley Rudman (silver in 2006), then back-to-back Olympic champions Williams and Yarnold.
Now the concrete track is becoming a star in its own right. Since Yarnold's golden achievement in Sochi, the University, British Skeleton and British Bobsleigh have been inundated with enquiries from people wanting to have a go on the track themselves.
The University's sports facilities already attract 1.3 million visitors a year, ranging from members of the local community playing a game of tennis, to Olympic and Paralympic athletes such as alumni Samantha Murray and Ben Rushgrove.
Stephen Baddeley, the University's Director of Sport, says, "Bath is such an attractive university for aspiring young athletes because they are able to combine study with sport, whether it's swimming, hurdling or skeleton. Successes at the Olympics and Paralympics have raised the profile of what we do here.
"It was terrific to have the opportunity to cheer Lizzy on to gold. Her success was testament to her own effort and also that of her support team. And of course, we are proud to host the headquarters of both British Skeleton and British Bobsleigh."
Watch Guardian journalist Barry Glendenning try out the track before the Winter Olympics:
http://www.youtube.com/watch?v=DrbYJQGrfc8