Many of the great things our University campus provides – world-class sporting facilities, public lectures and evening classes – still involve a hike up the hill for Bath citizens and visitors. But we are also at the heart of life closer to the centre of town. Molly Conisbee explores how University science is infiltrating the city.
---
The University takes its role as a member of the City of Bath's wider community very seriously. Whilst the campus buzzes with student life, we are also very much part of the city that hosts us.
It may surprise some to learn that our strong science and engineering tradition is mirrored by the City of Bath that was once famous for the Griffin Engineering works, Stothert & Pitt engineering, mining and other manufacturing and today hosts a thriving tech and digital start-up sector. This means there is a creative backdrop for exciting town and gown collaborations that bring together academics and invited guests to host open public events on matters scientific and technical. These include science cafés, debates and children's workshops – all organised to enthuse and engage non-expert audiences with some of the big scientific questions and challenges of our time.
Science Cafés – which take place in The Raven pub on Queen Street – offer a diverse take on everything from fracking to food production for a growing world population. Professor Rod Scott, Head of our Department of Biology and Biochemistry, chairs the organising committee. Rod explains that the events were established in part to create a forum for non-experts to learn about and discuss scientific issues.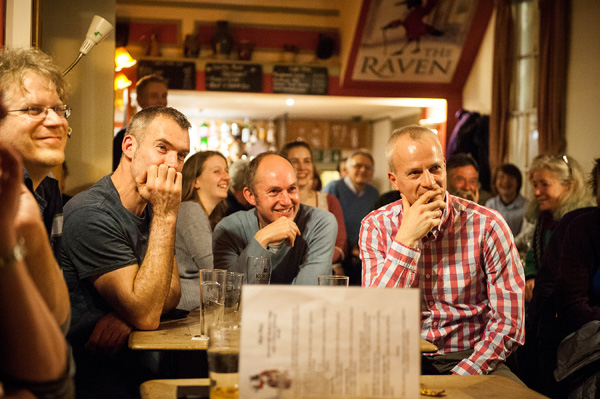 "We see the cafés as helping to develop understanding for people who are interested in science but don't necessarily hold a science degree. So that when they are discussing issues such as GM crops or green energy with their friends and colleagues, they feel they have some tangible, evidence-based information to build their opinion on."
"The Science Café has grown and grown," adds Professor Saiful Islam, one of Rod's colleagues on the organising committee. "The audiences we get along are genuinely engaged and interested in the issues under discussion."
"One of the challenges of the way in which science is presented in the media, is that controversial issues like fracking are often polarised into 'pro' or 'anti' discussions. The cafés are much more nuanced and don't tend to get monopolised by lobby groups in that way. We are often blown away by the quality of the questions asked during audience discussions."
The cafés are usually packed out; a great testament to both the quality of speakers, as well as the genuine interest in matters scientific in the community. February's discussion, which I went along to, featured the BBC's Sky at Night presenter Chris Lintott, who talked about 'Tales from the Zooniverse' – which explored how astronomers are using citizen scientists to help them document the night skies. Aside from being a witty and engaging presenter, Chris made the point very well that often scientists rely on enthusiastic amateurs in order to process the vast amounts of data their work involves. Citing the RSPB, who use members and the public in their annual bird surveys, Chris pointed out that understanding the universe better needs millions of us to record what we see and where and when we see it.
The cafés have a loyal following. Bath resident Nick Moss said, "I find the cafés really fascinating. I'm not a scientist but I've always had an interest. I've been coming to these for the last three or four years and never experienced a dud talk." Nick's friend Ian Clarke added, "I don't know any more about science than what I learned at school. I'm interested in the issues though; I find the talks here are pitched exactly right for the non-expert like myself."
It's not just those of pub-going age who can experience science in the city. Professor Chris Budd, from our Department of Mathematical Sciences, is the engine behind the annual 'Bath Taps into Science' fair, which reaches out to more than 1,500 school children and young people across the city every March. Events take place on campus and in the city centre, with a wide range of talks and activities aimed at different age groups to enthuse and inspire about science in general. This year's fair included an exploration of Enigma-style 'codebreaking' as well as short talks from academics about their exciting new research projects.
Chris notes, "Bath Taps works on so many levels, to enthuse young people about science but also to be a two-way exchange between the University and the city. "We've been delighted by the response from the community which is why we're growing every year, hosting science talks and events across the city. But getting students and schools on to campus to experience science in labs and – uniquely – to get students to co-present with scientists has to be one of my favourite parts of the festival. It's open, democratic and reinforces the message that science belongs to all of us."
The University's Head of Public Engagement, Dr Joanna Coleman, sees a key role for citizens in both promoting understanding of science and involving people more in the research that takes place – and also celebrating the achievements of researchers and the benefits of having a university in the city. She believes that "sometimes academic life can appear quite isolated from the wider community – but the high quality research at the University impacts on us all. That's why we're committed to getting our researchers into the public domain, and also inviting people to come and explore what's going on in research, and to get involved with it both in the city and on the campus."
Responsible for an annual Images of Research exhibition, which happens both on campus and as part of the Fringe Arts Bath Festival, Joanna really sees the value of greater University involvement in city life. "Ultimately, we are funded by the community, we live in this community and we want the community to be proud and part of what we do."
If you live in or around Bath, come along to the next Science Café – they take place on the second Monday evening of every month. www.bathsciencecafe.org