The United Nations interpreter examinations are renowned for being incredibly challenging, rigorous and highly competitive. They aim to single out the best in the interpreting world.
So when we heard that MA Interpreting and Translating alumni Katherine Nield and Jaya Mishra had passed the UN interpreting exams just two months after graduating, we were excited to share their success. Out of the 25 entrants (approx.) who sat the exam in Geneva in January, only four passed the challenging assessment.
This means that Katherine and Jaya can now interpret for the United Nations in Geneva on a freelance basis and have this prestigious accreditation to their names. We asked Katherine and Jaya about their experience, how they prepared for the exam and what advice they have for future Bath MA Interpreting and Translating alumni.
Katherine's experience…
The main thing I did to prepare for the exam was to use the UN webcast to stream speeches for practice. It has quite an extensive archive of speeches and you can filter them by language, country, meeting etc. As the UN test is a lot longer than the Bath exams, I made sure I built up my stamina, so I could manage three ten-minute speeches per language. I also tried to read up on some general background about the UN in Geneva, so I could recognise the titles of committees and treaty bodies.
The exam was obviously very nerve-wracking as there was a panel of five people listening and making notes on what you say. However, it was good to have an 'audience' and a live speaker as opposed to listening to a recording and being recorded, as it makes the experience more realistic. Everyone was very encouraging and supportive throughout.
It means a huge amount to pass the exam! I have always been really keen on becoming an interpreter so it's great to have the accreditation and be able to work for the UN on a freelance basis. I'm now looking to gain as much experience as possible on the freelance market.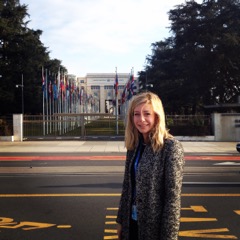 Katherine's advice…
If you think you've made a mistake or missed something, don't dwell on it and keep going! I certainly didn't do a flawless job and they don't expect you to be perfect.
The MA Interpreting and Translation programme at Bath was excellent preparation, not only the programme itself, but also because I had the opportunity to go on placement to the UN. This meant I had more of an idea what interpreting at this type of organisation looks like, and it confirmed for me that this was really what I wanted to do.
Katherine Nield (MA Interpreting and Translating 2014, French and Russian)
Jaya's experience…
To prepare for the exam, I practised as much as possible by using the UN webcast and Treaty Bodies website which broadcast live meetings and speeches. I would try to use these web resources for at least an hour every day in the run up to the exams. I also 'dummy boothed' for two weeks at the UN in Geneva which was invaluable because, not only did I get two weeks of exposure to the kind of speeches I could expect in the exam, but many staff interpreters were at hand to listen and offer advice.
Sitting the exam was obviously a very daunting experience. The most important thing is not to view your nerves as something that set you back, but to use them to your advantage as a form of adrenaline.
The exam was split over two days. If you did not pass the French on the first day, you were not asked to take the Russian exams the day after. On both days, there were three ten-minute speeches per language. There were roughly three to five people on the panel listening to my interpretation and one live speaker delivering the speech. Given how nerve-wracking the experience is, I felt that all the members of the panel understood this and tried their best not to add any extra pressure – their smiles and nods of the head were all very welcome to me!
After being informed that I had passed, I felt a mixture of elation, pride and relief. I had never let my expectations get too high because I was always aware of just how competitive the tests were and how it is very common for people to fail the first time they take them.
I now hope to establish myself as a freelance interpreter in Geneva. It is important to remember that passing the exam is by no means a direct or immediate entry into a career as a UN interpreter. A lot more hard work is required to show that I am capable of interpreting at the highest level.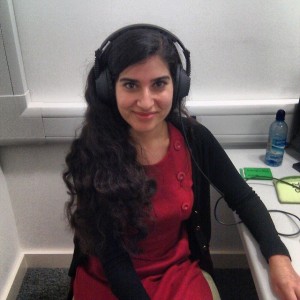 Jaya's advice...
The most useful piece of advice for me was to breathe! Taking deep breaths is so important in calming your nerves and clearing your mind.
Without the programme at Bath it would have been virtually impossible for me to pass the exam. Prior to enrolling on MA Interpreting and Translating I had no experience whatsoever of interpreting. I simply thought that it would be a good way for me to use my languages. I did not know how challenging and rewarding a career it could be so I shall be forever grateful to Bath and, in particular, Elena Kidd for running such a fantastic programme.
Jaya Mishra (MA Interpreting and Translating 2014, French and Russian)
You can also read 'How to become a UN Interpreter,' written by Bath alumna Helen Reynolds-Brown on behalf of the Guardian: http://www.theguardian.com/education/2014/may/15/russian-french-un-interpreter
Written by Louise Andrews, Marketing Officer, Faculty of Humanities & Social Sciences