After a decade living in a refugee camp, Noorullah Kuchai is now part of a team at Bath designing healthy housing for the displaced.
Humanitarian crises such as civil wars and natural disasters mean that more than 7- million people worldwide have been forced from their homes. But refugee camps are hard places for anyone to live. Temperatures fluctuate from -10°C to 45°C and the shelters are not designed to cope with such extremes, lacking in comfort, privacy and security.
That's where University of Bath researchers are stepping in. Drawing on our expertise in architecture, civil engineering and international development, we've joined forces with experts on the ground in Jordan to radically rethink how shelters are designed and constructed.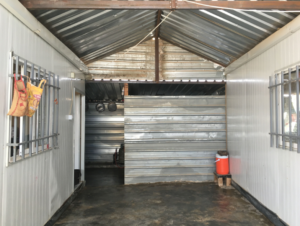 PhD student Noorullah Kuchai is part of the research team behind the multi-million pound Healthy Housing research project, which aims to improve living conditions in refugee camps by designing low cost and easy to construct shelters for residents.
He knows more than most about the hardships experienced in refugee camps. As one of the millions of Afghans who fled during the Soviet occupation in the 1980s, Noorullah and his family were housed in a refugee camp in Pakistan. But what was meant to be a temporary stay turned into more than a decade of living in a tent, as no one was allowed to build a property.
"We were very young and I started school there," he recalls. "I'll never forget my first lesson, it was a harsh one. There was no school building and we sat on the floor, and if it was too hot or it rained then school was cancelled. It's painful when people ask me about my favourite childhood game or food because I didn't have any options.
"I remember standing in a queue for hours to get one litre of milk only to find the tanker was empty and had to go home without any."
They moved back to Afghanistan post-9/11 and set about rebuilding the family home that had been destroyed during the conflict. "There was a construction boom and everyone wanted to study engineering to help rebuild the country. I wanted to take part," says Noorullah. After completing a degree in civil engineering, he worked as a shelter officer for the United Nations High Commissioner for Refugees (UNHCR) – a global organisation dedicated to safeguarding the rights and well-being of refugees.
For four years he supervised the construction of thousands of semi-permanent shelters that could be dismantled so that once the situation had been resolved, people could take the building materials with them and construct a house in their place of origin. "I spent a lot of time in the communities and the community elders would call me the 'young engineer'," he beams. "I wanted to see the problems they were facing and design solutions in the field, not in the office. I designed micro-hydropower systems that converted the energy of flowing water into electricity so that people had electricity for the first time. I loved seeing the impact straight away – the smiling faces."
Then, he says, things went wrong. "Extremists were targeting aid workers. Negative propaganda started to spread across the villages that we were actually collecting information for the government and the International Security Assistance Force. I started receiving threat letters and phone calls from extremists saying I should work for them, so I was forced to flee the country."
Noorullah spent a year as an asylum seeker in the UK – an experience he found challenging. "I was provided a house with eight people who I didn't know and no one could speak the language. I had left everything behind – my family, my job that I loved…" To get involved in the community he volunteered at a local charity, collecting second-hand clothes and sending them to those in need in Iraq and Syria.
"When I was asked how I felt about being in the UK, people were surprised when I said it was peaceful. You don't really know what peace is until it's not there and it's so important."
This changed when Noorullah was granted refugee status in 2017 and immediately started applying for engineering jobs but without success. "I met with the National Careers Service and after six months we came to the conclusion that I needed to top up my education further to get a job in the UK so I started to search for PhD positions."
When he came across an advertisement for the University of Bath's Department of Architecture and Civil Engineering, it was the perfect match. "It was similar to my previous job but this time I would be helping to develop the science behind the shelters so I could make an impact globally," he explains.
"When I got the email saying I was selected it was such a happy moment but there was no one to share it with! I called my mother back home and we cried tears of joy."
It's an opportunity he's intent on making the most of. "I'm one of the best universities in the UK, in a beautiful city with amazing colleagues and supervisors - I can't ask for anything more and that's what drives me to work hard."
In the future Noorullah would like to return to the aid sector. "It has become a dream job for me," he says, "and helping others is my motivation."