Alumnus Jesse Dufton has a degenerative eye condition that has left him blind, but that doesn't stop him from scaling some seriously intense rock faces. He's been a member of the GB paraclimbing squad since 2018 and recently became the first blind climber to lead an ascent of the Old Man of Hoy, a 137-metre sea stack in Orkney alongside his wife Molly, a feat that was captured in the BBC documentary Climbing Blind.
You completed a master's and a PhD in Chemistry at the University of Bath. What's your favourite memory of your time here?
I have so many great memories from trips away with the Mountaineering Club, most of which probably shouldn't be committed to a written record. I remember one club trip to the sea cliffs near Swanage. Molly and I were both leading climbs next to one another and our friends were belaying [keeping the climbers secure on a rope] from the 'non-tidal' ledge several metres above the crashing waves. Until, that is, one super-huge wave came that was about 7m taller than all the rest. It broke on the rock just below my feet and completely engulfed the belayers. Lots of fun memories from life in Bath, too. The Roman Romp was always a firm favourite, though I never worked out a good place to keep a wallet in a toga!
What were the biggest challenges you encountered at university?
Definitely the hardest thing I did at Bath was wrap my head around how Density Functional Theory operates during my PhD! Obviously, losing what little sight I had come to university with and not being able to read anything for the majority of my PhD was tricky, too. I do remember racing my housemates from Oldfield Park to campus, me on a bike and them in a car (yes, blind person on a bike, it did happen) and much to their disbelief I won!
When did Molly become your sight guide, and did she take any persuading?
Molly slowly became my unofficial sight guide over the years we climbed together and as my sight gradually degenerated. For years she was just my climbing partner and because she knew I couldn't see, she would direct me to holds I'd missed. Quite general guidance at first and then more instructions in greater detail as I lost more and more sight. We only started using the term 'sight guide' when I joined the GB paraclimbing team.
"Molly knows if I need to move a foot based on the slightest ankle twitch"
Initially, Molly wasn't my sight guide for international paraclimbing competitions – the GB coach guided me, but we soon realised that it was better for Molly to do it because of the partnership we'd built up. She is an excellent climber in her own right and more than capable of spotting the correct sequence in which to use the available holds. What's more, because we've climbed so extensively together, she knows how I move and how I think. She can almost read my mind as I'm climbing and knows instinctively if I need to move a foot based on the slightest ankle twitch. It's this partnership that we've built over the years that is a large part of the success I have enjoyed.
Molly didn't take any persuading to guide me when I climbed outside, even in the frozen wilderness that is Greenland in April, but she was initially nervous about guiding me in competitions because of the heavy responsibility to spot the correct sequence in which to use the holds. Most people can't comprehend how we are more comfortable with climbing in far-flung places all alone than in a competition, but it's what we've always done.
You've been climbing your whole life. Do you remember what the first time was like?
I started climbing aged two when my dad took me up to Idwal Slabs in North Wales. Obviously I was too young to remember that occasion but I do remember several routes from when I was young. I always enjoyed going away climbing with my dad – it was a big adventure. I liked the fact that it was so far removed from normal city life, and in a strange way I liked the fact that it was scary, specifically the satisfaction from overcoming the fear. I remember being scared of climbing on the sea cliffs when I was young and the sea booming below. It was on the sea cliffs that I learnt to lead climb [going up first and securing ropes as you progress] aged 11. I took to leading quite well and was soon able to climb as hard as my dad.
What was the particular appeal of the Old Man of Hoy as a climb?
Sea stacks make for great days out climbing. There is something about the fact that you can't just walk around the side of the cliff to get to the top that makes them special. The fact that the rock formations are so unusual also makes it far more memorable. Climbing any sea stack is just a cool experience, and the Old Man of Hoy is probably the daddy of them all.
I'd gotten a taste for stacks on a trip to Reiff, in north-west Scotland, in 2008 having finished my undergrad. We climbed the Old Man of Stoer and had an amazing time, so then I put the Old Man of Hoy on the ticklist. It's an amazing climb as well as an awesome piece of rock; it certainly didn't disappoint in any way. We didn't even get puked on by the resident gulls  definitely a good result!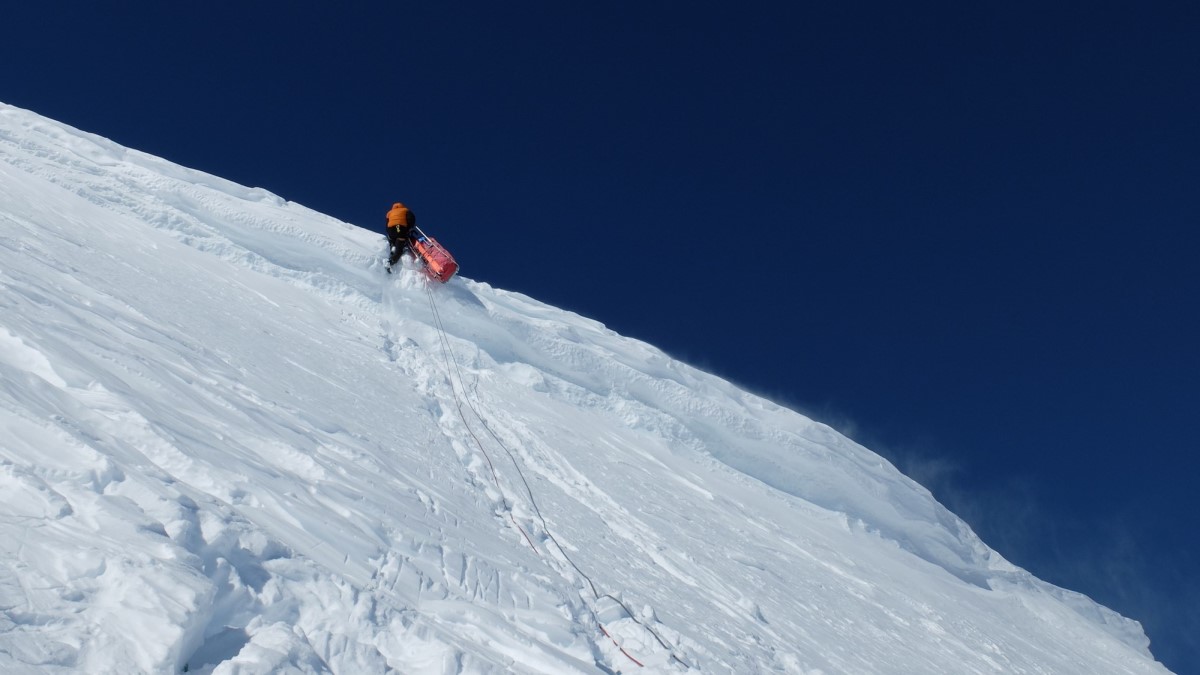 What's the hairiest situation you've found yourself in while climbing?
The hairiest was definitely in Greenland, both metaphorically and literally – five weeks without a razor and my face was pretty bushy. We had a bit of an incident while crossing from one glacier to the next. At this point we were 200 miles from the nearest civilisation, the temperature was about -15°C and it was blowing a hoolie. We had five people and five sledges containing 500kg of kit, and we needed to abseil over a huge snow overhang then down a near-vertical snow slope, but we couldn't go all the way from top to bottom as we didn't have long enough ropes.
We'd done the first section and set up an anchor in the snow, but as we started lowering my friend Jen and her kit sledge, the entire section of snow that we'd attached to ripped out. She started sliding down the slope, as did the rest of our sledges and Ollie, who'd been controlling her descent.
Molly, myself and our friend Alistair were sat on a small ledge we'd kicked into the snow. Alistair was connected to the ropes holding our sledges, so he too was pulled off the ledge. My three friends and all our kit tumbled over one another down towards the glacier. Amazingly they didn't hit anything on the way down, and gradually came to a stop as the angle eased some 270m below.
It just left the small matter that Molly and I were still sat on the ledge above, no ropes, no ice axes, nothing. I had no choice but to kick steps into the snow and tentatively climb down, with Molly following in the steps I made. Mercifully, we made it down without incident, and even better no one suffered serious injury and all our kit survived – with the exception of one box of cous cous that had exploded! We decided not to tell the parents about that one until we were all safely back in the UK.
How do you balance training and climbing at such a high level with your work as an engineer?
With a full-time job it's hard to fit everything in. One of the advantages of having a desk job is that I get a good rest period, which often comes in handy when I've had a hard training session the evening before. One thing that helps is that we're really organised: I make batches of meals in advance and freeze them so I can come straight back from work, eat quickly and then spend the rest of the evening at the climbing wall until it closes.
Quite a lot of thought goes into when I do each training session to maximise my time. I climb or train on average six days a week. I mostly enjoy the training so it's not a drag to do it, but it is hard. Getting stronger allows me to access routes outside that previously would have been too difficult, and this is what motivates me to keep going.