Photo credit: Nyra Lang
Stephanie Davies (BA Modern Languages & European Studies – French 1983) is the author of Other Girls Like Me (2020, Bedazzled Ink), a memoir of her time spent at Greenham Common Women's Peace Camp, which has been shortlisted for the People's Book Prize. She tells us about student activism, working with Médecins Sans Frontières and the importance of following your passion…
"One of the first things I did when I arrived on campus was to join a sit-in in the administrative buildings to call for disinvestment in South Africa. I remember lying on the floor, sharing a pillow with another student I had only just met, surrounded by filing cabinets and office furniture. Finding the Anti-Apartheid Group at the University meant that I got to meet students from around the world. I always say that activism creates a sense of community, and this was my first experience of that.
"I went on to become the Chair of the Anti-Apartheid Group, and one thing we did was try to get all the money made by the Students' Union's Space Invaders machines sent to support the African National Congress School in Tanzania. We weren't successful!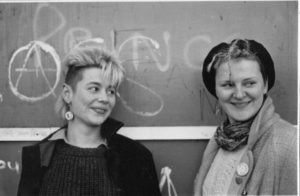 "Not long after leaving Bath, I went to live at Greenham Common Women's Peace Camp in Berkshire to protest nuclear war. So few people have heard of the Greenham Common women, yet we were a mass movement that swept the UK in the 1980s, involving tens of thousands of women.
Photo credit: Ming de Nasty
Sharing my story
"I decided to write Other Girls Like Me as I wanted to shine a light on that era and describe the personal and political liberation that living in this women-only environment gave me. I'm especially excited by the upsurge in activism among young people today and hope they see some of their history in this book.
"I'd only written for others before, so it was fun to write for myself, to tell my own story. I had to learn to write scenes – like close-ups in a film, my memoir teacher told me. I started off being too 'big picture' and had to learn when to come in for close-ups and write dialogue and so on.
"After Greenham, I moved to Brighton where I became part of the 'Stop the Clause 28' movement - this was a law prohibiting the "promotion of homosexuality" as a "pretended family unit" in schools and libraries across the country. Here I co-founded A Queer Tribe magazine, worked in bookshops, and taught English as a Foreign Language before moving to New York.
"I joined Doctors Without Borders/Médecins Sans Frontières (MSF), where I was Director of Public Education for many years. I left MSF to go freelance, and my main client right now is a non-profit called the Drugs for Neglected Diseases initiative, created by MSF with funding from its Nobel Peace Prize award. I helped to organise a gala two years ago featuring Dr Anthony Fauci, Sharon Stone and the NBA Hall of Fame player Dikembe Mutombo.
Love of languages
"I chose to study Modern Languages because I loved France. When I was a teenager, my school did an exchange trip to the Dordogne and I fell in love with the country immediately. I loved the sound of the language. I loved the countryside, the warmth, the food, the coffee, and – on later trips! – the wine.
"In Bath, I loved walking by the river, by Pulteney Bridge. I lived in a basement flat in the Circus, and l loved that area and the Royal Crescent. I liked dancing and concerts. We saw Tears for Fears once – this was back when they were called Graduate – in a tiny club.
"And as for Bath graduates: follow your heart, take care of yourself and be kind to yourself as well as others. Don't worry too much about creating a perfect career path, unless that is where your heart is taking you – it will unfold, often in unexpected ways. You're still young and may need to also experience a bit of wildness or activism, if your life allows that. At least that was my experience!"